Distance Learning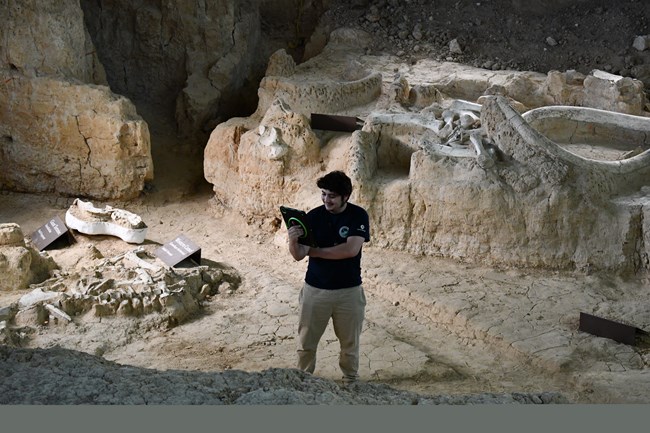 Are you 100 or 1,000 miles away from Waco Mammoth National Monument, but you would like to visit the park? The park may be closer than you think! Waco Mammoth National Monument is connecting with students through the power of distance learning. Distance learning is an educational way to connect with classrooms that cannot visit the park, via online meeting platforms. Book a Distance Learning experience today!
With a touch of a finger, your class will connect with a Waco Mammoth National Monument park ranger and go on a 45-60 minute journey to learn about 65,000 years of science and history pertaining to Columbian mammoths.
If you have a group and want to participate, you will need a computer, tablet, or device with webcam, internet access, and a meeting platform account. To learn more about the program please contact us directly



Distance Learning Scheduling Availability:
All times are listed in Central Standard Time
August 15 through November 15, February through May
Wednesday- 10:00AM and 2:00PM


Questions and Answers:
Q: When does the park offer distance learning programs?
A: We currently offer distance learning programs twice a week. On Tuesdays you can request a program at 9 am (CST). On Thursdays you can request a program at 2 pm (CST). Special requests for different days and times will be taken but they may not be able to be scheduled due to ranger availability.
_
Q: Are the distance learning programs offered at specific times of the year?
A: The park offers distance learning programs year-round. Scheduling may fluctuate due to capacity.
_
Q: What will the class see during the program?
A: Students will enjoy a close look at the Pleistocene Epoch fossils such as a Western camel, Columbian mammoths, and of course plenty of park rangers! In some cases, students will watch a ranger live, while the ranger presents a PowerPoint.
_
Q: What will students learn during the program?
A: The Great Mammoth Mystery is targeted for the Next Generation Science Standards - 3-LS4-1 Biological Evolution: Unity and Diversity and 4-ESS1-1 Earth's Place in the Universe. The program should be considered supplemental to those standards. While it is targeted for those standards the program will be tailored to the grade and age of the students.
_
Q. What online meeting spaces can be used?

A. Waco Mammoth can offer a Microsoft Teams meeting space, or meet with you on the platform of your preference. If meeting on a platform other than Microsoft Teams the booking school will be required to send a link to the meeting space.

_
Q. How long is the program?
A: 45-60 minutes
_
Q: Can my class participate during the program?
A: Our park thrives on participation from the classroom. Park rangers will be asking questions throughout the program and at the end of the program.
_
Q: What is the program about?
A: Students will be taken on an investigative journey to help solve The Great Mammoth Mystery. Students will use their observation skills to learn what stories are told in the fossil remains.
Last updated: April 3, 2023