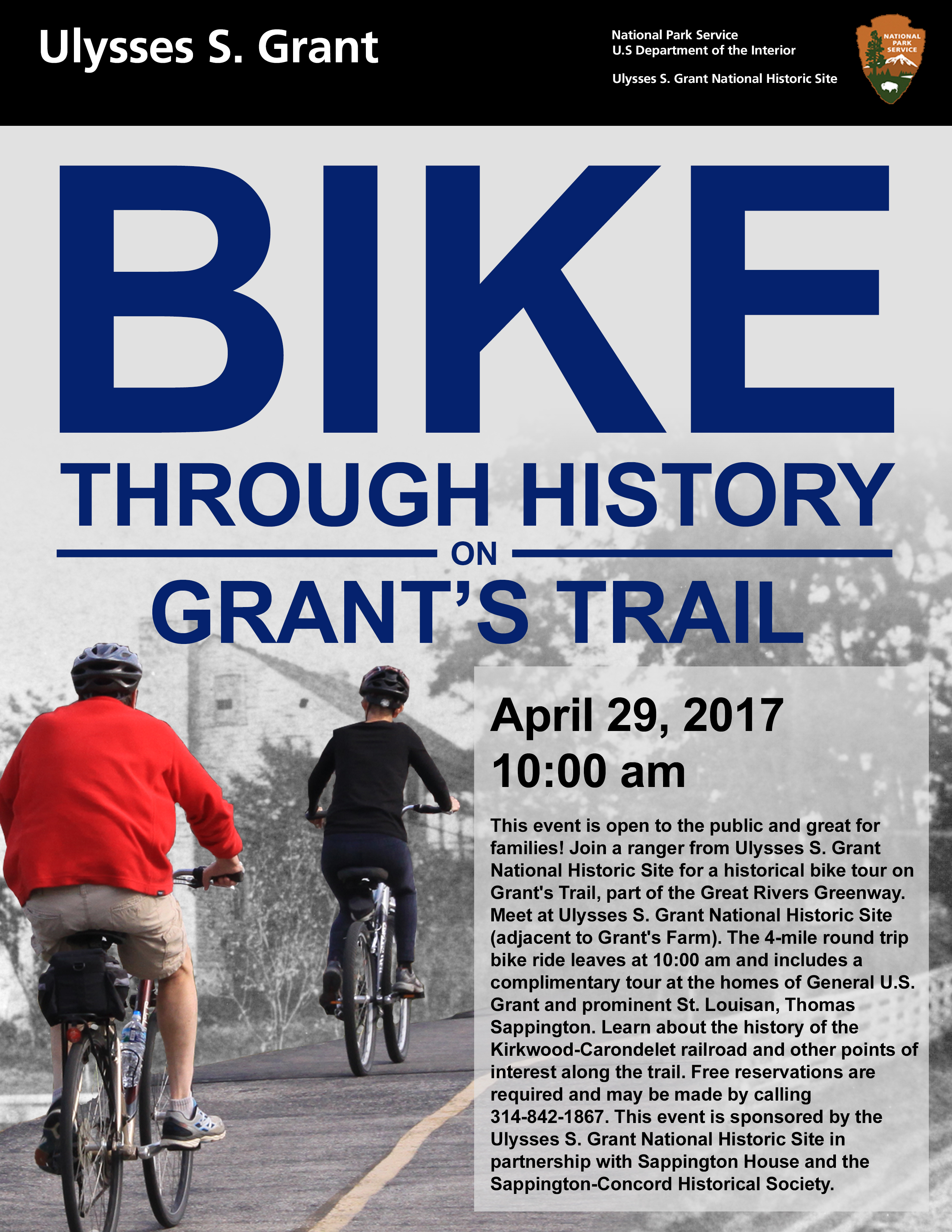 Special Events
The park offers special programs and performances throughout the year. Check here for a calendar of events. Note that most programs require advanced reservations as seating space is limited. Please call 314-842-1867 ext. 230 to make reservations.
Ulysses S. Grant National Historic Site Spring Calendar of Events
Join us for a variety of free programs. Step back in time with living history characters or hear a historian's presentation. Reservations are required for most programs and may be made by calling 314-842-1867 ext. 230.

Friday, March 24 – 7:00 pm
Saturday, March 25 – 10:00 am and 1:00 pm
ABOLITIONIST!! The Life and Death of the Reverend Elijah P. Lovejoy by Barnes Bradshaw
The Reverend Elijah P. Lovejoy was not from Missouri, or even the Midwest. His family never owned slaves. But he saw the "outright evil" of the slavery system here in St. Louis and grew to be appalled by its very existence. After the murder of a freeman of color in 1836 he could no longer hide his rage and spoke of it in his newspaper, The Observer. The result of these writings, and his uncompromising anti-slavery tone, was that both he and his printing press would meet with utter destruction. Reservations required.

Friday, March 31 – 7:00 pm
Saturday, April 1 – 10:00 am and 1:00 pm
Harriet Tubman by Kathryn Harris
This one-woman show is a portrayal of Harriet Tubman, an African-American abolitionist, humanitarian and civil rights activist who guided slaves to freedom via the Underground Railroad during the Civil War. Reservations required.
Friday, April 21 -- 7:00 pm
Lecture: The Civil War and the Birth of Human Rights in the United States
Professor Timothy S. Huebner
The American Civil War transformed the national political debate over rights. During the antebellum era, the nation debated the rights of slaveholders to hold, reclaim, and transport their slave property, a debate the culminated in the Supreme Court's decision in Dred Scott v. Sanford. Within less than a decade of that supposedly definitive decision, however, a bloody civil war transformed American social and political life. During the post-war period--especially the Presidency of U.S. Grant--the rights of formerly enslaved people stood at the center of the national discourse. This talk explores how and why a new emphasis on citizenship and human rights emerged out of the cauldron of war.

Timothy S. Huebner is the Sternberg Professor of History at Rhodes College in Memphis. A specialist in the history of the nineteenth-century United States, he has recently published Liberty and Union: The Civil War Era and American Constitutionalism (2016). Reservations required.

Saturday, April 29 -- 10 am
Bike Through History

This free event is open to the public and great for families! Join a ranger from Ulysses S. Grant National Historic Site for a historical bike tour on Grant's Trail, part of the Great Rivers Greenway. Meet at Ulysses S. Grant National Historic Site (adjacent to Grant's Farm). The 4-mile round trip bike ride leaves at 10:00 am and includes a complimentary tour at the homes of General U.S. Grant and prominent St. Louisan, Thomas Sappington. Learn about the history of the Kirkwood-Carondelet railroad and other points of interest along the trail. This event is sponsored by the Ulysses S. Grant National Historic Site in partnership with Sappington House and the Sappington-Concord Historical Society. Reservations required.