Election of 1872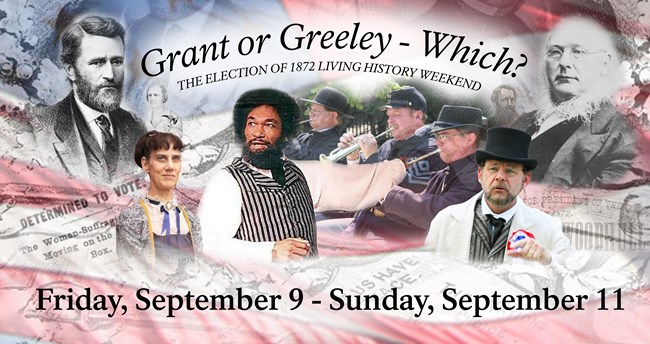 LIVING HISTORY WEEKEND - September 9-11

It's an election year!
At Ulysses S. Grant National Historic Site we'll be turning the clock back to 1872. President Ulysses S. Grant is running for re-election, but the Republican Party has split. A faction of the party has labeled themselves the Liberal Republicans. They've held a convention and nominated the famous newspaperman, Horace Greeley, as their candidate to replace Grant in the White House. The Democrats, still tainted by the Civil War, have decided to endorse Greeley as well.
The Equal Rights Party, however, has nominated the first woman to be President - the notorious Victoria Woodhull.
You are invited to come out to the park for a weekend of exciting speeches by leading celebrities such as the great African American orator, Frederick Douglass, Union General and Republican Senator, John Logan, and long-time abolitionist, Gerrit Smith. Presidential candidates Horace Greeley and Victoria Woodhull will be speaking, as well as St. Louis suffragette, Virginia Minor, and many others.
There will be numerous costumed interpreters and special activities throughout the day, including historic photography demonstrations and music of the era. All events are free and no reservations are required.
So, come out and cast your own ballot. You'll get to decide - Grant or Greeley - Which?
Click here for a full program schedule.

Friday, September 9
Evening program under tent from 6:30 - 9:00 pm
Includes presentations by John A. Logan, Virginia Minor, Horace Greeley, and Frederick Douglass
Saturday, September 10
Programs on grounds of park from 10:00 am - 4:30 pm
Includes historic presentations, campaigning and voting, hands-on activities, and historic band (12 pm and 3 pm)

Evening program under tent from 4:30 - 9:00 pm
Includes presentations by Frederick Dent and NY newspaper reporter, William H. Grey, Victoria Woodhull, Horace Greeley, and Frederick Douglass. The evening concludes with a lantern parade.
Sunday, September 11
Programs on grounds of park from 10:00 am - 4:30 pm
Includes historic presentations, campaigning and voting, and hands-on activities
Last updated: March 1, 2019