Historic Preservation From the Grassroots: A History of Save Grant's White Haven
By Nick Sacco
Park Ranger, Ulysses S. Grant National Historic Site, National Park Service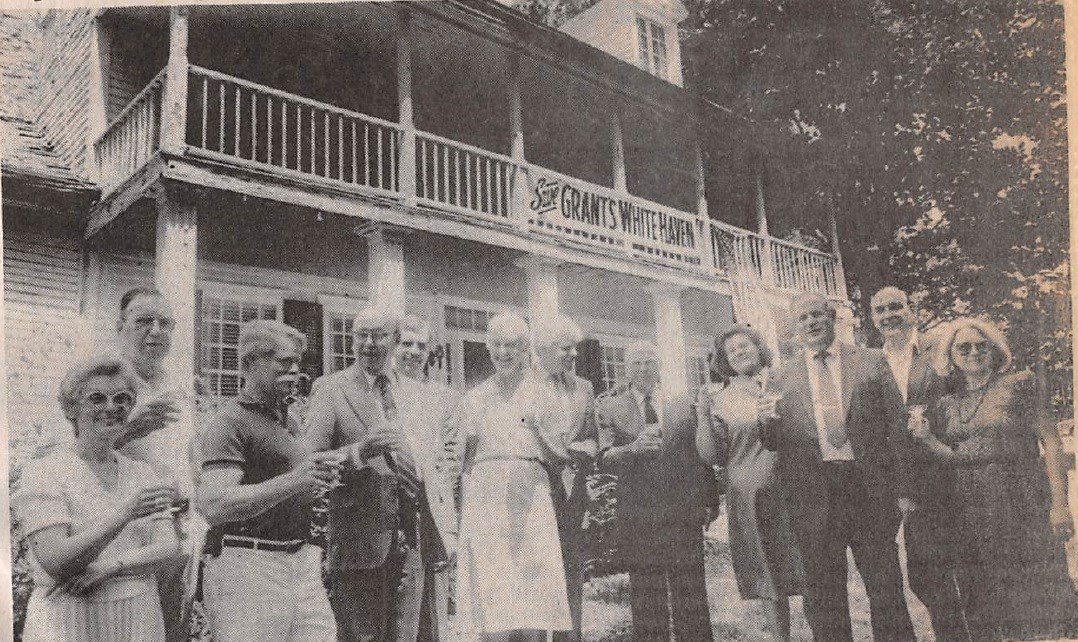 On a crisp fall day in 1928, a reporter for the St. Louis Globe-Democrat traveled to south St. Louis County. The reporter had come to visit White Haven, the historic childhood home of First Lady Julia Dent Grant, temporary residence of future general and president Ulysses S. Grant and his family, and an antebellum slave planation overseen by Julia's father, Frederick Dent. Although the Grant family lived at White Haven for only five years (1854-1859), their tangible connections to the home lasted a lifetime. The home's history was not lost upon the reporter who visited that day. White Haven was privately owned by local realtor Albert Wenzlick at the time, but after touring the home the reporter predicted that someday White Haven would "become a national shrine" to Grant's legacy.
[1]
This prediction became reality sixty-one years later in October 1989 when President George H.W. Bush signed House Resolution 1529 designating White Haven as a National Historic Site to be run by the National Park Service. The successful effort to save the historic home, numerous outbuildings, and the remaining ten acres of White Haven property was the culmination of a grassroots movement led by "Save Grant's White Haven," a preservation organization composed of local historians, preservationists, politicians, and residents who endeavored to save the home in the 1980s.
The history of Save Grant's White Haven is worthy of study by preservationists and historians alike. For one, it provides a glimpse into the complex legal and political barriers that almost led the White Haven property towards demolition and future development of a condo complex instead of historic preservation. Equally important, it offers a case study for analyzing how one local community managed to accumulate financial support on the county, state, and federal level for preserving the St. Louis home of Ulysses and Julia Grant.
Private Ownership of White Haven in the Nineteenth Century
Ulysses S. Grant is the most famous owner of White Haven during its period under private ownership, but numerous individuals owned the house before and after the Grants were connected with it. The historic home was originally constructed by William Lindsay Long between 1812 and 1816. Long was a settler from Virginia who sold the house and 167 arpents of land (about 141 acres) in 1818 to Theodore Hunt, a United States Naval Officer and real estate speculator. Theodore and his wife Ann Lucas Hunt lived at White Haven for roughly two years before selling the property to Frederick Dent in 1820. Dent was a successful business owner who was born in Maryland and had previously lived since 1802 in Pittsburgh, Pennsylvania, before moving to St. Louis. He initially envisioned White Haven as a summer residence away from the hustle and bustle of downtown St. Louis, but according to his daughter Julia Dent Grant, "Papa found this place and the life so delightful that he gradually gave up all occupation and passed his time in the summer months sitting in an easy chair reading an interesting book, and in the winter, in the chimney corner beside a blazing hickory fire, occupied in the same way." By 1827 the Dents were living at White Haven full time.
[2]
Julia grew up at White Haven alongside her parents, six siblings who lived to adulthood, and upwards of thirty enslaved African Americans owned by her father. During her childhood the property became a full-fledged slave plantation and expanded to 862 acres, about one-third of which was used to grow fruit and vegetable crops for profit. Her father also added numerous rooms to the house. Ulysses S. Grant—formerly a roommate and close friend of Julia's brother Frederick Tracy Dent at the West Point Military Academy—first visited White Haven in 1843 while stationed at nearby Jefferson Barracks. He met Julia in early 1844 when she returned from boarding school in downtown St. Louis, and the two began a courtship at the home. Ulysses also proposed marriage to Julia at White Haven, and they later married on August 22, 1848 at Dent's home in downtown St. Louis. When Grant resigned from the Army in 1854, the young family decided to make White Haven their home. Grant worked as a farmer on eighty acres that Dent had "gifted" to Ulysses and Julia when they married. During periods of struggle he sold firewood to make ends meet, and in 1859 he worked a number of jobs in St. Louis city. He also unsuccessfully applied to become St. Louis county engineer. Equally important, Grant paid close attention to political developments occurring in the 1850s as the United States fractured over the issue of slavery and its westward expansion. For part of his time at White Haven Grant himself owned one slave, William Jones, whom he freed in March 1859 before the family moved to Galena, Illinois, sometime in early 1860.
[3]
Throughout the Grant family's many travels and homes in other parts of the country during Julia and Ulysses' lifetimes, their five years together at White Haven were the longest they lived in one spot except their eight years at the White House during Grant's presidency (1869-1877).
After the conclusion of the American Civil War, Grant expressed an interest in making White Haven a commercial farm and horse breeding operation. In 1866 he hired a caretaker to live at White Haven and began purchasing parts of the property from the Dent family. Grant took an active interest in this work and actively corresponded with his manager from Washington, D.C., but the operation never yielded consistent profits. An economic panic in 1873 and possibly the Whiskey Ring Scandal, which had started in St. Louis, contributed to Grant's decision to have all livestock and farm possessions sold in 1875. The property was leased until the Grants lost ownership of the home in a Wall Street Market swindle in April 1885, three months before Grant died of throat cancer. Three different owners possessed ownership of White Haven until 1913: William Vanderbilt of the famous railroad family, former Confederate Captain Luther Conn, and James Hughes, a real estate agent who led a failed effort to convert White Haven into an amusement park.
[4]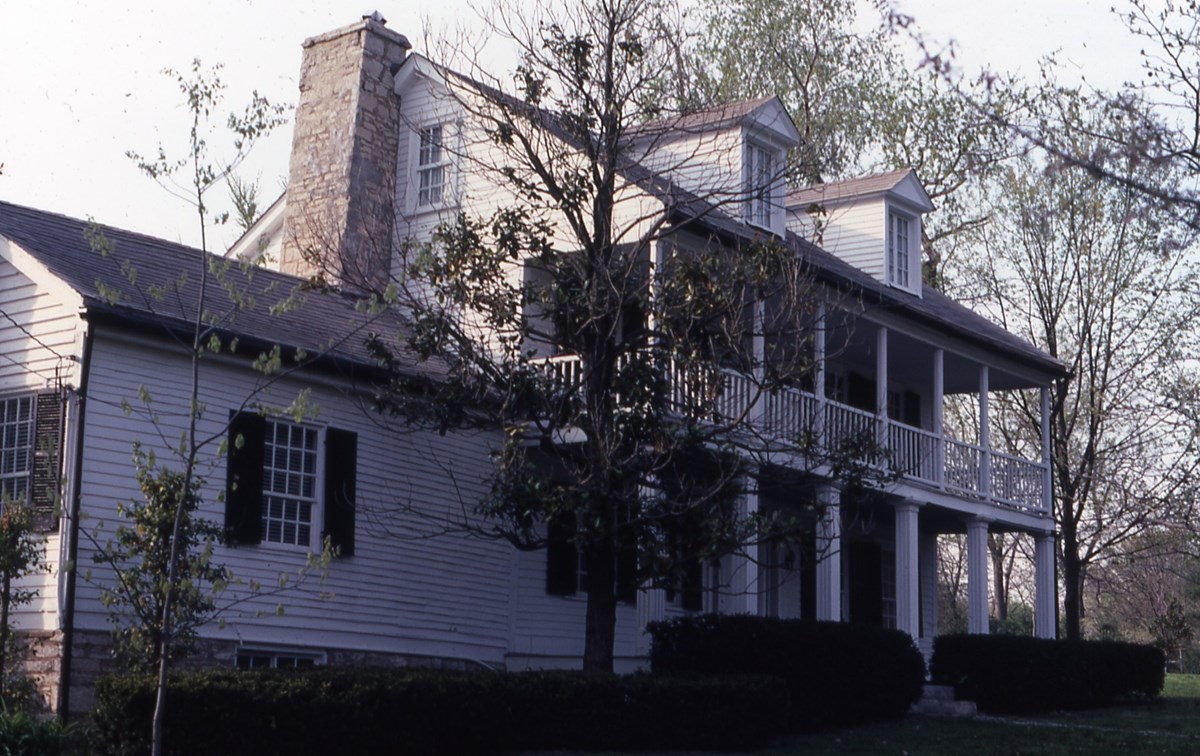 Private Ownership of White Haven in the Twentieth Century
The Wenzlick family obtained possession of White Haven in 1913. Albert Wenzlick made White Haven a summer residence and opened the house for public tours; one newspaper article from 1956 reported that upwards of 30,000 people toured the home from 1913 to 1940. Much of the property had been sold off by this time save for 120 acres, although Albert sold off another eighty to establish the "Forest Haven" neighborhood that sits close to the NPS site today. Delbert Wenzlick took ownership of the property in 1940 following his father's death. Delbert's family moved into the house full-time and undertook efforts to preserve the home. Architects with the federal government's Historic American Building Survey studied White Haven that year and compiled a photo album of the structure. Delbert also sold off another thirty acres, leaving the property at ten acres. Although White Haven was modernized during the Wenzlick years with additions of heating, air conditioning, electricity, indoor plumbing, a sunroom, and a three-car garage, both father and son attempted to maintain the historical structure "as neatly as possible as it had been in the days when Grant came courting," according to the St. Louis Globe-Democrat.
[5]
Delbert began considering the possibility of selling White Haven in the late 1970s. Maintaining the home had become a costly expenditure and a burden to the family's finances. He contacted St. Louis County Parks in the hopes of selling White Haven to a public entity that could preserve the home for public enjoyment. Esley Hamilton of St. Louis County Parks visited White Haven in January 1979 to meet with Delbert and discuss the home's future. These negotiations came to an abrupt end, however, when Delbert tragically died of a fatal heart attack at the home on January 12 at the age of 88. A newspaper article written shortly after Delbert's death reported that the historic home and ten acres were valued at $1 million dollars and that the property was left in a trust for the benefit of his widow Ann and his two children, Harold (who went by "Bill") and Dorris. It also stated that Delbert wished to see the home "sold for preservation after his wife's death."
[6]
The Creation of Save Grant's White Haven
Bill Wenzlick quickly took matters in a different direction, however. The St. Louis Post-Dispatch reported in September that the Wenzlicks preferred to sell White Haven immediately to a preservation group, but were also willing to field offers from developers. Bill Wenzlick stated that "we would love to see it preserved just as it is . . . it is tremendously valuable in a historical sense. But it is also a tremendous liability for the [Wenzlick] estate, so we will dispose of it." He wished to see the property sold for $1 million, but was negotiable to an extent. "Who wants it and for what purpose will have something to do with the price. If someone wants to buy it and tear it down, for example, I would be harder to get along with [rather] then if someone wanted to buy it and preserve it." Wayne Kennedy, Director of St. Louis County Parks, and Virginia Stith, Director of St. Louis County Parks Historic Programming and Preservation, expressed hopes that the house would be saved. The county was also successful in placing White Haven on the National Register of Historic Places in April, ensuring that the house could not be dramatically altered or torn down without federal approval if federal funds were used to preserve it.
[7]
The Wenzlick family's efforts to sell White Haven languished for several years. St. Louis County Executive Gene McNary recommended to the County Council in 1981 that White Haven be accepted into the County Parks system, but admitted that funds to purchase the home with public money were scarce. Private funds were necessary for any purchase, especially if the Wenzlicks held out for $1 million. Local business leader and history enthusiast Frank Budetti started "The Whitehaven Group" in an effort to solicit donations from businesses willing to help save the home, but failed to raise the necessary funds. Meanwhile, no developers expressed interest in the property.
[8]
The situation worsened by 1985. Bill Wenzlick told the St. Louis Post-Dispatch that he had reached out to the Anheuser-Busch brewing company several times about purchasing White Haven but received "a flat no" each time. (The company ran the Grant's Farm animal park on original White Haven property adjacent to the home). "It has been tough to sell," recalled Wenzlick. "People look at it for remodeling, but then say they would hate to mess with its history. It has become a white elephant." Citing a lack of public interest in the property, Wenzlick threatened to sell to developers as soon as possible. John Y. Simon, professor of history at South Illinois University Carbondale and president of the U.S. Grant Association, expressed frustration at the seeming lack of public interest in the home. "There is not a more important house in St. Louis County," he said. "If they are waiting for another president to come out of St. Louis, it is going to be a long haul."
[9]
In response to this renewed threat, Wayne Kennedy, Missouri State Parks Director John Karel, and Jefferson National Expansion Memorial (now named Gateway Arch National Park) Superintendent Jerry Schober met in early March to discuss purchasing options and long-term care of the home on the county, state, and federal level. Meanwhile, Esley Hamilton of St. Louis County Parks reached out to Jeannine Cook, a preservationist, educator, and President of the Affton Historical Society, about organizing a committee of local residents to discuss the possibility of forming a new organization dedicated to saving White Haven. Cook, Hamilton, and other preservationists began organizing in early 1985.
[10]
The preservation group "Save Grant's White Haven" was established during a meeting of concerned residents on March 29, 1985. A fifteen-person board was created with Missouri State Representative Jack Goldman of Affton elected President and Cook elected Vice-President.
[11]
The group incorporated as a non-profit organization and agreed to work together on several initiatives: raising private funds to save the home, designing public programming to educate local residents about the home and the Grant family's connection to it, and soliciting support from county, state, and federal leaders to preserve the home. The group agreed that in addition to the high purchase price for the home, long-term renovations and annual maintenance would cost hundreds of thousands of dollars in the future, requiring a financial investment beyond the resources of St. Louis County Parks. Virginia Stith argued that if Congress continued ongoing efforts to save the homes of former Presidents Nixon, Ford, and Carter through federal legislation, it was worth asking Congress "why Grant's home is not of equal historical significance." Save Grant's White Haven quickly received endorsements from other local history organizations, including Landmarks Association of St. Louis, Inc., Women's Architectural League, Affton Chamber of Commerce, Historic Florissant, Inc., and the Kirkwood Historical Society.
[12]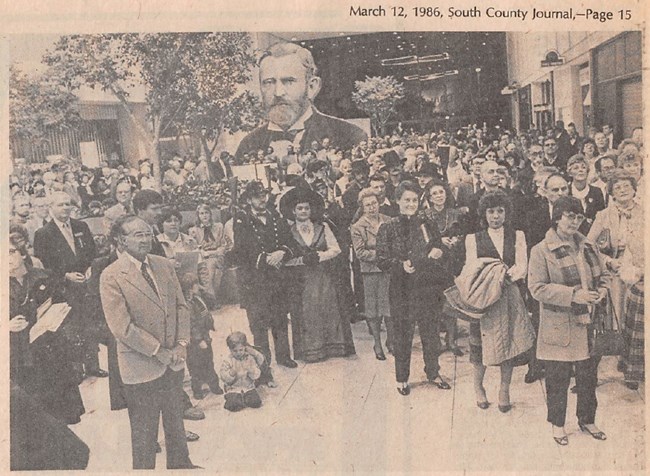 The Work Begins
Save Grant's White Haven hit the ground running in the summer of 1985. At least one local business—Stupp Iron Works—contacted the group and expressed interest in donating funds to save the home. Missouri State Parks Director John Karel met with Representative Goldman in April 1985 to discuss funding for a newly created Historic Revolving Fund maintained by the Missouri Department of Natural Resources. At that meeting the discussion turned to whether Whitehaven would qualify for a grant from the fund. Karel committed to working toward contributing up to half of the purchase price, provided that the Wenzlicks were willing to come down on their asking price.
[13]
The group also planned two important public history events to raise awareness of White Haven. The first occurred on the 100th anniversary of Ulysses S. Grant's death on July 23, 1985. That day the group went to the U.S. Grant statue at St. Louis City Hall and led a commemorative observance of Grant's death. The statue was adorned with wreaths as an Army Band from Fort Leonard Wood, Missouri, performed during the ceremony. Many participants dressed in nineteenth century period clothing and a Grant lookalike contest took place with a cash prize to the winner. The group also contributed to a nine-day history exhibit in September at Crestwood Plaza (a nearby mall) that included information on Grant and White Haven.
[14]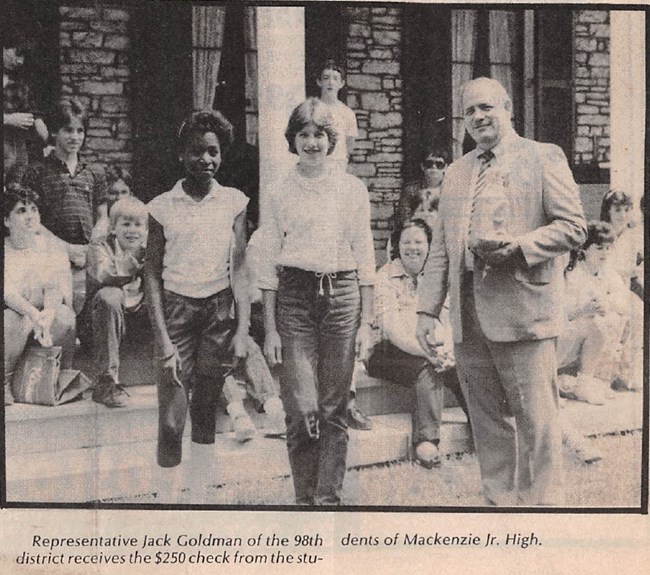 Save Grant's White Haven announced in January 1986 that they would be hosting their own historic photograph exhibit with a wine and cheese opening reception at Crestwood Plaza on March 3. The exhibit was created by the Bureau of Historic Sites in New York State for the 100th anniversary of Grant's death. It was loaned to the group to help with fundraising. In order to create a higher public exposure, the committee requested that Ina McNary, wife of County Executive Gene McNary, be General Chairman of this event. According to Jack Goldman and Jeannine Cook, this event and Ina's participation in it was crucial in gaining more support from McNary. Roughly 1,000 people attended the event, demonstrating how important saving White Haven was for the local community. "Our goal was 500 people," said Goldman, "[and] we probably made over $3,000."
[15]
Equally important, the Missouri Department of Natural Resources announced that they had agreed to use money in their historic preservation revolving fund to cover half of "the fair market price" of the White Haven property. Goldman announced that the Missouri DNR's investment was a ten-year low interest loan. To be eligible for the fund, Save Grant's White Haven would cover the other half of the purchase price and present a repayment plan for the Missouri DNR's loan. In a South County Journal feature about the exhibit, Goldman expressed confidence about the future. "The letter [from the state] was very positive about the organization . . . I don't find their stipulations too hard to live with."
[16]
Two important questions remained for the group, however: what would constitute a "fair market price" for White Haven in the eyes of the Wenzlick family, and what public or private entity would assume ownership of the home after purchase? Bill Wenzlick lowered White Haven's price to $750,000 and stated that "I would much rather see the White Haven group get the thing," but he also warned that several developers willing to pay full value for the property were now expressing interest. When an independent appraiser valued the White Haven property at $475,000, Wenzlick dismissed the valuation. "An appraisal is no more than someone's opinion. I developed and built the [residential] houses on both sides of White Haven, and I know the value of the property in the area." If a developer secured financing to purchase the property, Wenzlick stated that he would restore the White Haven home as his own residence and develop the remaining ten acres into single family homes.
[17]
Goldman expressed hope that the federal government would eventually acquire ownership of White Haven. He believed that the county and state, while supportive of the home's preservation, were "[not] too excited about taking it over" due to long-term rehabilitation costs. "I think the ideal thing would be for the federal parks department [the National Park Service] to take it over. It could be tied in with the Jefferson National Expansion Memorial [in downtown St. Louis]." Goldman was realistic about the chances of this scenario working, however. The county was still recovering from a nasty economic recession in the early 1980s, and "with federal cutbacks now taking place, [acquiring White Haven] may not be a realistic alternative" for the long-term future of the home.
[18]
Save Grant's White Haven continued their work to raise awareness and funds for purchasing White Haven. Local historian Ross Wagner gave numerous presentations about Grant and White Haven throughout the St. Louis area. He also wrote a brochure with a brief history of White Haven that was distributed to all organizational members. Importantly, Wagner was one of the first historians to stress the importance of saving White Haven because of its significance as a slave plantation before the Civil War. Local students also contributed to the effort, with students in one seventh grade class at Mackenzie Junior High School in the Affton School District going door to door to raise money, while other students in the area wrote letters to local newspapers supporting White Haven's preservation.
[19]
The group received a major boost in April when an anonymous donor agreed to cover half of White Haven's purchase price as long as the Missouri DNR followed through on their promise to cover the other half with the revolving fund. The St. Louis Post-Dispatch announced the following month that an offer of $475,000 was made by Save Grant's White Haven to buy the property. This offer was rejected, but Ann Wenzlick—Bill's stepmother and the widow of Delbert Wenzlick—became more involved in negotiations and suggested that the family would be willing to come down on their asking price. She encouraged the group to "make their best offer," to which Save Grant's White Haven increased their offer to $510,000 in June.
[20]
Meanwhile, Missouri Congressman Richard Gephardt and Senators John Danforth and Thomas Eagleton signed a letter in support of White Haven's donation to the federal government, contingent upon a feasibility study of the home undertaken by the Department of the Interior. Deputy Interior Secretary Daniel Smith considered White Haven "an amazing little gem that hasn't been discovered" and Jefferson National Expansion Memorial Superintendent Jerry Schober hoped federal acquisition would lead to future educational endeavors that would "remove this cloud of seeing Grant as a bumbling drunkard. The [National] Park Service has a lot of presidents' homes. That's why it kind of sticks in some people's caw that we can't buy this one."
[21]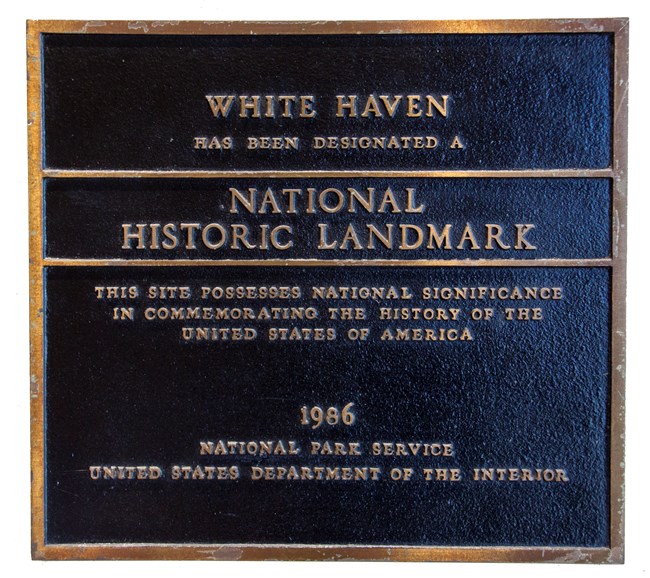 Designation as Historic Landmark and Purchase of White Haven
While the Wenzlick family debated the newest offer from Save Grant's White Haven, another important step in preserving the home was achieved. Esley Hamilton of St. Louis County Parks had been working since 1979 to organize an application for making White Haven a National Historic Landmark (NHL). NHL sites are recognized as nationally significant historical structures that demonstrate "exceptional value or quality in illustrating or interpreting the heritage of the United States," according to the National Park Service.
[22]
This designation is the highest a historic structure can receive from the federal government, and it creates an additional layer of protections against private development. As of 2017 there are only 2,500 National Historic Landmarks in the United States.
[23]
To boost the chances of White Haven's NHL nominating being accepted, Hamilton and Virginia Stith went to Washington, D.C., to testify to the National Advisory Council of the National Park Service. Numerous architectural historians also testified, including Osmund Overby, President of the National Society of Architectural Historians. Overby commented that despite 170 years of private ownership, White Haven experienced "relatively few changes for a building of this age, and the changes have not impaired the historic core of the [house]." This testimony proved successful, and on June 23, 1986, White Haven became the first property in St. Louis County to receive National Landmark status.
[24]
Shortly after White Haven became a National Historic Landmark, Save Grant's White Haven announced a press conference at the home on Saturday, July 5. The group announced that the Wenzlicks had agreed to sell White Haven for $510,000 and that St. Louis County Parks would acquire ownership of the home. Payment for the property would be contingent upon the previously agreed-upon split payment between the Missouri DNR's revolving fund and the anonymous donor working through the St. Louis County Park's Historic Buildings Commission. Both would pay $255,000. Although the final details were still being worked out, it was generally agreed that Save Grant's White Haven and St. Louis County would work together to pay back the Missouri DNR's half of the purchase over the next ten years. The effort to save White Haven from private development appeared to be successfully completed. The leaders of Save Grant's White Haven enjoyed a toast at the front of the home and the discussion soon switched to plans for restoring the home to its nineteenth century appearance.
[25]
Trouble loomed on the horizon, however. Two months passed after the celebratory announcement of White Haven's purchase without any signatures finalizing the deal. The St. Louis Post-Dispatch reported in September that the anonymous donor who had agreed to cover half the purchase price began to have second thoughts about the deal. Wayne Kennedy stated that the donor was "looking over all the materials with his lawyer" and expressing concerns about being made responsible for additional future costs. Shortly after this news was made public, the donor backed out of the deal. As the deadline for finalizing the sale neared, Save Grant's White Haven hurriedly searched for other purchase options.
[26]
A potential solution arrived when St. Louis County Executive Gene McNary announced on September 29 that the county would pick up the cost of purchasing White Haven, contingent upon approval by the St. Louis County Council. Half the purchase cost originally agreed to by the anonymous donor would now be paid immediately through a bond issued earlier that year for county parks. The Missouri DNR's half would be paid back by the county on a ten-year, zero-interest loan. The county would also cover the costs of funding an architectural study of the home and initial preservation efforts, including a repaint of the home. Kennedy and Goldman expressed confidence that the St. Louis County Council would approve McNary's action.
[27]
As the County Council debated the merits of McNary's announcement, a small minority of residents disapproved of the county assuming responsibility for purchasing and preserving White Haven. Buck Collier of the South County Journal admitted that "a major argument can't be raised against the purchase of the home," but complained that the funds from the 1986 county parks bond issue had been appropriated for needs at other county historic sites. The needs of those sites were now being put on hold as the county assumed more debt to acquire and run White Haven. "I believe when voters are asked to go into debt . . . for a specific amount of money for specific projects [,] that amount of money should remain intact for all those projects." Perhaps hoping to boost his argument, Collier engaged in myth-making by arguing that Ulysses Grant was famous because he "enjoyed a good stiff drink more often than not" and was "credited by many historians as heading the most corrupt administration in the country's history."
[28]
Collier's economic criticisms were valid, but McNary, a self-described fiscal conservative, argued that the unique circumstances revolving around White Haven and its potential demolition required immediate action. The County Council shared McNary's view and agreed to fund the purchase of White Haven. In December 1986 Save Grant's White Haven and numerous state and county leaders held another toast at White Haven to celebrate the official purchase of the home. St. Louis County Parks took possession of White Haven and began formulating plans for restoration.
[29]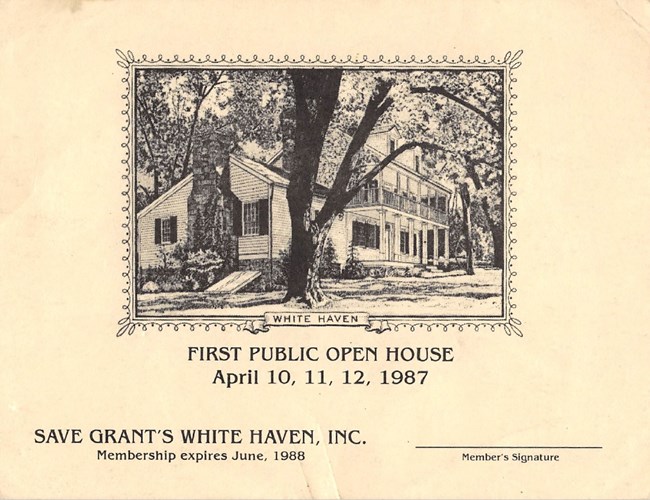 Preservation of White Haven Begins
According to Jack Goldman and Jeannine Cook, White Haven was in remarkably good shape for its age, but there were numerous issues that required immediate attention. Those issues including paint chipping, bug infestation inside the home, and a historic chimney on the verge of collapse. St. Louis County leaders expressed a willingness to invest in "stopgap" measures to address these issues, but notified Save Grant's White Haven that private donations would enhance the county's ability to begin preservation efforts. From April 10 through April 12, 1987, the group hosted an open house at White Haven, the first time in which the house was opened to the public. Interested parties made reservations and paid $10 per ticket to visit the home. Moreover, the ticket purchase was made tax-deductible and entitled the patron to membership into Save Grant's White Haven.
[30]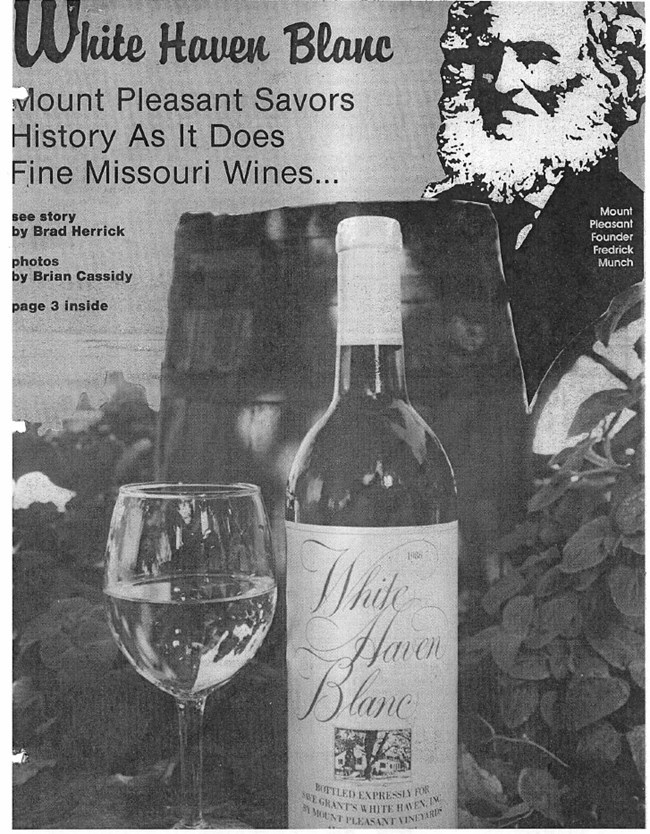 The open house proved to be a major success. Roughly $10,000 was raised as 1,000 visitors toured the home and became members of Save Grant's White Haven. The group also collaborated with Mount Pleasant Winery of Augusta, Missouri, to create a white wine called "White Haven Blanc" to raise funds for preservation projects. Ed Cook, a renowned local artist and Jeannine's husband, created a unique label for the wine that was instrumental in making it a distinctive item. The wine was sold in cases of twelve bottles and thousands were sold during the holiday season in 1987. According to the St. Louis Post-Dispatch, "White Haven Blanc" won a gold medal at the Missouri State Fair and President Ronald Reagan even had a glass of it at a Kansas City luncheon in September. Tens of thousands of dollars had been raised by Save Grant's White Haven by the end of 1987.
[31]
Historical Architect William Bodley Lane was selected by St. Louis County to begin an architectural study of the home and make recommendations for preservation. Betty Sutton, Chairman of the St. Louis County Historic Buildings Commission (and also a member of Save Grant's White Haven) cited Lane's work with other local historic homes such as Sappington House, Hawken House, and the Oakland Home as motivating factors for his selection. Save Grant's White Haven also had a say in Lane's selection: numerous individuals involved with the group, including John Y. Simon, Jeannine Cook, Virginia Stith, and Erle Lionberger of the St. Louis Historic Buildings Commission collaborated with Lane in the initial planning phase of the home's restoration. Lane recommended that the house be repainted and that work be done on the front porch and roof of the home, but argued that "[more] research is needed . . . it is important to know exactly what the house was like during the years Grant was associated with it."
[32]
Although St. Louis County was committed to assisting with White Haven's preservation in the short term, by the end of 1987 it became increasingly obvious that the county was anxious to find a different steward for the property. Jack Goldman recalled that St. Louis County's budgetary woes prevented it from funding the home in the long term, and the state of Missouri expressed no interest in owning it. When Interior Secretary Donald Hodel visited St. Louis in December, County Executive Gene McNary approached him and suggested that the federal government look into acquiring White Haven. McNary also stated that the county would pay for additional restoration efforts "if the feds will take it over and provide the maintenance on an ongoing basis." Members of Save Grant's White Haven and several figures in the federal government had already pushed in this direction. Missouri Congressman Richard Gephardt previously visited the home in 1984 and discussed the possibility of writing legislation to acquire White Haven. Gephardt had also written a letter in collaboration with Missouri Senators John Danforth and Thomas Eagleton in 1986 asking the Department of the Interior to study the question. Equally important, National Park Service Chief Historian Ed Bearss visited White Haven that same year, and Jefferson National Expansion Memorial Superintendent Jerry Schober floated the idea of his NPS unit running the site. Jefferson National Expansion Memorial was also instructed to develop management plans for a potential NPS site at White Haven in June 1986. Interior Secretary Hodel was initially cool to the idea, warning that "there is tremendous competition within the park service for limited funds."
[33]
The Process of Becoming a National Park Service Unit Begins
As news of White Haven's potential transfer into the National Park Service made its way through the St. Louis area in 1988, the VP Fair Foundation (now called Fair St. Louis) announced their hopes of purchasing White Haven and donating it to the NPS. They proposed to cover half of the purchase cost ($255,000), with Schober working to cover the other half. Senator Danforth and Congressman Gephardt vocally supported this transfer of property, and it appeared that Save Grant's White Haven and the VP Fair would successfully retire the county's debt on the property. This particular effort failed, however, when the VP Fair rescinded their offer amid declining revenues and public funding.
[34]
On July 21, 1988, Senator Danforth met with community leaders at the historic Oakland home in nearby Affton, Missouri, and announced that he was sponsoring a bill to transfer White Haven to the National Park Service. Danforth proclaimed that the home was "a hidden jewel," but with NPS status it would become a well-known "sight-seeing pilgrimage" and a "major attraction for the St. Louis area." He expressed great confidence, stating that "I have no doubt that this [bill] will be enacted into law and that the National Park Service will restore, preserve and maintain this site in the future." Continued studies by St. Louis County and the Interior Department estimated that preserving the White Haven property would cost the federal government between $500,000 and $1 million a year, and that the home could be open to the public in a few years.
[35]
Senators Danforth and Christopher "Kit" Bond (who replaced Eagleton in 1987) introduced this legislation (Senate Resolution 518) in October. Danforth argued that "this legislation is extremely important for preserving the history of one of our country's great leaders" and that "there are currently no units in the national park system that represent Grant's life, though nearly every other president is represented by at least one unit." This latter claim was technically incorrect, as the National Park Service had assumed ownership of the General Grant National Memorial in New York City (popularly known as Grant's Tomb) in 1958. That site could hardly be described as a fitting representation of Grant's life, however. An NPS report conducted in 1959 admitted that the agency had "no program for the site," and throughout the 1960s and 1970s the tomb was plagued by poor management decisions that led to historic artifacts being destroyed and museum exhibits with inaccurate information. The tomb was also badly vandalized with graffiti and in an area of New York City marked by rampant violence. General Grant National Memorial would receive much needed attention in the 1990s and is a thriving unit for the city today, but at the time of Danforth's comments the site was in a state of dysfunction.
[36]
Perhaps White Haven's designation as an NPS unit could restore dignity to Grant's legacy in a way his tomb could not.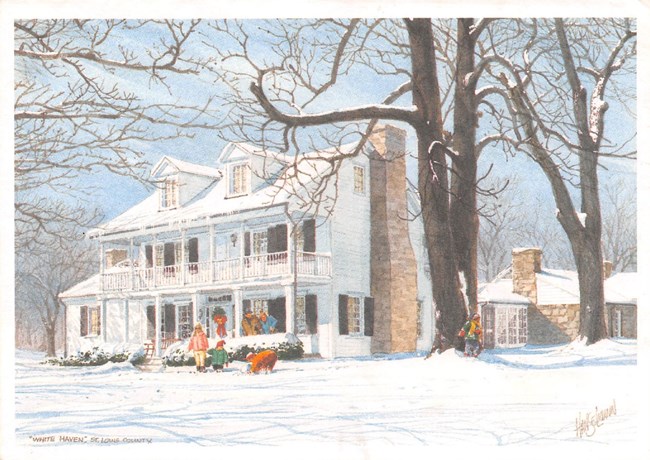 The push to make White Haven an NPS unit was in full swing by the end of 1988. The St. Louis Chapter of the American Heart Association commissioned painter Robert Hanselmann to create a painting of White Haven to be sold as a Christmas card to raise funds for the organization and promote White Haven within the local community. Save Grant's White Haven President Jack Goldman also wrote a letter to the editor of the Gravois-Watson Times expressing hope for the future. "It looks more and more promising that the federal government will take possession of White Haven," he proclaimed. He also announced that the house was having carpentry work done and that continued support of the group would allow for more restoration work to be completed before an NPS takeover.
[37]
Two more important developments occurred in March 1989. A commemorative plaque noting White Haven's designation as a National Historic Landmark in 1986 was unveiled at the home on March 31 to the cheers of local residents. Goldman and McNary thanked the residents of south St. Louis County in their efforts to save the home, with McNary arguing that "there has never been a [historic preservation] movement in the county with the intensity of this one."
[38]
Additionally, Senators Danforth and Bond re-introduced Senate Bill 518 and Congressman Gephardt introduced identical legislation (House Resolution 1529) in the House of Representatives.
[39]
The path to federal preservation of White Haven was becoming clearer.
"No Haven"
More complications arose during a House committee hearing on Gephardt's bill on May 8. Congressman Gephardt—who by this time had become House majority leader—passionately argued that "preserving the White Haven estate is critical to enabling future generations to understand President Grant as a person and as a major figure of his time." Congressman George "Buddy" Darden of Georgia, in a playful joke that played into popular portrayals of Grant as an alcoholic, asserted that "the best Union Army general was U.S. Grant sober. The second-best was Grant when he wasn't sober." Nevertheless, there appeared to be bipartisan and national support for the bill among House members. The National Park Service, however, expressed strong hesitance about accepting White Haven into the agency. Missouri's legislators and members of Save Grant's White Haven who attended the hearing left feeling frustrated.
[40]
Herbert S. Cables, Deputy Director of the NPS, stated that based on previous studies it would cost the agency about $1 million to restore White Haven and $400,000 annually to operate and maintain the site. He argued that White Haven had "potential," but refused to support Gephardt's bill unless another study was undertaken. Bruce Craig, a leader of the non-profit National Parks and Conservation Association, also cast skepticism on the project. He argued that the Hardscrabble log cabin—a small house that Grant built with assistance from neighbors and enslaved people on the White Haven property and where his family lived for three months in 1856—was of far greater importance that White Haven. Even though Hardscrabble was privately owned by the Busch family of the Anheuser-Busch brewing company and located on the Grant's Farm animal park property adjacent to White Haven, Craig insisted that the NPS should focus on acquiring it in some way. Hardscrabble was "a cultural resource of transcendent importance, a significant structure for more closely associated with Grant than any other [property]," according to Craig, and the NPS should work with the Busch family to "accept Hardscrabble by donation or purchase." He also proposed that the site be called "Ulysses S. Grant Historic Site" instead of "White Haven National Historic Site," as it was called in the original bill.
[41]
The argument that Hardscrabble was a structure more closely associated with Grant was debatable. That home was certainly important, as Grant intended for his family to live there permanently as he continued his goal of becoming a successful St. Louis farmer in the 1850s. White Haven possessed unique significance, however, because it was also the childhood home of Julia Dent Grant and a slave plantation before the Civil War. Moreover, attempting to acquire a privately owned structure from the Busch family—who never expressed an interest to sell or donate Hardscrabble— was a counterproductive move after spending many years to make White Haven a public commodity. John Y. Simon complained after the hearing that "the Busch family could buy the National Park Service. [They] have taken good care of Hardscrabble, and adding it to White Haven is not a priority." Jack Goldman was more blunt in his assessment: "It's right across the street from White Haven [at Grant's Farm]. What's the big deal?"
[42]
Congressman Gephardt and his legislative assistant Jim Hawley expressed great disappointment at the tone of the House hearing. In response to the NPS's desire for more studies on the home, Hawley cited previous studies in 1986 by Ed Bearss, Jefferson National Expansion Memorial, and the Interior department. He complained that "this has been studied quite a bit . . . We know what's at White Haven. Rather than spending $75,000 on another study, that money would be better spent fixing up the house." He also suggested that "we were not expecting the administration to come out last minute and oppose this. We were caught by surprise." Goldman later recalled in 2015 that the NPS was under great pressure from the newly-elected George H.W. Bush administration to keep finances tight and avoid taking on new projects.
[43]
Confidence over the fate of White Haven was nonetheless high among members of Save Grant's White Haven and Missouri's Congressional leadership. Goldman expressed concerns to numerous congressmen after the hearing, but was reassured by Senator Bond that support among members of Congress in both chambers was high. Erle Lionberger happened to be close friends with President Bush's family and spoke with numerous members in support of the federal government accepting White Haven. And Jeannine Cook, Vice President of Save Grant's White Haven, recalled a remarkable interaction on the day of the hearing between Congressman Gephardt and a group of eleventh grade students from the Affton School District. The students four years earlier had worked as seventh graders to go door to door raising funds to save White Haven, and they happened to be on a school field trip the day of the hearing. Gephardt met with the students, and when asked about the skepticism among some people in Washington, D.C., he confidently asserted that the home had been "studied out" and that White Haven would soon become an NPS site.
[44]
The Final Push
House Resolution 1529 was passed by the House in June with one modification: the proposed site would be named "Ulysses S. Grant National Historic Site." Gephardt celebrated its passage and argued that it would "preserve one of the most historic sites in the St. Louis area and enable future generations to learn about the life of the Union general and president, Ulysses S. Grant . . . [he was] a one-time slaveholder from a border state who won the war to end slavery . . . but remained generous to all his countrymen—regardless of the side they fought on." The bill would authorize annual appropriations for preservation and maintenance of the site and enable the Department of the Interior to accept White Haven as a donation from St. Louis County. NPS leadership continued to resist White Haven's acquisition, however. Citing an earlier analysis by the Office of Management and Budget that estimated roughly $1 million would be needed to restore the home and between $300,000 and $400,000 for an annual operating budget, Herbert S. Cables stated that "the reason we don't support it is that we had questions relative to its cost. We thought we should look into other ways to operate it."
[45]
The Senate passed the bill in September. Senator Kit Bond earned the support of a Senate subcommittee on national parks and argued that Grant's "significance in our country's history, both as president and as a brilliant general, make a compelling case for the preservation of his home as part of our national heritage." He also dismissed calls from the NPS for additional studies, responding that "what is necessary is to begin the much-needed restoration work so this historical and educational treasure can be opened to the public without delay."
[46]
On October 2, 1989, President Bush signed House Resolution 1529 into law. White Haven would now become a unit of the National Park Service. In an official statement on the bill, Bush argued that White Haven symbolized "Grant's strength of character through economic adversity . . . [and] a relentless pursuit of success and a determination to move ahead despite temporary setbacks," traits that would help him during the Civil War and his presidency. He believed that "White Haven will become a worthy addition to the National Park Service" and suggested that the home "appears to be the only intact setting appropriate for commemorating the entire range of Grant's heroic deeds and public service." Conversely, the President also chided Congress for not accepting the Interior Department's recommendation for another study of the property's financial implications. Bush recommended that future proposals undergo more vigorous analysis before acceptance into the NPS, but he nonetheless celebrated the addition of Ulysses S. Grant National Historic Site into the agency's holdings.
[47]
After passage of HR 1529, Save Grant's White Haven and Jefferson National Expansion Memorial collaborated on a plan to retire the remaining debt on White Haven. The $255,000 that had been awarded by the Missouri Department of Natural Resources to St. Louis County on a ten-year, interest free loan to cover half of the $510,000 purchase price from the Wenzlick family was still in the course of being paid off, but Superintendent and Save Grant's White Haven supporter Jerry Schober was anxious to complete the transaction. With the VP Fair Foundation failing to meet its 1988 promise to pay this debt, Schober looked to Jefferson National Expansion Historical Association (known today as Jefferson National Parks Association) to possibly cover the payment. JNEA was a non-profit organization that ran the gift shop under the Gateway Arch at Jefferson National Expansion Memorial. Jeannine Cook and Jack Goldman of Save Grant's White Haven members were elected onto the JNEA board, and a plan was devised to use sales from the Arch gift shop and private donations to retire the remaining White Haven debt. Following JNEA's retiring of the debt, the official transfer of White Haven to the NPS was completed on June 12, 1990.
[48]
The first NPS employees arrived soon thereafter. In discussing this transfer, Schober stated that White Haven would be an endearing symbol for years to come. Americans living in "a proud country" could now "honor [Grant's] efforts to save the Union and learn from his life how to accept responsibilities that may be levied upon us."
[49]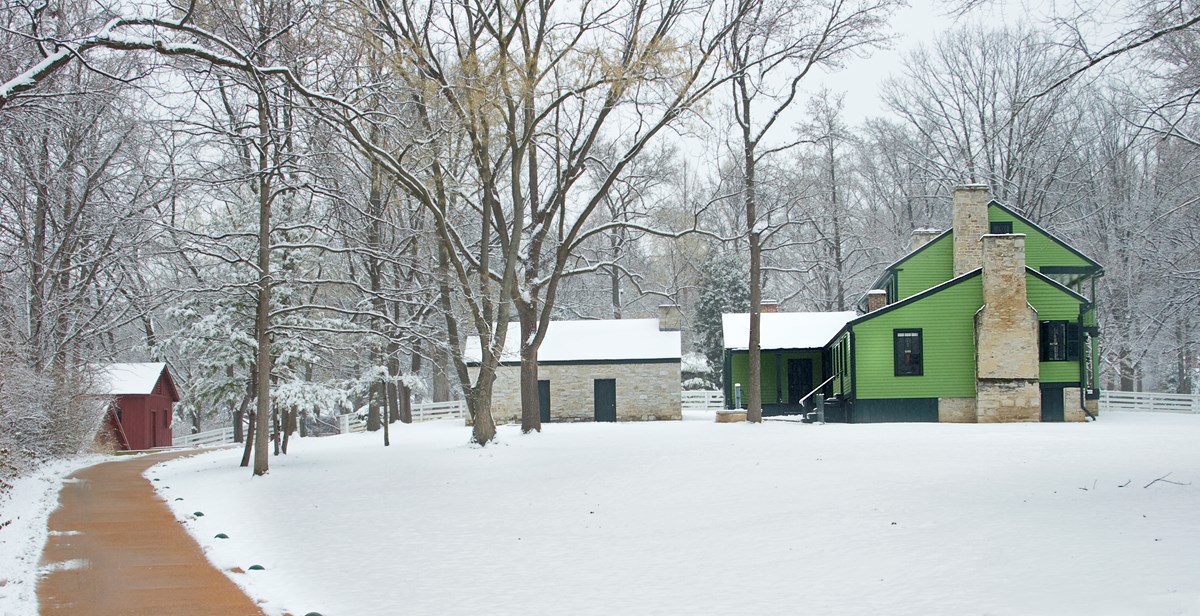 Conclusion
In the years since Ulysses S. Grant National Historic Site was established as an NPS unit, the park has experienced significant growth and transformation. A Visitor Center was added in 2005 and a museum in 2007 to enhance visitor experiences at the site. Visitor attendance in 2017 exceeded 55,000 visitors, a park record. Park staff regularly work with senior groups, scout groups, and schools in an effort to interpret the life of Ulysses S. Grant and those who shaped it during his time at White Haven. Jack Goldman and Jeannine Cook praised the NPS in 2015, calling the site "magnificent" and "beyond my dreams."
[50]
None of this work would have been achieved, nor would White Haven exist today, without the efforts of a group of local residents in St. Louis County who worked to save the White Haven estate in the 1980s. The dedicated members of Save Grant's White Haven fought threats of White Haven's demolition, private real estate development, and broken promises. In the span of four short years, they successfully created a coalition of residents and politicians on the local, state, and federal level to support the preservation of White Haven by the National Park Service. This grassroots effort led to the creation of Ulysses S. Grant National Historic Site in 1989, and a tangible site for recognizing one of the most significant figures in American history. The NPS expressed hesitance at taking on White Haven for financial reasons, but all of the agency's leaders understood the importance of saving the home for future generations and the work of Save Grant's White Haven towards the home's preservation. Nearly thirty years after Ulysses S. Grant National Historic site was established, the NPS's mission of preserving and interpreting the lives of Ulysses S. Grant, Julia Dent Grant, and the enslaved African Americans of White Haven continues in earnest.
[1] "The Home in Which Gen. Grant Courted and Lived is Still a Staunch Structure." St. Louis Globe-Democrat, November 4, 1928.
[2] Alan W. O'Bright, The Farm on the Gravois: Historic Structures Report (Washington, D.C.: Government Printing Office, 1991), 2.51-2.56; Julia Dent Grant, The Personal Memoirs of Julia Dent Grant (Carbondale, IL: Southern Illinois University Press, 1975), 42.
[3] O'Bright, The Farm on the Gravois, 2.57-2.59; John Y. Simon, ed., The Papers of Ulysses S. Grant, Volume 1: 1837-1861 (Carbondale, Il: Southern Illinois University Press, 1967), 335-355; Ulysses S. Grant, The Personal Memoirs of U.S. Grant, Volume I (New York: Charles Webster Publishing, 1885), 210-215.
[4] O'Bright, The Farm on the Gravois, 2.62-2.67.
[5] "White Haven, Grant's Old Home, Being Restored to Original State." St. Louis Star-Times, July 23, 1940; "House with a Proud Pedigree." St. Louis Globe-Democrat Magazine, September 30, 1956; to see photos from the 1940 Historic American Building Survey, see the Library of Congress's website on Historic American Building Survey Photos. "White Haven." Library of Congress, accessed November 13, 2017. http://www.loc.gov/pictures/search/?q=White%20Haven&co=hh
[6] "Delbert S. Wenzlick Rites Held," St. Louis Globe-Democrat, January 16, 1979; "D.S. Wenzlick Estate Valued at $1,040,219," St. Louis Globe-Democrat, January 16, 1979.
[7] "Preservation Sought – Grant's House for Sale," St. Louis Post-Dispatch, September 2, 1979. Former Missouri State Representative Jack Goldman recalled in 2015 that Bill Wenzlick asked "upwards of $2 million" for the White Haven property. Jack Goldman and Jeannine Cook, "An Oral History of Save Grant's White Haven." Interview by StoryCorps, Ulysses S. Grant National Historic Site, September 18, 2015.
[8] "Businessmen Seek Money to Purchase Grant's Home," St. Louis Globe-Democrat, April 15, 1981; "Funds Sought for Estate," South County News, May 6, 1981; "Plans Perk for Pedigreed Place," South County Journal, May 20, 1981; "White Haven: Historic Treasure Up for Sale," South County Journal, June 17, 1981.
[9] "Preservation of Grant's Home is Threatened," St. Louis Post-Dispatch, December 30, 1984; "New Push to Preserve Grant's Home," St. Louis Post-Dispatch, March 25, 1985. In a 1979 letter to Wenzlick, Simon stated that White Haven "has so much historical significance that it would be unfortunate if it fell into the hands of owners who would not respect its integrity as your father always did." John Y. Simon letter to H.A. Wenzlick, October 17, 1979. On file in John Y. Simon Library Collection, Ulysses S. Grant National Historic Site.
[10] "Parks Directors Discuss Means of Acquiring White Haven," South County Journal, March 6, 1985; Goldman and Cook, "An Oral History of Save Grant's White Haven."
[11] The Board Consisted of Jack Goldman, President, Jeannine Cook, Vice-President, Harold Uthoff, Treasurer, Joanne Keller, Secretary, Frank Bild, Rosemary Davidson, Charles Dent, Jim Komorek, Sue Kuhnard, Erle Lionberger, Henry Mangini, H.C. Milford, Pat Tracy, Ross Wagner, and Don Withrow.
[12] "Committee Formed to Save Grant's Historical 'White Haven'," South County Journal, April 3, 1985; "Non-Profit Corporation Formed in Effort to Save White Haven," South County Journal, April 24, 1985; "Progress on White Haven," South County Times, May 15, 1985; "Proposal to Build Condominiums on Site of Grant's Home Opposed," St. Louis Globe-Democrat, May 26, 1985; "Save Grant's White Haven Finalizes Incorporation," South County Journal, June 12, 1985; "Preservation in the County," St. Louis Home Magazine, June 1985; Goldman and Cook, "An Oral History of Save Grant's White Haven."
[13] John Karel's unexpected resignation as Director of Missouri State Parks in early July raised concerns about the chances of Save Grant's White Haven securing the state's revolving preservation fund. See "Director of Parks in Missouri Quits," St. Louis Post-Dispatch, July 6, 1985.
[14] "Business Voices Interest in Gift for White Haven," South County Journal, June 26, 1985; "Historical St. Louis Exhibit Presented at Crestwood Plaza," South County Journal, September 18, 1985.
[15] "Funding Announcement Wins 'Critics' Praise at Grant Exhibit," South County Journal, March 12, 1986.
[16] "Photo Exhibit Depicts Ulysses Grant's Life," South County Journal, January 29, 1986; "State Money May Pay for Buying Grant Home," St. Louis Globe-Democrat, March 4, 1986; "Whitehaven Group to Receive Funding," South County Journal, March 5, 1986; "Funding Announcement Wins 'Critics' Praise at Grant Exhibit."
[17] Jack Goldman recalled in 2015 that the group went "round and round" with Bill Wenzlick during negotiations. Goldman and Cook, "An Oral History of Save Grant's White Haven"; "White Haven Group is Favored," St. Louis Post-Dispatch, March 13, 1986; "Group Makes Offer for Grant's White Haven Home," South County Journal, May 14, 1986.
[18] "History Buffs Cry: 'Save Grant's Home'," Webster-Kirkwood Times, April 10, 1986.
[19] "South County's Most Famous Citizen and His Home," Naborhood Link News, March 5, 1986; Ross Wagner, White Haven (brochure) (St. Louis: Save Grant's White Haven, 1985); "Save White Haven Receives Funds," South St. Louis County News, May 28, 1986; "Fourth Graders Plead: 'Save White Haven'," Gravis-Watson Times, [undated].
[20] "History Buffs Cry: 'Save Grant's Home'"; "$475,000 Offer Made to Buy Grant's Home," St. Louis Post-Dispatch, May 8, 1986; "Group Raises Offer for Grant's Home," St. Louis Post-Dispatch, June 18, 1986.
[21] "Attempts to Buy Grant's Home Become Complicated Procedure," St. Louis Post-Dispatch, July 10, 1986; "Group Raises Offer for Grant's Home."
[22] "National Historic Landmarks Program." National Park Service. Accessed November 18, 2017. https://www.nps.gov/nhl/
[23] To read the nomination form for White Haven, see Esley Hamilton, "White Haven National Historic Landmark Nomination Form." National Park Service. Accessed November 18, 2017. https://npgallery.nps.gov/pdfhost/docs/nhls/text/79003205.PDF
[24] "White Haven Earns Landmark Status," South County Journal, July 2, 1986. As of 2017, White Haven remains the only property in St. Louis County to have NHL status.
[25] "Preservation Group Expected to Buy Grant's White Haven," St. Louis Post-Dispatch, July 3, 1986; "Group Buys U.S. Grant's White Haven," St. Louis Post-Dispatch, July 6, 1986; "Heirs of White Haven Accept Bid," South Side Journal, July 9, 1986; "'Save Grant's White Haven' Campaigners Toast Success," Gravois-Watson Times, July 11-17, 1986; "$510,000 Contract Presented to Save Grant's Whitehaven," St. Louis Business Journal, August 25-31, 1986.
[26] "Purchase of Grant's White Haven Yet to Get Started," St. Louis Post-Dispatch, September 4, 1986.
[27] Jack Goldman recalled that McNary and his wife were greatly impressed with the turnout at the Grant photo exhibit at Crestwood Plaza earlier in the year. "He was very adamant that we had to find a way to save White Haven, because the people want it, and it's our job to do it." "County to Buy White Haven," South County Journal, October 1, 1986; "County Will Purchase Ulysses Grant's Home," St. Louis Post-Dispatch, September 30, 1986; "White Haven Purchase Pleases Neighbors," St. Louis Post-Dispatch, October 2, 1986; "County to Buy Grant's White Haven for $510,000," Gravois-Watson Times, October 3-9, 1986; Goldman and Cook, "An Oral History of Save Grant's White Haven."
[28] "Should White Haven Purchase Bump Other Parks Projects?," South County Journal, October 1986.
[29] "County Celebrates Official Purchase of Grant's Home," St. Louis Post-Dispatch, December 23, 1986; "White Haven's Acquisition Caps Two Years of Effort," South County Journal, December 25, 1986.
[30] Goldman and Cook, "An Oral History of Save Grant's White Haven"; "White Haven to Hold Open House in April," St. Louis Post-Dispatch, March 17, 1987; "White Haven," South Side Journal, March 25, 1987; "Open House for Historic White Haven Set April 10-12," Gravois-Watson Times, March 20-27, 1987; "White Haven Opens its Doors at Last," West Citizen Journal, March 25, 1987; "White Haven Coming into View," St. Louis Post-Dispatch, April 9, 1987.
[31] "1,000 Get Look at White Haven," St. Louis-Post-Dispatch, April 13, 1987; "White Haven . . . History Preserved," Gravois-Watson Times, April 17-23, 1987; "Tour to be Made of President Grant's Home," Kirkwood Times, June 20, 1987; "White Haven Celebrates Aug. 22," Gravois-Watson Times, August 14-20, 1987; "White Haven Blanc," Gravois-Watson Times, November 6-12, 1987; "Wine May Help Restore Grant's Home," St. Louis Post-Dispatch, November 12, 1987.
[32] "Restoration Plans Begin for Grant's White Haven," Gravois-Watson Times, June 19-25, 1987; "White Haven to Undergo Repairs," Fenton Journal, July 22, 1987; "White Haven: Standing Test of Time," South County Journal, November 14, 1987.
[33] "Architecture Experts Examine White Haven," Fenton Journal, September 17, 1986; "McNary Wants U.S. to Operate Grant's Home," St. Louis Post-Dispatch, December 12, 1987; Bob Moore, Urban Innovation and Practical Partnerships: An Administrative History of Jefferson National Expansion Memorial, 1980-1991 (Washington, D.C.: National Park Service, Department of the Interior, 1994). See Chapter 11 of Moore's study, "Two New Parks are Created: The Ulysses S. Grant and Harry Truman National Historic Sites. https://www.nps.gov/parkhistory/online_books/jeff/adhi2-11.htm
[34] "Grant's Home Targeted as VP Fair Gift," St. Louis Post-Dispatch, May 13, 1988; "'Save White Haven' Committee Seeks Federal Aid," Gravois-Watson Times, June 17-23, 1988; "White Haven Group is Angry at VP Fair," St. Louis Post-Dispatch, May 22, 1989.
[35] "Danforth Calls for White Haven National Park," Gravois-Watson Times, July 29-August 4, 1988.
[36] "Senators Propose Bill Making White Haven National Historic Site," South Side Journal, October 19, 1988; "Senators Seek Historic Designation for White Haven," Central West End Journal, November 9, 1988; "The Tomb's Decline and Restoration." Grant's Tomb. Accessed November 17, 2017. http://www.grantstomb.org/ind-gma.html
[37] "Ceremony Held to Announce White Haven as a Card," South County News, September 14, 1988; "Charity Christmas Cards Offer Greetings for a Good Cause," South County Journal, November 30, 1988; "Pretty as a Picture: White Haven," Gravois-Watson Times, December 22-29, 1988; Jack Goldman Letter to the Editor, "Senate Bill Introduced for Historic White Haven," Gravois-Watson Times, December 2-9, 1988.
[38] As of 2017, White Haven's National Historic Landmark plaque remains on display at the entrance to the Visitor Center of Ulysses S. Grant National Historic Site. "Home Here of Ulysses S. Grant to Become National Landmark," St. Louis Post-Dispatch, March 29, 1989; "White Haven to be Designated as Landmark Today," South Side Journal, March 31, 1989; "It's Official: Grant's Home is Federal Historic Landmark," St. Louis Post-Dispatch, April1, 1989; "It's Official: White Haven Made National Landmark," South County News-Times, April 7-13, 1989; "White Haven is Landmark," West Citizen Journal, April 5, 1989.
[39] Senators Danforth and Bond re-introduced their legislation because the previous session of Congress had expired before a vote could be taken on the bill. "Grant Home Could Become Part of Park Service System," South County Journal, March 31, 1989.
[40] "No Haven: U.S. Park Service Reluctant to Take Over Grant's Home," St. Louis Post-Dispatch, May 10, 1989. The Senate did not hold a hearing over SR 518.
[41] "No Haven: U.S. Park Service Reluctant to Take Over Grant's Home."
[42] "No Haven: U.S. Park Service Reluctant to Take Over Grant's Home"; "National Park Service Balks at White Haven Acceptance," South County News-Times, May 19-25, 1989. As of 2018, Hardscrabble remains in the possession of the Busch family.
[43] "National Park Service Balks at White Haven Acceptance"; Goldman and Cook, "An Oral History of Save Grant's White Haven."
[44] Goldman and Cook, "An Oral History of Save Grant's White Haven;" Moore, Urban Innovation and Practical Partnerships.
[45] "Takeover of White Haven by U.S. Approved in House," St. Louis Post-Dispatch, June 21, 1989; "White Haven Bill Halfway Home," South County Journal, June 23, 1989.
[46] "Senate Leader Lines Up Behind White Haven Park Proposal," South County Journal, July 21, 1989; "White Haven Gives OK as National Park," South Side News, August 9, 1989; "Senate Committee Approves White Haven as National Park," South County Journal, August 9, 1989; "White Haven: Next Step is White House," St. Louis Post-Dispatch, September 14, 1989.
[47] "Public Law 101-106." Ulysses S. Grant National Historic Site, accessed May 2, 2019. https://www.nps.gov/ulsg/learn/management/public-law-101-106.htm; George H.W. Bush: "Statement on Signing the Bill Establishing the Ulysses S. Grant National Historic Site in St. Louis County, Missouri," October 3, 1989. The American Presidency Project, accessed November 19, 2017. http://www.presidency.ucsb.edu/ws/?pid=17609; "White Haven Finally a Historic Site," St. Louis Post-Dispatch, October 4, 1989; "Park Service Wants White Haven Group to Stay Intact," South County News-Times, October 8-14, 1989.
[48] Jack Goldman recalled in an email correspondence that the county's half of the White Haven debt was retired by County Executive H.C. Milford in 1990. He also stated that yet another snag in negotiations occurred during the final meeting between county, state, and federal officials regarding the property's final transfer to the NPS. "Two attorneys representing the State Parks Department wanted to put certain restrictions on the NPS . . . which Schober was not authorized to [approve]." Goldman warned that holding up negotiations would force the county to transfer the property to the state, which was strenuously opposed by the Missouri DNR. "After a lengthy discussion that seemed to be going nowhere . . . the State agreed to remove the language and the papers were signed." Jack Goldman, "Letter," email to the author, December 5, 2017.
[49] Moore, Urban Innovation and Practical Partnerships; "Not Buying the Farm," The Riverfront Times, November 29 - December 5, 1989; "U.S. Park System Safeguards Beauty for Future Generations," St. Louis Sun, November 23, 1989.
[50] Goldman and Cook, "An Oral History of Save Grant's White Haven."
Last updated: May 25, 2019