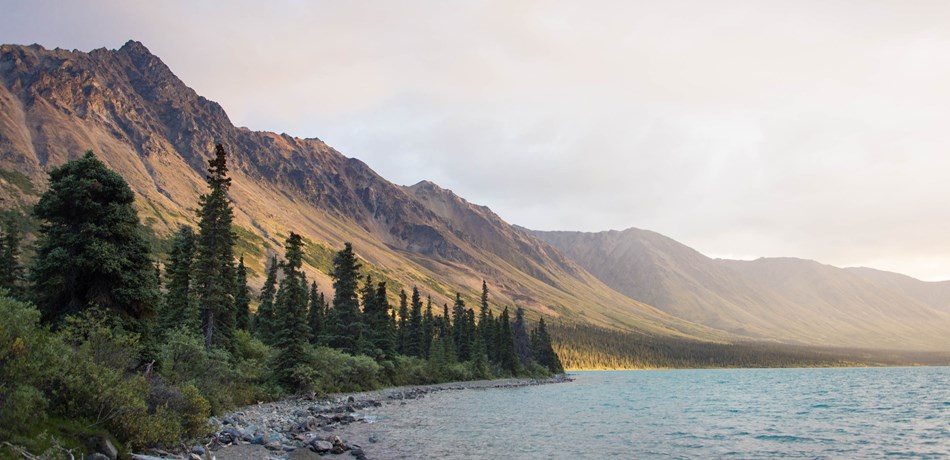 Backcountry Tranquility
From the moment you glide onto the turquoise waters of Upper Twin Lake, the expansive beauty of this isolated wilderness calls to your imagination. Most reach the lake by float plane from Port Alsworth or Anchorage, though some visit the area as part of an extended backcountry hiking trip or paddle from Lower Twin Lake.
Many visit Upper Twin Lake to see the cabin of
Richard L. Proenneke
, the wilderness icon that called the Lake Clark National Park and Preserve landscape home for thirty solitary years. Proenneke believed in self-reliance, ingenuity, and the intrinsic value of wilderness. Crafting his cabin, tools, and many of his belongings by hand with exquisite talent and care, he lived his life in harmony with the natural world around him and chose to go without the modern "necessities" of running water and electricity.
Ranger Recommendation
With an entire day to spend at Upper Twin, the south shore is an ideal destination. After learning about Proenneke's legacy through a guided tour, walk in his footsteps along one of the nearby trails and valleys but honor his beliefs by leaving no trace. Whether an backcountry alpine adventure or a leisurely, family-friendly stroll is more your style, there is no limit of opportunities to enjoy a day at this remote location.