Wildflowers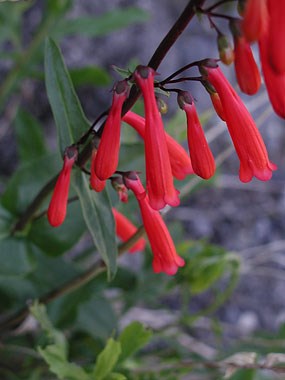 Wildflowers are forbs, plants that have net venation in their leaves and no woody base or branches. Wildflowers help make Timpanogos Cave National Monument absolutely gorgeous in the spring and summer by bringing a diversity of color to the canyon. Flowers are also the food source to many small animals in the canyon such as chipmunks, squirrels, and birds.
Within the Monument, there are wildflowers that bloom in the spring, early summer, and mid-summer. Some of these flowers include: Alum Root, Miner's Lettuce, Firecracker Penstemon, and Blazing Star.
Alum Root: This perennial is found flowering in the spring on rocky cliffs both near and on the trail. It hugs the ground with small, dark green leaves and short stems (under 1") with white to pink flowers. The spring leaves are edible boiled or steamed and the root eaten raw will usually cure diarrhea.
Miner's Lettuce: This plant typically grows in shady moist areas along the cave trail in the spring. Leaves at the ends of the stalks are green and circular (up to 2" in diameter) with a small, white flower growing from its center. Miner's Lettuce was used by pioneers and Native Americans as an herb and for salads.
Firecracker Penstemon: Firecracker Penstemon is a gorgeous perennial that produces stocks of tubular scarlet flowers in early summer. Its leaves are a shiny dark green. It can be found in many environments and along the cave trail. Hummingbirds will stake territories over Firecracker Penstemon patches and risk all to defend their prime nectar source.
Blazing Star:
This flower is a short-lived perennial herb that blooms in mid-summer and can at times behave as an annual. Its leaves may appear weedy, but its cream-yellow flower is very showy. They are often called "Stick-leaf" because of the barbed leaves that easily cling to clothing. The seeds are edible when parched and ground.


Last updated: March 24, 2020