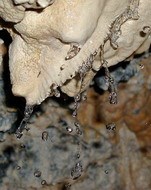 In the cave, water flow and quality is a high concern. The water in the cave is the "life" of formations and the cave's ecosystem. Changes in the water quantity or quality may have irreversible effects on the entire cave system.

Water quality and quantity can be affected by use of the land in and adjacent to the monument. The park tries to properly manage the uses within the cave's watershed. Grazing, off-road vehicle use, camping, fires, and outhouses can alter hydrologic processes and effect the water quality.

In 2003 and 2004, the park acquired funds to document the cave's water quality. The project sampled for all possible contaminants that may exist now or in the future. The primarily results showed most contaminants tested were lower than the tests could detect. The park now continues to monitor water quality. This makes it possible for any potential future contamination to be detected early and solutions put into place before the water quality has irreversible long-term effects on the cave.

The water quantity is studied in the cave by routine recording the rates of formation's drip and the water levels of the cave's lakes. The drip rates are measured manually by recording the amount of the water obtained in graduated cylinders over time. Drip rates are also measured using tipping bucket rain gages. Through these techniques, the cave's water recharge rates and climatic changes can be defined.