Nonnative Species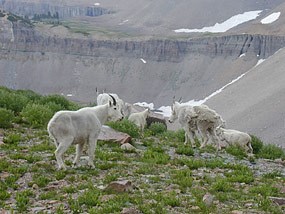 The National Park Service defines nonnative and exotic species as "species that occupy park lands directly or indirectly as the result of human activities." Many nonnative species exist in apparent harmony in the environments where they are introduced. The most important aspect of an alien species is how it responds to a new environment. These nonnative species can be considered "invasive" species if it displays rapid growth and spread, establishes over large areas, and persists. This rapid establishment disturbs its surrounding ecosystem that have slowly evolved over the centuries.

The Park Service attempts to control these invasive species because of their impact on the native animal and plant communities that belong within the park. This effort can be very difficult and at times controversial. Some biologist think that introduced invasive species could be the greatest threat to the park's natural ecosystems. Some of these species that are not native to the park are: Downy brome, Brown trout, Rocky Mountain goat.
Downy brome: Downy brome, also called "cheatgrass", was introduced to North America from the Mediterranean area of Europe sometime before 1861. Its first recorded appearance was in wheat fields in Washington, Utah, and British Columbia. It has now spread over the entire United States of America. This grass has a tendency to take over and eliminate fields of native grasses. In mid summer Downy brome dries out, creating large flammable spaces in the foothills of Utah. Many fires in Utah are started in carpets of cheatgrass. In the monument, it is controlled by pulling the plant out and planting native grasses, forbs, and shrubs in its place.
Brown trout: The Brown trout is native to Europe and western Asia. During the past 100 years, the species has been established in many of the cool and cold water areas of Utah including American Fork Canyon, where it is now one of the most popular sport fish in the state. Brown trout have a tendency to eat other fish and by doing so, can have a negative impact on other fish species. Measures are now being taken in order to protect the existing native Cutthroat trout fish populations.
Rocky Mountain Goat: This animal naturally occurs in southeastern Alaska, western Canada, and in parts of northern Idaho, Montana, and Washington. It was not found in Utah until the 1960's when it was introduced into Little Cottonwood Canyon. Although some scientists believe that it may once existed in Utah, there is no physical evidence such as bones from archaeological digs that may indicate that it belongs here. For this reason, it is considered a nonnative species.


Last updated: March 13, 2017