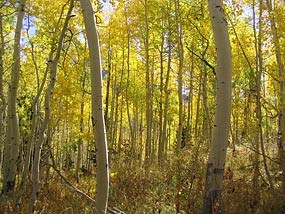 Forests around the world play a vital role economically, environmentally, and socially. Trees provide us with precious timber, but left standing, they help clean the air of pollutants and stabilize the Earth's temperature, humidity, and carbon dioxide levels. In addition, forests provide shelter for wildlife and aesthetic pleasure for people. Timpanogos Cave National Monument has three different forest types: Montane Chaparral/Shrub, Mixed-Conifer Forest, and Quaking Aspen Forest.
Montane Chaparral/Shrub: This forest is found mostly on the south-facing slope of the park where the soil is poor and dry. Composed primarily of Gambel oak and Bigtooth maple, Montane Chaparral/Shrub communities also contain Curleaf mountain mahogany, Rubber rabbitbrush, and Cliff rose. In the winter, Mule deer depend heavily on this vegetation type for food.
Mixed-Conifer Forest: Found along the cave trail, this forest consists mostly of Douglas fir and white fir. The rich, moist soils allow for the development of a diverse understory of forbs, grasses, and shrubs. Mixed-Conifer Forests historically have burnt every 10 years; however, with fire suppression, this no longer occurs. In absence of fire, these forests have undergone major changes in structure and species composition.
Quaking Aspen
Forest
:
At the top of the monument above the cave on the north facing slope, communities of
Aspen
can be found. Here, large amounts of sunlight and favorable soil conditions create a rich understory of grasses, forbs, and shrubs. Aspens reproduce by cloning: creating forests of trees that are all genetically identical.