Volunteer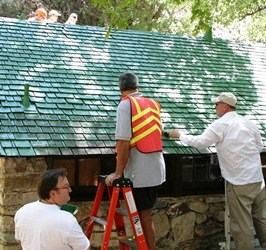 Volunteers are a vital part of Timpanogos Cave National Monument. Volunteers have spent countless hours helping preserve Timpanogos Cave and the surrounding resources. Help is appreciated from individuals or groups. There are many ways people can help.
BATS - Behind A Tour Specialists are typically teens ages 14-18 whose primary responsibility is to follow the tours and help the rangers with whatever is needed. Typically the last one in the tour group, they keep an eye on visitors to see if assistance is needed and to ensure the cave is well protected.
Applications for BATS are taken April-early June. Training begins mid-May and is offered at least once a week through mid-June. Call the Timpanogos Cave Admin office at (801)756-5239 between 8:00 am and 4:30 pm Monday through Friday to sign up for training dates, and learn more about the position.

Trail Patrol Volunteers - Adult volunteers help patrol the trail, assisting people as needed when they hike, being a uniformed presence on the trail, reminding about the rules if necessary, and being available to help a lost child or hiker in distress. If you're interested in becoming an adult volunteer, fill out an application in the Visitor Center.
Service - Volunteers help staff the information desk in the visitor center, work in a cave restoration group, or assisting with re-vegetation projects. Youth groups and others are welcome to come and work on one-time projects, as well as projects for Boy Scout or Girl Scout advancement.
Student interns work with every division in the park, depending on the student's area of focus.
For information on volunteering in any division, call the Timpanogos Cave Volunteer Coordinator at (801) 756-5239
Learn about volunteer opportunities at other national park sites.
Last updated: October 29, 2020