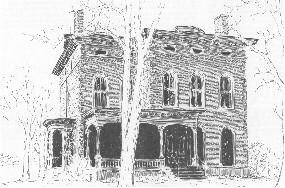 Guided
Tours
of
Historic
Allentown
Allentown Neighborhood Walking Tours
Summer 2011
Allentown, one of Buffalo's most captivating neighborhoods, is a favorite spot for visitors to glimpse a variety of urban residences from cottages to mansions, historic sites and landmarks, restored and adapted buildings, and the works of some of the world's famous architects including Eliel & Eero Saarinen; H. H. Richardson; McKim, Mead & White; and Joseph Silsbee. Local architects, such as Green and Wicks, Eisenwein and Johnson, Richard A. Waite, Franklin W. Caulkins, and Henry H. Little, are also represented in the area.
The Walking Tour Committee of the Theodore Roosevelt Site will offer three walking tours in this fascinating area this summer. All tours will begin and end at the TR Site and reservations are required. Please stop by or call the Site (716-884-0095) before 4:00 pm on the day before the tour to make a reservation. Payment is due at time of reservation. The cost of each tour is $8 for members, $10 for nonmembers. Tour with lunch at the Site on the specified days is $20 for members and $25 for nonmembers.
First Tour : Karpeles to Karpeles
Buffalo is fortunate to have two Karpeles Manuscript Museums housed in restored and adapted churches which are in close proximity. Viewing both museums and strolling past some of Buffalo's most famous buildings will provide a delightful and entertaining walk. Admission to both museums is free and we will be spending part of the tour in each facility.
Tour with lunch: Friday, July 1, 10 am with lunch at the Site. Reserve by Wed., June 29
Tour only:
Friday, July 8, 10 am, reserve by July 7
Sunday, July 10, 1 pm, reserve by July 9
Friday, July 15, 10 am, reserve by July 14
Friday, July 22, 10 am, reserve by July 21
Second Tour: Main and North Pearl
This tour will contrast the 19th century churches, commercial buildings, and many restored sites on the west side of Main Street with the bourgeoning 21st century Buffalo Medical Campus across the street. Then, North Pearl Street, a wonderful example of a prosperous Victorian-era streetscape, one block west of Main, will transport you to the 1870s.
Tour with lunch: Friday, July 29, 10 am with lunch at the Site. Reserve by Wed., July 27
Tour only:
Friday, August 5, 10 am, reserve by August 4
Sunday, August 7, 1 pm, reserve by August 6
Friday, August 12, 10 am, reserve by August 11
Friday, August 19, 10 am, reserve by August 18
Third Tour: Allentown Parks
This tour will explore two urban residential park settings dedicated as parklands in 1854 and 1866 and displaying beautifully restored homes in the varied styles of the 19th century. The restored home of the only Buffalo native to reside in the White House and the oldest building in Buffalo are also included on this walk.
Tour with lunch: Friday, August 26, 10 am with lunch at the Site. Reserve by Wed., Aug. 24
Tour only:
Friday, September 2, 10 am, reserve by September 1
Friday, September 9, 10 am, reserve by September 8
Sunday, September 11, 1 pm, reserve by September 10
Friday, September 16, 10 am, reserve by September 15