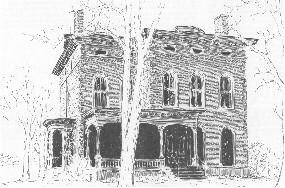 Architectural
walking
tours
of the
historic
neighborhood...
for school classes and group tours are offered through the Site. A guided tour is available for groups of six or more who make reservations at least three weeks in advance. (Walking tours are offered April-October; scheduling dependent upon availability of trained guides.)

Recommended for grades 4-adult.
Program length: 2 hours.
Fee - $5.00 per student, $10.00 per adult.
All group tours are by reservation only.
Allentown: A National Preservation District that includes homes, churches and other structures dating from the early 19th century to the early 20th century. Architecturally, Allentown is the most eclectic area in the city with styles ranging from Federal (1814) to Colonial Revival (1926) and everything in between. The tour covers three miles and takes about two hours at a good pace. Allentown is also home to many restaurants, antique and specialty shops housed in the old homes.

Tours begin and end at the Theodore Roosevelt Inaugural National Historic Site.