Jane Addams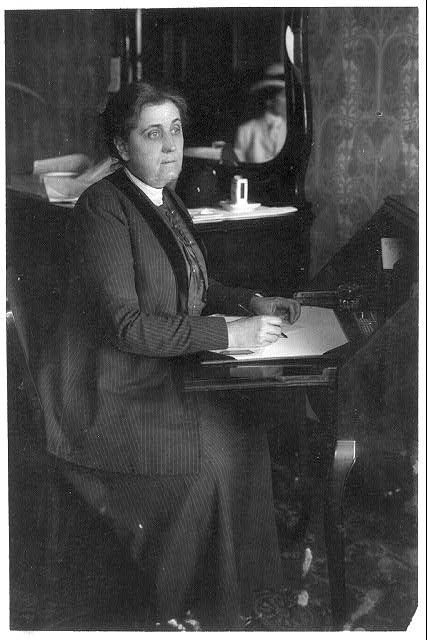 Laura Jane Addams was born in Cedarville, Illinois on September 6th, 1860. Her mother died when she was 2 and she became very close to her father. Growing up, she suffered from tuberculosis of the spine which left her with a curved back, causing her to walk crookedly during her childhood. After her father remarried, she became close to her step siblings, especially her step-brother, Georgie.
When Addams was older, she dreamed of going to Smith College but her father refused - it was rare for women to go to college at this time. Instead, she was allowed to go to Rockford Female Seminary which was a school concerned with rigorous academics and the moral development of its students, with the ultimate goal of sending them all out as missionaries. Addams excelled in school, joining the Debating Society and writing for the Rockford Seminary Magazine, making editor her senior year. It was in these roles that Addams realized her gifts for public speaking and writing. She graduated as Valedictorian of her class. A year later, the seminary officially became Rockford College and Addams was given a college degree.
In 1881, Addams was devastated when her father died after his appendix ruptured. She was left quite a bit of money, and decided to go to Women's Medical College of Philadelphia. She discovered that she hated medicine, and for the next few years she struggled with depression and other health problems from stress and her chronic back pain. She left the school and spent time in the Mitchell Hospital of Orthopedic and Nervous Diseases which ultimately left her worse off. However, in 1882 her brother-in-law who had recently opened up a medical practice, operated on her back to correct the spinal curvature. The operation was successful.
After her recovery, Addams spent two years on a "grand tour" through Europe with some family and friends. She was absolutely shocked by some of the poverty she saw in European cities. She immediately had to return home, however, when she was informed that her older sister Mary had become ill. Addams spent much of the next two years caring for Mary and for her children. It was during this time that Addams began to volunteer, both at a nursing home for elderly African American women and at an orphanage for girls. Both of these experiences had a strong influence on her future work and helped to fuel her passion and her concern for those in need.
In 1887, she traveled to Europe with a friend to visit Toynbee Hall in London which was the world's first settlement house - an institution providing educational and social services to the poor. It was a new approach to addressing issues of poverty. Rather than having the poor rely on the charity of the wealthy, this approach sought to teach them to support themselves. The house was operated by its residents, mostly male college graduates who would put on the programs and operate the services the house offered to the poor. This visit confirmed Addams' determination to help the poor and it provided a model for her to imitate. She decided that she would open up a settlement house in Chicago, the biggest city in her home state.
The city of Chicago, Illinois had many areas which were filled with the shanties of the poor. The city had huge numbers of immigrants and many neighborhoods were filthy, with their residents living in unsanitary conditions where disease spread easily and infant mortality was high. The poorest workers had the toughest and lowest paying jobs and many women were prostitutes. Chicago was also infamous for political corruption. When Addams and her friend Ellen Gates Starr arrived at the city, they found a mansion in Chicago's Nineteenth Ward which had one of the city's highest death rates. The mansion was built by Charles J. Hull in 1856. When the owner of the building found out what the women wanted to do with it, she gave it to them for free.
Addams then assembled a staff and began the operations of Hull House settlement in 1889. She opened a kindergarten, the first one in Chicago. Hull House gradually began to offer a wide range of classes, ultimately offering courses in English, German, French, art history, cooking, drawing, singing, piano, athletics, chemistry, and math. It formed reading groups, youth clubs, the Debating Club, the Pansy Club for girls, the Youth Citizens' Club for boys, and the Boys' Club Brass Band. Hull House opened up Hull House Art Studio, Hull House Library, Hull House Music School, and Hull House Labor Museum which had immigrants in the neighborhood demonstrate their native crafts to the public. Hull House put on plays and also bought a nearby stable. By the early 1900s, Hull House consisted of 13 buildings and 40 staff members and about 9,000 of the neighborhood's residents participated in a Hull House program within a given week.
Consistently over the course of her career, Jane Addams wrote articles for newspapers and magazines - hundreds of them - on subjects such as poverty, child labor, world peace, and women's suffrage. She also wrote a collection of books. Addams had a particular passion for children and their education, and she also actively fought against political corruption. She supported gender and racial equality and was co-founder of the National Association for the Advancement of Colored People (NAACP).
Addams became friends with Theodore Roosevelt in the early 1900s. Roosevelt visited Hull House several times during its years of operation. He visited the kindergarten, met several of the boy scouts, and viewed performances by both the Hull House Boys' Club Band and the Hull House Players. When Roosevelt ran for a third term in 1912 with the Progressive Party, nicknamed the "Bull Moose Party", he proclaimed the need for women's suffrage, the outlawing of child labor, and establishing an eight-hour work day. Jane Addams was in favor of all of these measures, and came out in support of him in the election against President William Taft (Republican) and Woodrow Wilson (Democrat). Addams actually seconded his nomination at the Progressive Party Convention, which was the first time a woman had ever done so. Roosevelt thanked her in a telegram, saying "I prized your action not only because of what you are and stand for, but because of what it symbolizes for the new movement." Addams spent the year making speeches and campaigning for him, and while Roosevelt lost, the campaign did successfully raise awareness about these issues and gained support for reform.
In the next phase of her life, Jane Addams became concerned about war and promoted world peace and pacifism. She came out strongly against World War I and formed the Women's Peace Party. In 1915 they held a conference in Washington D.C. with 3,000 women in attendance where they formed a Peace Platform promoting "continuous mediation" between the nations until the war ended. Addams later attended a peace conference at The Hague with women from around the world where they together formed the Women's International League for Peace and Freedom (WILPF) and Addams was chosen as its leader. They believed in pacifism and believed that women were the ones to bring peace to the world. Over the next two years, Addams wrote hundreds of letters trying to gain support for the movement and she organized peace conferences, even ultimately testifying before the U.S. House of Representatives.
Her pacifism was hotly debated and many strongly opposed her for wanting the U.S. to step out of the war when so many Americans were dying for their country. Many were angry that she had involved herself in politics at all. Her family and friends too were ashamed of her views. She was accused of being a communist. While she worked tirelessly to win over the public, most of her efforts towards peace were ultimately fruitless.
During later years, Addams actively promoted disarmament. She continued to travel abroad frequently and continued to manage WILPF at its headquarters in Geneva, Switzerland. During the Great Depression, Hull House provided substantial aid for those in need which helped to improve her reputation once again. In 1931, Addams was awarded the Nobel Peace Prize. She later had several heart attacks and then had surgery on an ovarian tumor. She died on May 21st, 1935 at the age of 74.
Hull House operated until 1963 when it was turned into the Jane Addams Hull-House Museum. Ironically, 1935, the year of her death, was the year that the Social Security Act passed. Most of Jane Addams' reputation today is based on her achievements with Hull House and her work towards world peace is mostly forgotten. However, Addams' peace protests significantly contributed to the tradition of peace protests that continued throughout the 20th century and into the 21st. Addams is remembered for being one of the United States' greatest humanitarians and her philosophy and views on social reform are still studied today.
Sources:
Brubaker, Jana. "Jane Addams." Behavioral & Social Sciences Librarian 23 (2004): 1-9. Web.
Fradin, Judith Bloom, and Dennis Brindell Fradin. Jane Addams: Champion of Democracy. New
York: Clarion Books, 2006. Print.
Last updated: March 31, 2012