Elihu Root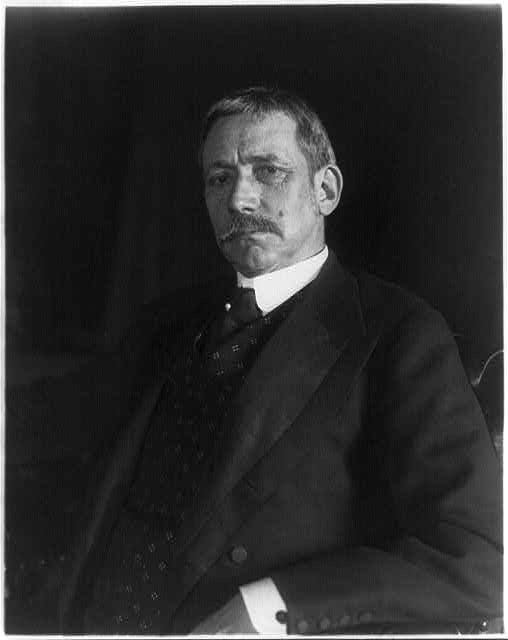 Elihu Root was born February 15th, 1845 in Clinton, New York. He attended Hamilton College and graduated as valedictorian in 1864. He taught for one year and then attended the Law School of New York University, graduating in 1867. Directly afterwards, he became a prominent lawyer and specialized in corporate affairs. He founded a law firm and acted as a junior counsel to the notorious New York City boss, William Tweed, in 1873. During this time he also advised many financial institutions, banks, and railroads. A decade later, he served as a U.S. attorney for the district of southern New York.
In 1899, President William McKinley asked Root to become his Secretary of War, deciding that he wanted a lawyer in the position rather than a military man. Root accepted the position and immediately began reorganizing the War Department and handling the many foreign policy issues facing the nation. The U.S. had just gained territories from Spain as a result of the Spanish-American War and he implemented policies to assist Puerto Rico which included public health measures and exemptions from certain tariff restrictions. For Cuba, he drafted the Platt Amendment that while maintaining some U.S. control, established a civil government and would eventually provide for the transfer of power back to the Cubans. Similarly in the U.S.-controlled Philippines, Root pushed for civil government and wrote a democratic charter for governance of the islands. He made plans for the Philippines' eventual self-determination, but also formed an army to control the islands, using it to suppress the independence movements of Emilio Aguinaldo. After McKinley's assassination in 1901, Theodore Roosevelt became president and the two men worked together closely and became friends. The line is blurred between many of the policies of Roosevelt and Root, as the men expressed similar views and Root had a very strong influence on Roosevelt's opinions. Root said of Roosevelt: "He did not originate great new truths, but he drove old fundamental truths into the minds and the hearts of his people so that they stuck and dominated. Old truths he insisted upon, enlarged upon, repeated over and over…never straining for novelty or for originality, but always driving, driving home the deep fundamental truths of public life, of a great self-governing democracy, the eternal truths upon which justice and liberty must depend among men." When Root's position as secretary of war ended in 1904, Roosevelt wrote of Root, "I shall never have, and can never have, a more loyal friend, a more faithful and wiser adviser."
Theodore Roosevelt won the presidential election and invited Root to become his Secretary of State in 1905. He negotiated the "Gentlemen's Agreement" with Japan which dealt with Japanese emigration and worked to maintain friendly relations with the country. He Root-Takahira Agreement which limited Japanese and American naval fortifications in the Pacific. He maintained an "open door" policy in the Far East and supported the Second Hague Conference. He strengthened U.S./South American relations and sponsored the Central American Peace Conference in 1907 which created the Central American Court of Justice. He worked to promote the foreign commerce of the United States and particularly in Latin America. He also settled disputes with Canada and created the Permanent American-Canadian Joint High Commission to deal with any future disagreements. Root was a masterful negotiator and ultimately negotiated 24 bilateral arbitration treaties. He would receive the Nobel Peace Prize in 1912 for his work.
Root served as a United States senator for the state of New York from 1909 to 1915. During this time he also acted as an advisor to President Taft, but not to the extent he was for Roosevelt. As part of the Republican minority in congress, he did little drafting and debating but mostly supported or opposed the measures of others. As senator, Root missed the freedom he had enjoyed in his previous positions, finding congress to be slow and counterproductive. The entire experience gave him a very cynical view of congress and he did very little in the role. He overall opposed most of the reform legislation of the Progressive movement, including the seventeenth amendment for the direct election of senators. While he did support the income tax amendment (16th Amendment), he feared that congress would get into the habit of amending the constitution as an alternate means to push through legislation. Several years later he would for similar reasons come out against the 18th amendment which instituted national Prohibition, opposing the government's attempts to get involved in the private lives of citizens. While Secretary of State, Root had worked towards the beautification of Washington DC and it was during his term as senator that he was able to see the results. President Taft in 1910 approved the act creating the Fine Arts Commission which advised upon the monuments, statues, public art, and landscape design of the District of Columbia. Many of Root's friends were placed on the commission.
When Theodore Roosevelt began to contemplate running in the 1912 election, Root essentially foretold the result - Roosevelt's candidacy would split the Republican Party and lead to a Democrat victory. Even though Root was closer personally with Roosevelt, he agreed to support Taft for reelection. Root was also concerned about Roosevelt's memory in history if he were to try running for an unprecedented third term, but ultimately Roosevelt ignored him by pursuing the Republican candidacy anyways. Root acted as Temporary Chairman of the Republican Convention where Taft was named the Republican candidate. When evidence of voting fraud emerged, Roosevelt ultimately put much of the blame on Root. Roosevelt decided to run as candidate of the Progressive Party, a third party. Because Roosevelt supported Progressive measures such as judicial recall, Root's staunch conservatism did not allow him to support his friend during the election. The entire process led to the two men having a falling-out and it was some time before they spoke again.
When war broke out in Europe, Root came out in support of the Allies. After the sinking of the U.S. Lusitania on May 7th, 1915, Root wanted the United States to enter the war. It was around this time that Root was pressured to run for president, even though he strongly desired to retire. It demonstrated just how highly he was thought of in Washington when petitions were signed and speeches were made urging him to run, being viewed as the most competent and respected Republican statesman in Washington, despite his old age. The Elihu Root Campaign Commission was established and donations poured in. While Root did not want to run, he said he would go through with the campaign if he was asked to be the nominee. Roosevelt once again considered running, but ultimately both men withdrew their nominations at the convention where Court Justice Charles Evans Hughes was made the Republican candidate instead. Regardless, democrat Woodrow Wilson ultimately won the 1916 presidential election.
In 1917, Root was appointed Ambassador Extraordinary of the United States of America on Special Mission to Russia. He was sent by Wilson in response to the Russian Revolution, showing support for it and encouraging democracy. This mission, however, in the end had little real significance. After the war ended, Root believed in punishing Germany and he supported the idea of a global organization that would work to prevent war as well as supporting the creation of an international court. Wilson worked hard to create the League of Nations which Root approved of. However, while the League was successfully formed, congress rejected the proposal for the United States to join it. Root was able to continue to work on international peace issues with the help of Andrew Carnegie and heCarnegie Endowment for International Peace. Root went on his last international mission, this time to Geneva, at the age of 84. Working in international peace and legal issues up to the end, Root died in 1937 at the age of 91 from pneumonia.
Elihu Root is remembered for his impact on U.S. foreign affairs and for being one of the most accomplished cabinet members in United States history. Root was a pragmatic, conservative politician and advisor as well as a masterful negotiator and policy-maker. He is especially remembered for his role as Secretary of War and Secretary of State under President Theodore Roosevelt, but he also made great contributions through his relentless work towards international peace and cooperation between foreign governments.
Sources:
"Elihu Root - Biography". Nobelprize.org. Web. 1 Apr 2012.
"Elihu Root." Encyclopedia of World Biography. 17 vols. Detroit: Gale, 1998. Print.
Jessup, Philip C., Elihu Root. New York: Dodd, Mead, & Company, 1938. Print.
Last updated: April 17, 2012