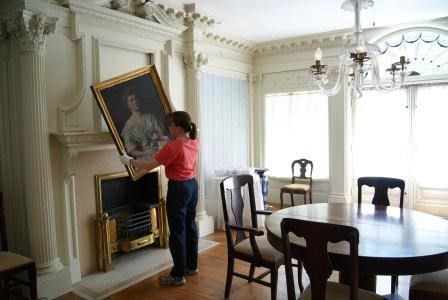 The TR Inaugural Site is currently undertaking an exciting project to restore the Wilcox property to its 1901 size and appearance. In the 1960s, a bank was built on a corner of the Wilcox property to the south of the Wilcox home, and just feet from the most historically significant room in the house. After closing the branch in March 2011, Bank of America has donated the structure to the Theodore Roosevelt Site Foundation. The Foundation, with the support of the National Park Service, is currently in the process of removing this non-historic structure and recreating the Wilcox home's landscape as Theodore Roosevelt would have seen it in 1901.
In order to protect fragile and irreplaceable artifacts from damage due to dust and vibrations, the majority of artifacts in the restored rooms have been packed away until major work is complete.
The TR Inaugural Site remains open throughout the process. We welcome you to come visit, learn about TR's 1901 inauguration, and witness the Site during this next step towards its full restoration. For more information, see TRSite.org or call 716-884-0095.