Thing to Do
Walk the Rim Trail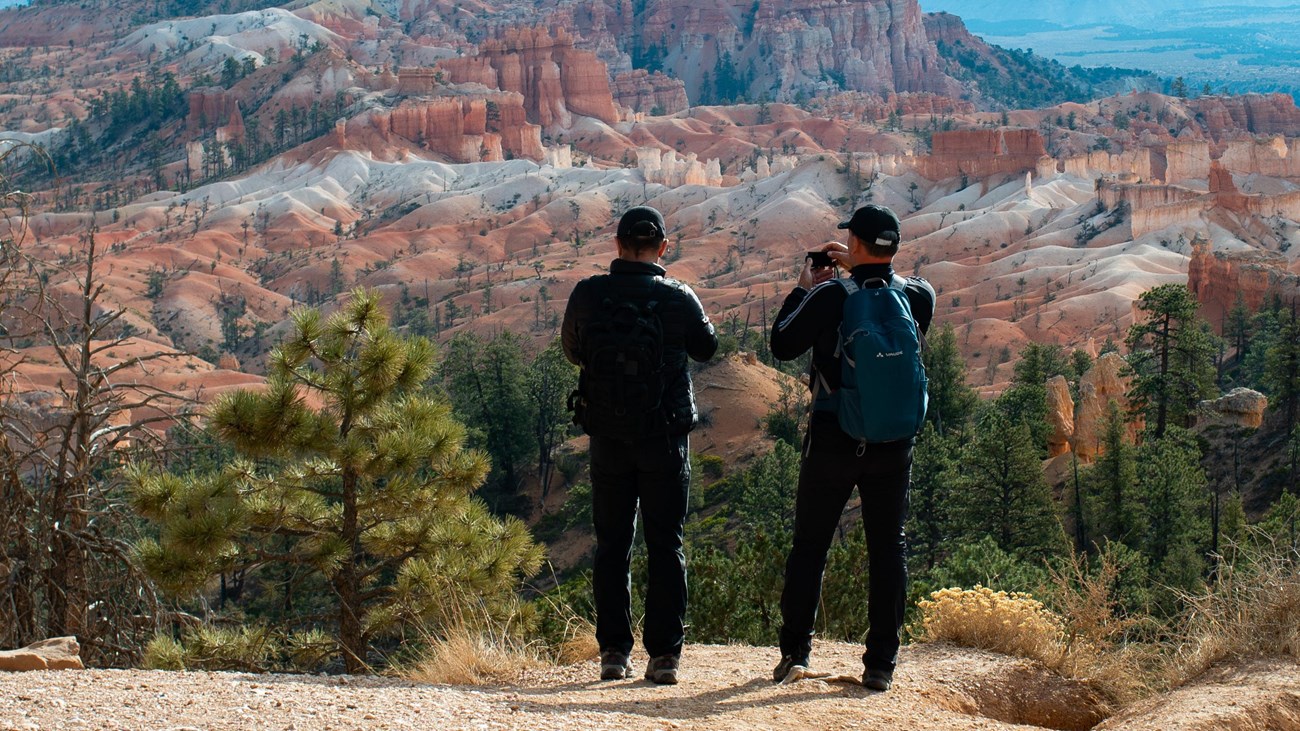 The Rim Trail stretches from its beginning in the south at Bryce Point 5.5 miles (8.9 km) north to Fairyland Point. As it follows the edge of the Bryce Amphitheater area of the park, it connects to Inspiration Point, Sunset Point, and Sunrise Point providing a relatively easy hike (depending on how much of it you do) that offers spectacular views of the park's most popular area.
Recommended: Sunset to Sunrise
The easiest hike in the park is the section of the Rim Trail that connects Sunset and Sunrise Points. It is 0.5 miles (0.8 km) long and walkers can begin from either Sunrise or Sunset Point. Elevation gain is 34 feet (10 meters). We recommend hiking from one point and back for a very easy 1 mile (1.6 km) walk. 
Winter Closures
In winter the 1.5 mile (2.4 km) section of the Rim Trail from Bryce Point to Inspiration Point is regularly closed.
Section Lengths
Difficulty: Varies (Easy to Moderate)
Total Distance: 5.5 miles (8.9 km)
Ascent/Descent (South to North): 1,330 feet (405 m) / 1,825 feet (556 m)
Average time: 3-4 hours
Bryce to Inspiration: 1.5 miles (2.4 km)
Inspiration to Sunset: 0.7 miles (1.1 km)
Sunset to Sunrise: 0.5 miles (0.8 km)
Sunrise to Fairyland 2.8 miles (4.5 km)
Riding the Shuttle
During shuttle season, hikers may use stops at Bryce, Inspiration, Sunset, and Sunrise Points to complete one-way hikes. Fairyland Point has no shuttle service.
Most visitors will enjoy about an hour walk by travelling the flat surface from Sunrise to Sunset Point (or vice versa) and back.
Pets are permitted on all paved surfaces in the park: campgrounds, parking lots, paved roads, paved viewpoint areas, on the paved trail between Sunset Point and Sunrise Point, and on the paved Shared Use Path between the park entrance and Inspiration Point.
Pets are not permitted on unpaved trails or viewpoints, in public buildings or on public transportation vehicles. These regulations also apply to pets that are carried.
Pets must be on a leash at all times; the leash must be no longer than 6 feet.
Pet owners may not leave pet(s) unattended or tied to an object. Pets may not be left in vehicles while their owners hike. Be aware that idling and generator use is not permitted in park parking lots.
Pets may not make unreasonable noise.
Pet owners are required to pick-up after their pets (excrement and other solid waste).
Park admission provides access to this activity.
Access to the Rim Trail is found at Bryce Point, Inspiration Point, Sunset Point, Sunrise Point, and Fairyland Point.
Those visiting in winter may find icy or snowy conditions and should dress accordingly. Footwear traction devices are highly recommended for all areas of the park in winter.
Accessibility Information
Because of the park's natural terrain, only the 0.5 mile (0.8 km) section of the Rim Trail between Sunset and Sunrise Points is wheelchair accessible.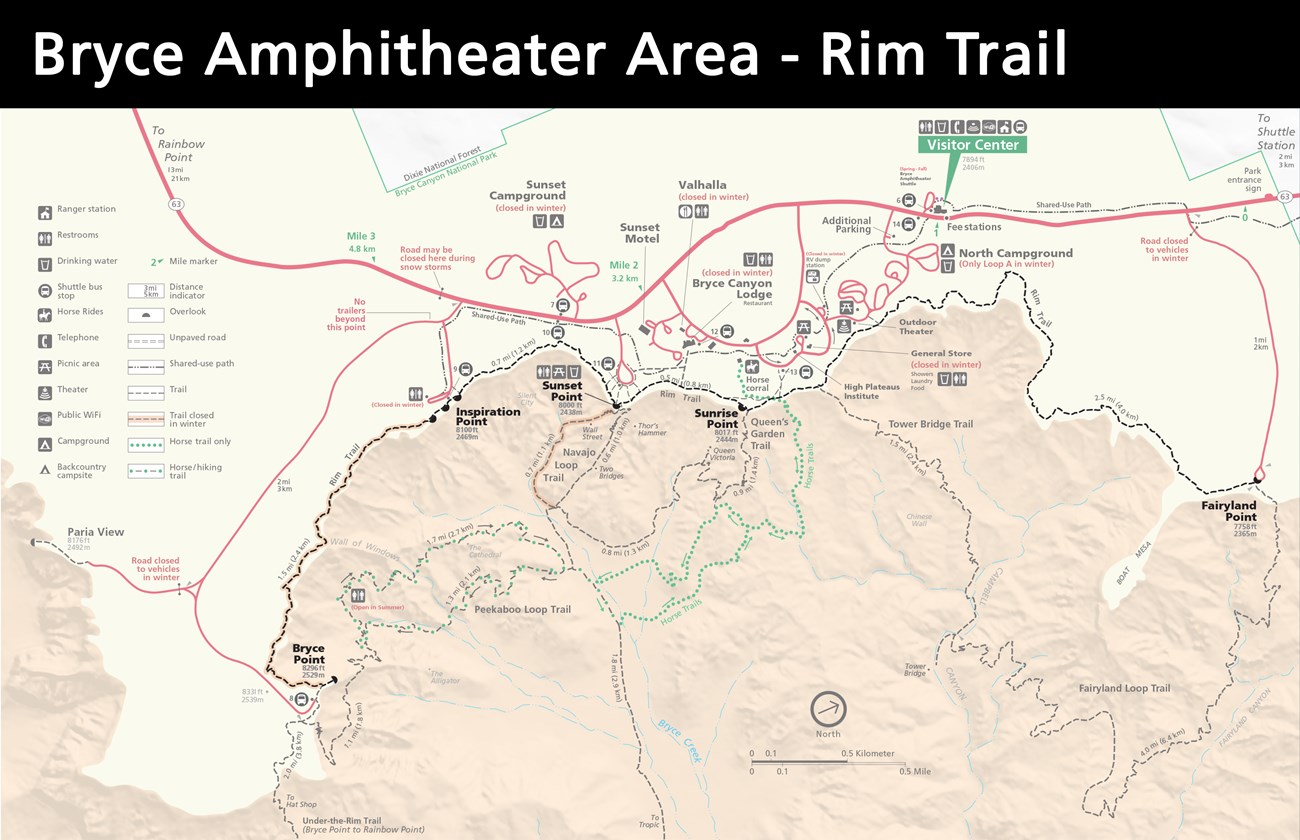 Map of the Rim Trail Area
Tags
Last updated: August 4, 2023