Thing to Do
Watch the Northern Lights Over Voyageurs National Park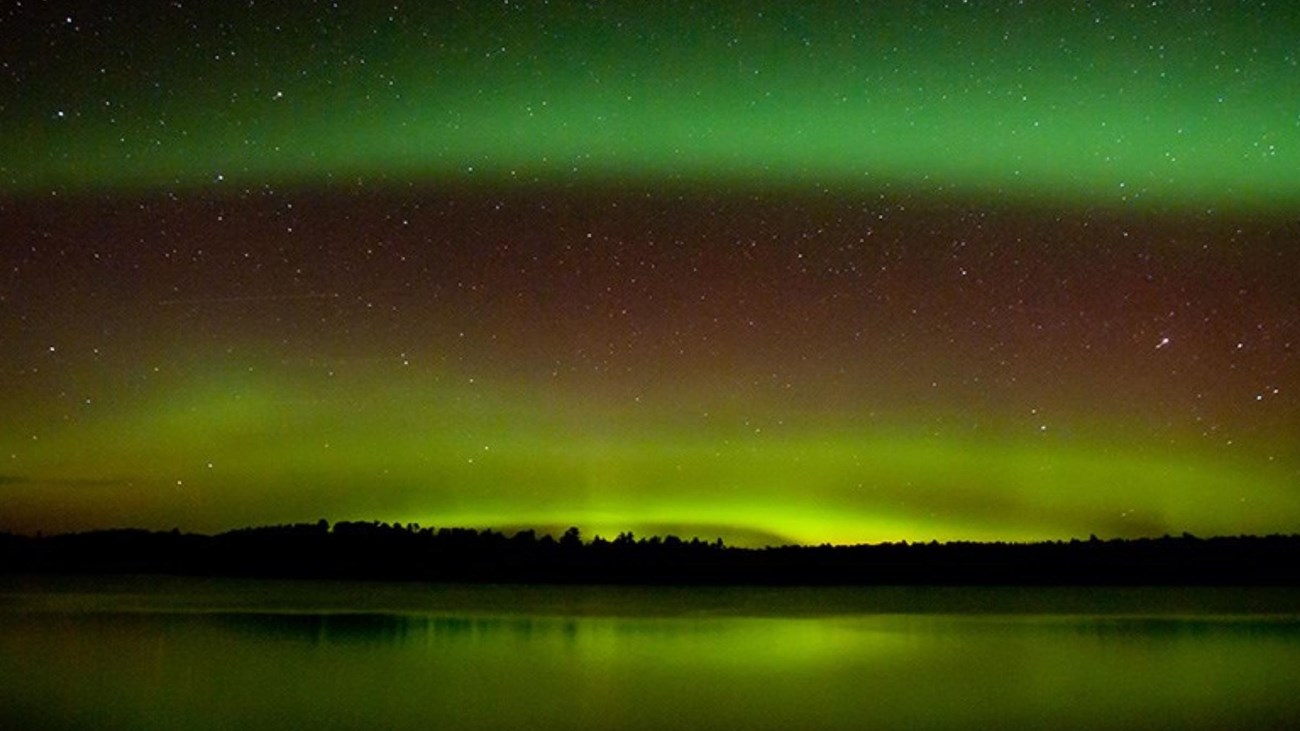 The Aurora Borealis are shimmering, radiant colors that light up the night sky and have fascinated mankind for ages. Also known as northern lights, the aurora shines sporadically over the middle and high latitudes of the northern hemisphere, including Voyageurs National Park. 
Your chance of seeing northern lights is impacted by the type of radiation produced by the sun and the quality of the night sky. For the best chance of viewing the northern lights, follow these steps:
Check that the aurora is active with an Aurora Forecast.
Ensure that the sky will be clear by checking a weather forecast. Clouds will obscure the aurora.
Make sure that the sky will be dark. Both human-made lights and a bright moon can obscure northern lights. When choosing a location, find a spot without artificial lights. Ideally, look for the aurora on a new moon, or when the moon is set.
Find a location with an open view of the northern horizon. Almost any campsite in the park is a good option for viewing northern lights. On the mainland, consider the boat launch areas around the Ash River, Kabetogama Lake, and Rainy Lake Visitor Centers.
Plan to stay up all night. Northern lights can occur at anytime, so be prepared with everything you'll need to stay out safely for many hours.
Learn more about the northern lights at Voyageurs National Park.
Pets are allowed at front country campsites, on the Recreation Trail, and in the Visitor Center parking lots. In these areas, pets must be kept on a 6 foot leash, under control at all times. Pets are not allowed in any other areas of the park.
Entrance fees may apply, see Fees & Passes information.
Northern lights can be seen anytime of the year, however the best chance to view them is in the winter. The smallest chance of seeing northern lights is in the summer.
While northern lights can occur at anytime, we are only capapble of seeing them when it is dark out.
Accessibility Information
The northern lights can be viewed anywhere with a clear, dark view of the northern horizon. Some accessible spots where this is possible inlcude the boat lauch area at the Ash River Visitor Center, the boat launch area at the Kabetogama Lake Visitor Center, and the picnic and boat launch area at the Rainy Lake Visitor Center.
Last updated: October 28, 2021