Thing to Do
Drive the Tour of Tilted Rocks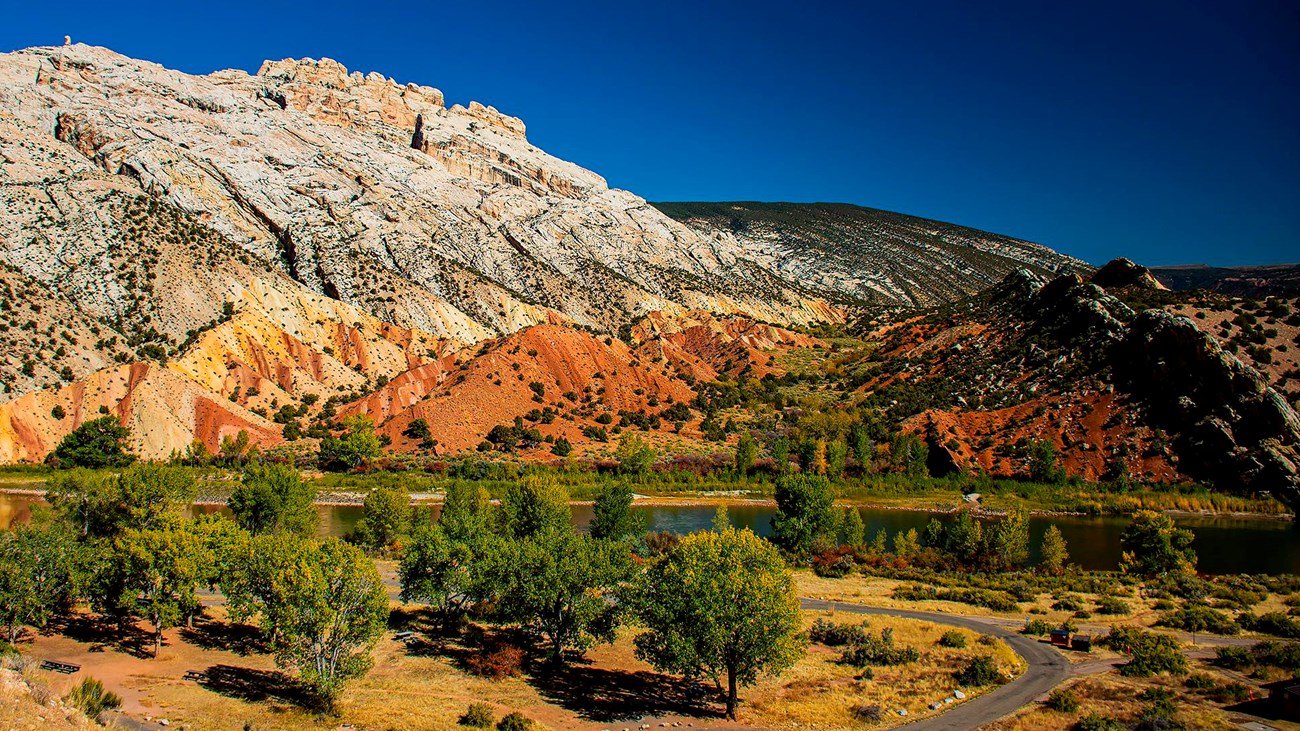 Tour of the Tilted Rocks is a 10 mile (16 km) scenic drive along the Cub Creek Road. The road begins at the Quarry Visitor Center north of Jensen, Utah, and ends at Josie's Cabin. Guidebooks are available for a small fee at either visitor center, or at a self-service post near the monument's entrance station.

Features along the route include petroglyph and pictograph panels, the Josie Bassett Morris cabin built in 1913, and fantastic views of geologic layers. A short spur road takes you to the Split Mountain Campground and Boat Launch where you can see the Green River leaving Split Mountain Canyon or watch river rafters arriving after a whitewater journey through the monument. Wildlife may occasionally be seen, including mule deer, bighorn sheep, pronghorn, prairie dogs, and many bird species.
Driving Conditions:
The first 8 miles (13 km) of the Cub Creek Road are paved. The last 2 miles (3 km) are unpaved, but maintained and accessible to most vehicles. The unpaved section is not recommended for low-clearance vehicles. The last 4 miles (6 km) of the drive may be impassable in winter.

Amenities: 
Fuel, food, and other services are not available along this route. The nearest services are in Jensen, Utah, 7 miles (11 km) south of the Quarry Visitor Center.
The road takes a minimum of 20 minutes to drive one-way without stopping (about 45 minutes round-trip). Recreational activities, viewing scenery, hiking, or stopping at overlooks and sites of interest will add more time to your trip.
Pets Allowed
Yes with Restrictions
Leashed pets are allowed in paved areas, such as campgrounds and parking lots. Leashed pets are also permitted along the River Trail and the short trail to the Swelter Shelter petroglyphs. All other trails are off-limits to pets.
Visitors must pay the park entrance fee or show a valid pass at the Entrance Station or Quarry Visitor Center. There is no separate or additional fee for this activity.
The Cub Creek Road is often referred to as the Tour of Tilted Rocks. Follow State Road 149 into the monument's western entrance in Jensen, Utah. The Cub Creek Road begins just past the park's Entrance Station, near the Quarry Visitor Center. It extends eastward for 10 miles (16 km) and ends at Josie's Cabin. 
The Cub Creek Road is typically open and accessible year-round. The unpaved section at the end of the drive is maintained and usually open, but may be impassable after severe rain or heavy snowfall. 
Accessibility Information
Wheelchair Accessibility: 
All overlooks are paved and accessible to wheelchairs. Many sites of interest (such as petroglyph and pictograph sites) are not wheelchair accessible. Binoculars are helpful for viewing these sites at a distance.
Restroom Information: 
Restrooms are available in the following locations along the drive: 
Quarry Visitor Center
Split Mountain Campground
Green River Campground (closed seasonally)
Josie's Cabin
Last updated: November 30, 2021