Thing to Do
Hike to the Swelter Shelter Petroglyphs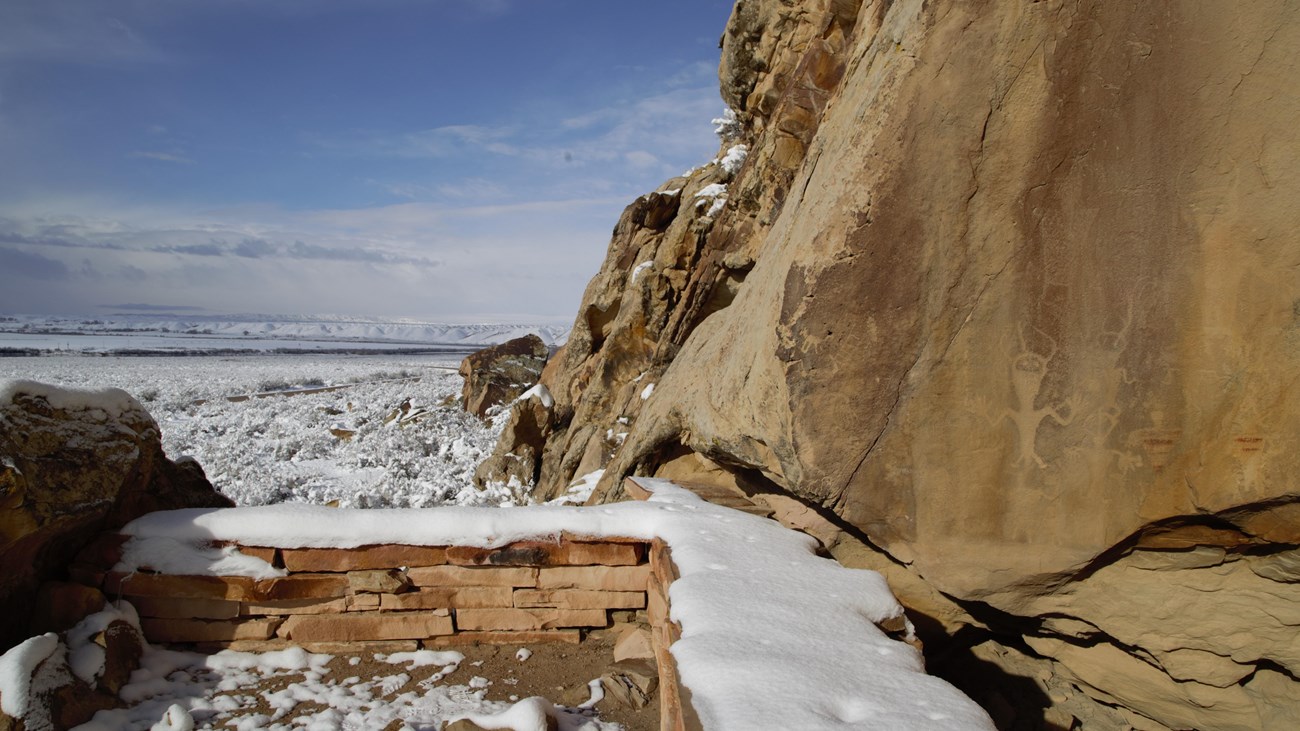 Distance:
400 feet (122 m) round trip
Elevation Change:
 Minimal, with a few stone stairs
Level of Difficulty:
Easy
Type of Trail:
Out and back
Trailheads:
 Cub Creek Road 1 mile (1.6 km) east of the Quarry Visitor Center, Stop #1 on Tour of Tilted Rocks Scenic Drive
This short walk ends at the Swelter Shelter site, which features a variety of petroglyphs (etchings) and pictographs (paintings) created by the Fremont Culture. Based on arheological evidence, the shelter was used, but not extensively occupied, by the Fremont people. It may have been reserved for special purposes and activities. Swelter Shelter has been occupied by older cultures dating to as early as 7000 BCE. 
Don't touch!
 Petroglyphs and pictographs are fragile, irreplaceable records of the past that many still hold sacred. Touching them can leave skin oils behind, and tracings or rubbings can ruin the designs. Federal law protects all artifacts, including these sites. Do your part to respect and protect the past, and report any vandalism you find.
A pamphlet for this trail is available at the Visitor Centers. Trail maps of Dinosaur National Monument are available from the park 
bookstore
.
Activity
Front-Country Hiking
This trail is pet-friendly for leashed pets and emotional support animals. They must be kept on a leash no longer than 6 feet (2 meters) in length. To avoid dangerous interactions and prevent the spread of disease between species, don't allow your animals to interact with wildlife or investigate the nests, burrows, remains, or feces of wild animals. Handlers must clean up and pack out all pet waste.
Visitors must pay the park entrance fee or show a valid pass at the Entrance Station or Quarry Visitor Center. There is no separate or additional fee for this activity.
Swelter Shelter is located on the Jensen, UT side of the monument, approximately 1 mile (1.6 km) east of the Quarry Visitor Center along the Cub Creek Road. It is Stop #1 on the Tour of Tilted Rocks Scenic Drive.
This path is short and may be covered with snow during the winter, but the road to this site is typically accessible year round.
Accessibility Information
The path to the Swelter Shelter Petroglyphs is short and relatively level with a few stone stairs at the end. The terrain is unpaved, mostly packed dirt and gravel, and at least 2 feet (0.6 m) wide. It's not wheelchair accessible, but the flat section before the stairs may be possible in a wheelchair with some assistance. The petroglyphs can be seen from the parking area with binoculars. Leashed pets are allowed on this trail.
Last updated: September 13, 2022