Thing to Do
Story in Stone Trail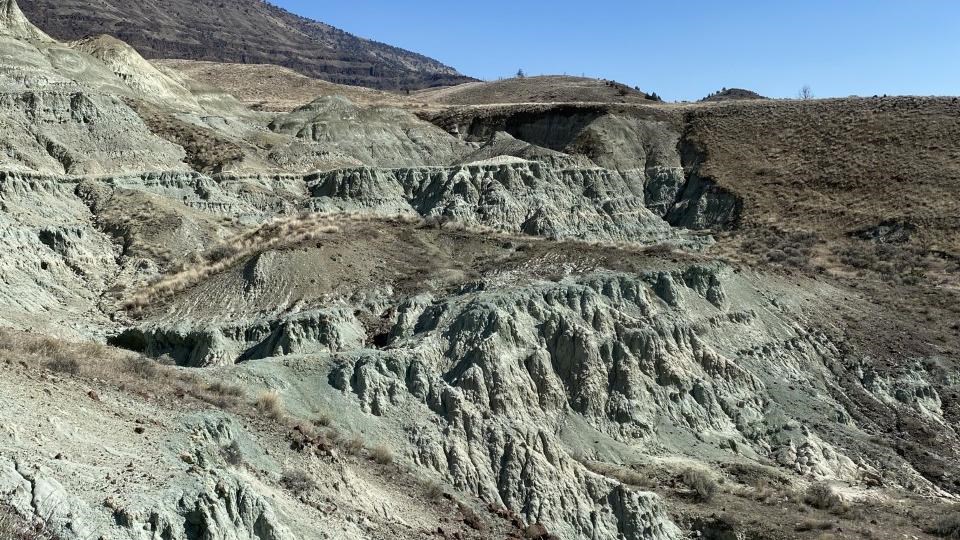 The mostly level Story in Stone Trail loops through dramatic pillars of blue-green claystone rocks that make up the Turtle Cove formation of John Day Fossil Beds. Before the trail intersection, the walkway is paved for 900 ft (275 m). Please stay on trail, no collecting permitted, and keep your pets leashed.
Activity
Front-Country Hiking
Entrance fees may apply, see Fees & Passes information.
Drive 9 miles north on HWY 19 from the HWY 19 / HWY 26 junction and turn right. Then drive 0.5 miles up that road leading to "Foree Trails" and the trailhead will be on the right side of the parking lot.
Accessibility Information
The Story in Stone Trail is a 0.3 mi (0.5 km) loop with no trail obstructions. The trail is paved for 900 ft (275 m) and is gravel after that. Average trail width is 53 inches with a minimum trail width of 34 inches.

There are benches along the trail but with little shade.

Potential hazards: muddy after rain and snow, rocks
Last updated: June 17, 2022