THING TO DO
Shoot Winter Photography at Fort Falls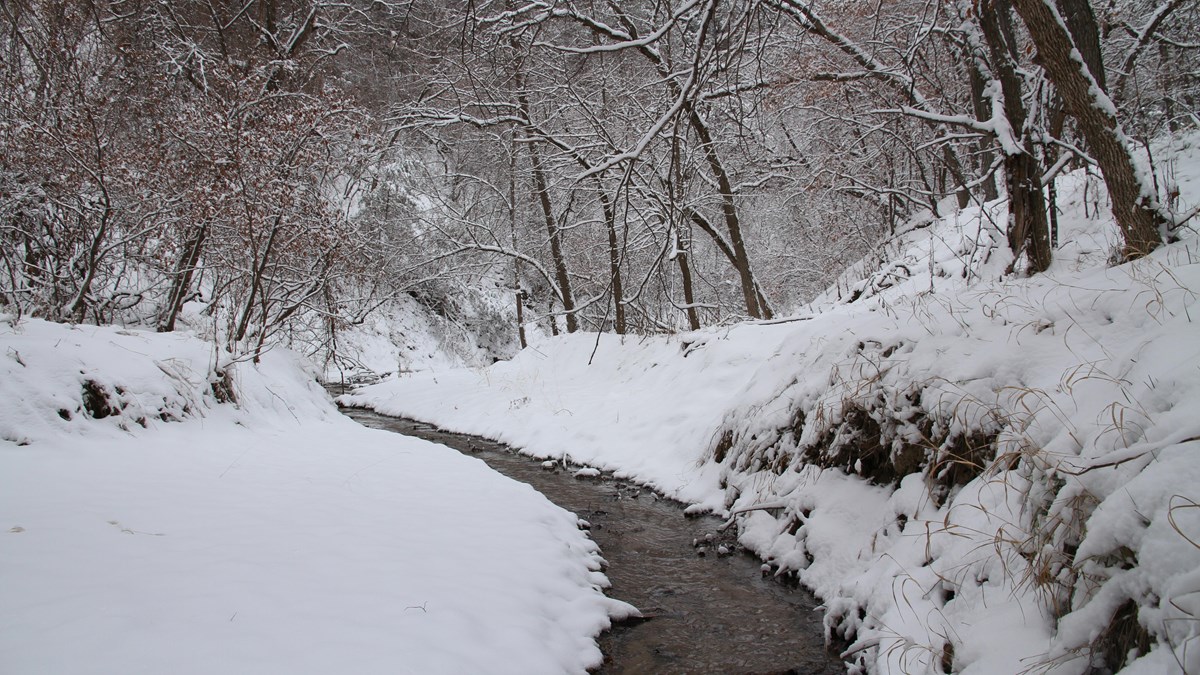 Make Nature's Art Gallery your Own
with one quick trip to
Fort Falls
 and the Niobrara National Scenic River. The serenity of winter on the Niobrara River is a scenic escape for photographers of all skill levels and styles.
Here are some tips and tricks for stunning winter photography on the Niobrara River and Fort Falls:
Go when there is snow and ice. While the Niobrara and Fort Falls are stunning sites in all seasons, for great photography and capturing that winter glow in real time, we suggest making sure there is some snow on the ground, or even better, snow flakes falling to be captured by your lens in real time. The ice that freezes along the sides of the Fort Falls creates intricate patterns and shapes that can make your photos one-of-a-kind.
Take photos at sunrise or sunset. These are considered "golden hours" of day light, when the sunlight is not in full force on the landscape your are capturing. Taking snowy photos in full sunlight can cause overexposure and a burned-out glare or large shadows in your photos. Getting out to the falls at sunset is easier in winter because you can go after work when the sun is setting and still make it home for dinner. Another option is to go on a cloudy day when the sun can't shine directly and cause burn-out or shadows in your photos.
Look for contrasts and patterns in the landscape. Find fun textures like bark and stone to photograph against the softness of snow. Colors like evergreen against snow can be striking and make for great contrast; visual interests, like small plants sticking up from fresh snow, can make close-up shots look larger than life. Leading lines like streams or trails going into the distance are great visual interests for winter photography too.
Take photos at multiple distances and angles. Try macro-shots of very small objects like snowflakes or frost on a dark surface from really close-up to capture all of the details, or go big with a large shot of Fort Falls flowing downstream from far away to get all of the waterfall's best angles.
Look for wildlife on open water. Waterfowl and animals need water to live, so if you want to take a crack at wildlife photography, Fort Falls and the Niobrara River are both great sources of flowing water where you might find some animals enjoying a winter's rest or lapping up a quick drink. Sheltered river valleys like the one where the Fort Falls flow, provide nice resting areas for these animals. Note: animals are more stressed in winter because of lack of resources; keep your distance and do not disturb them, even if it would be "the coolest picture ever."
Add some depth by making a photo sandwich. Capture a subject in the mid-distance of a shot (a hiker or animal) and with a blurry/out of focus background (Fort Falls) and some blurry objects in the foreground near the lens like blades of grass or pine needles on a branch. This layered affect draws the eyes to your subject--a friend observing the Fort Falls.
Accessibility Information
The trail to Fort Falls is not highly accessible. The trail is are not cleared in winter but visitors can still make the trip down metal footbridges and down a flight of about 40 metal stairs in the winter. This is challenging with snow. There are handrails that can be used for stability along the walkway and stairs. The rest of the trail is not cleared in winter and is single track dirt, wide enough for walking. 
For more accessibility information, see
Fort Niobrara National Wildlife Refuge's Website
. 
Last updated: January 13, 2021