Thing to Do
Hike the Ute Trail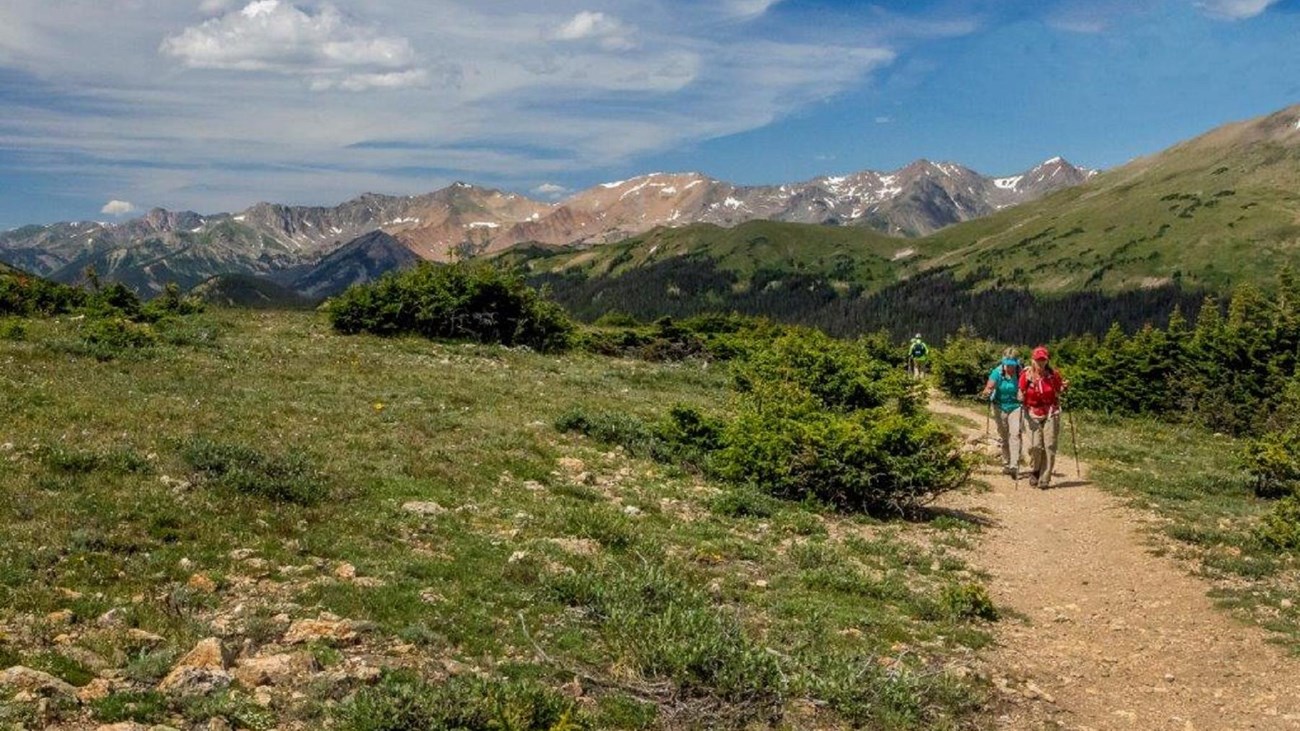 Distance: 8.0 miles round trip
Elevation Gain: (-) 1037 ft
Type of Trail: Out and Back, Moderate
Start this trail across the street from the Alpine Visitor Center parking lot and hike 4 miles to Milner Pass. This trail starts at 11,796 feet and ends at 10,759 feet, so be prepared to hike back up after hiking down! Beginning in the alpine tundra with chances to see pikas and marmots, this hike is completely exposed with little to no tree cover for the first two miles. This part of the hike provides great vistas of the Never Summer Mountain range and the Cache la Poudre river valley below. As hikers travel down in elevation they will slowly become immersed in subalpine firs and spruces. Only accessible from when Trail Ridge Road is open.

Tread Lightly: Please stay on the paved asphalt trail and do not pick flowers to protect these fragile alpine tundra plants.This fragile ecosystem requires care and sensitivity, please do not go off the trail. Repeated footsteps often destroy tundra plants, allowing exposed soil to blow away. Recovery may take hundreds of years, so please use designated trails when exploring this unique area.
Altitude Warning: Altitude sickness affects many visitors every year. Symptoms include headache, nausea, fatigue, dizziness, vomiting, and even unconsciousness. Altitude can also aggravate pre-existing conditions like heart and lung disease. Take your time, drink water, eat, and rest. The only cure for altitude sickness is to go down to a lower altitude.
Weather Warning: Weather in the mountains can turn in an instant! Be prepared for changing weather conditions. Check the forecast before heading out. Lightning can strike anywhere in Rocky. Watch for building storm clouds and return to the trailhead immediately if you hear thunder. As a rule of thumb, try to be back at the trailhead by noon.
Entrance fees may apply, see Fees & Passes information.
Location
Trail Ridge Road
From May 27 to October 10, 2022, Timed Entry Permit Reservations are required to enter most areas of Rocky Mountain National Park between 9 a.m. and 3 p.m. To access the Bear Lake Road Corridor, Timed Entry Permits are in effect from 5 a.m. to 6 p.m. daily.

Timed Entry Permit Reservations are only available to be booked through https://www.recreation.gov/timed-entry/10086910. One Timed Entry Permit Reservation is $2.00 and non-refundable. 

Timed Entry Permits are vehicle permits. One Timed Entry Permit will cover one vehicle and all passengers in the vehicle. Timed Entry Permit Holders must enter the park during their reseved 2-hour reservation window. 

To learn more, visit the park's Timed Entry Permit Reservation webpage at https://www.nps.gov/romo/planyourvisit/timed-entry-permit-system.htm
Accessibility Information
This is not a paved trail.
Last updated: July 20, 2022