Thing to Do
Hike to Mills Lake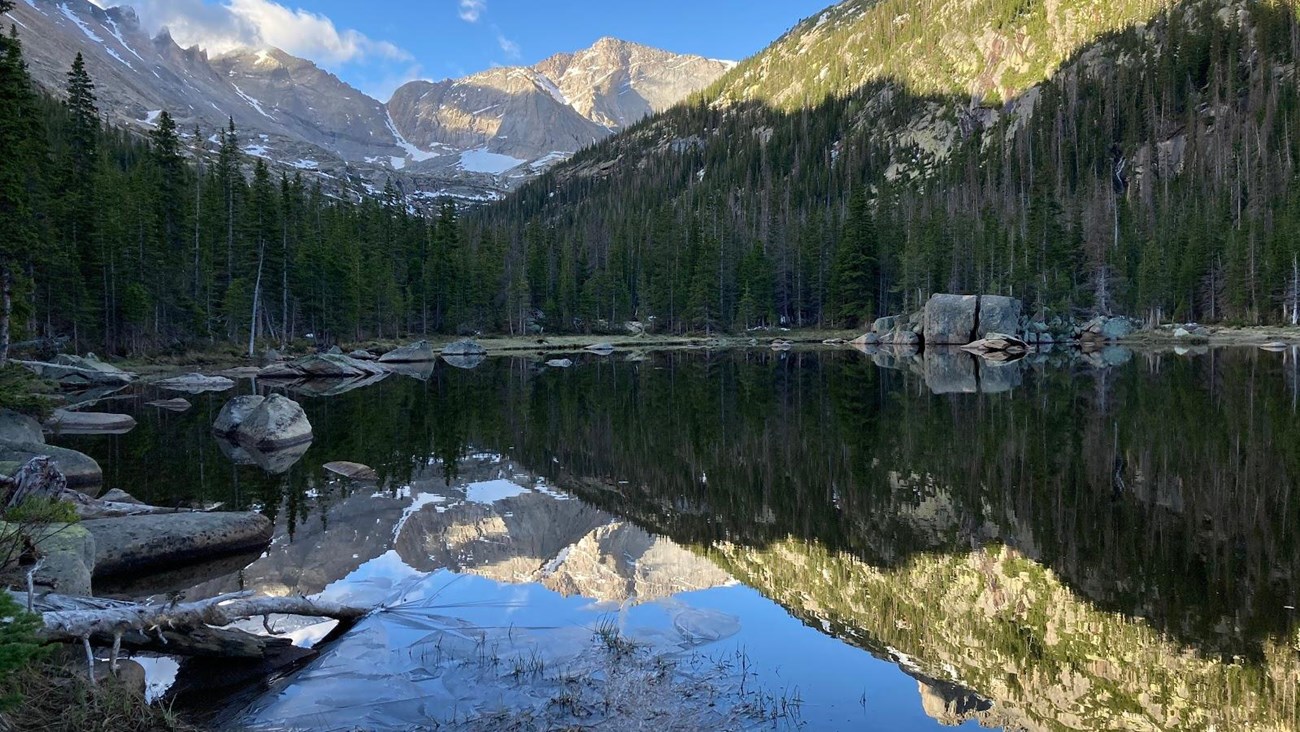 Distance: 5 miles round trip
Elevation gain: 700 feet
Trail type: Out and Back, Moderate
Hike past waterfalls, along streambeds, and above a glacially carved gorge. This hike ends at a crystal clear alpine lake named after a founder of the national park, Enos Mills. The trail is well marked and well used. Once at Mills Lake, you have the option of continuing up an additional 1.7 strenuous miles to Black Lake.
Note: The Glacier Gorge parking lot is very limited and fills very early in the morning. The park's free shuttle is here to help! Park at the Park & Ride and take the shuttle to stunning destinations and popular trailheads, all while avoiding the hassle of dealing with traffic and searching for parking.
Weather Warning: Weather in the mountains can turn in an instant! Be prepared for changing weather conditions. Check the forecast before heading out. Lightning can strike anywhere in Rocky. Watch for building storm clouds and return to the trailhead immediately if you hear thunder. As a rule of thumb, try to be back at the trailhead by noon.
Entrance fees may apply, see Fees & Passes information.
Location
Glacier Gorge Jct.
From late May to late October, Park Access + Bear Lake Road Timed Entry Permit Reservations are requied to access destinations along the Bear Lake Road corridor, from 5 a.m. to 6 p.m. daily.

Timed Entry Permit Reservations can only be booked online. One Timed Entry Permit Reservation is $2.00 and non-refundable. 

There are two Timed Entry Permit options available (you only need one): Park Access + Bear Lake Road or Park Access, Does Not Include Bear Lake Road.

Timed Entry Permits are vehicle permits. One Timed Entry Permit will cover one vehicle and all passengers in the vehicle. Timed Entry Permit Holders must enter the park during their reseved 2-hour reservation window. 

Learn more about the park's TImed Entry Permit Reservation program 
Accessibility Information
This is not a paved trail. It is extremely rugged with an elevation gain of 700 feet.
Last updated: August 21, 2023