Thing to Do
Hike to Lake Haiyaha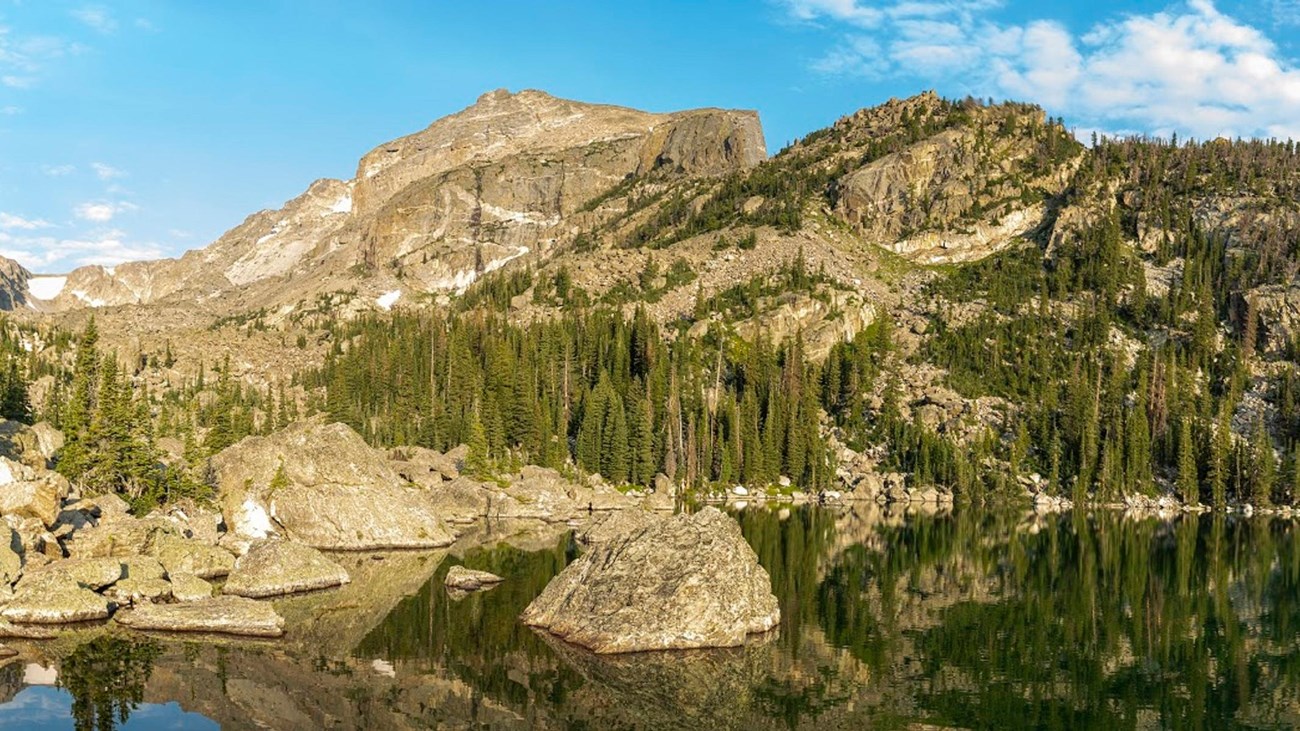 Distance:  4.2 miles round-trip
Elevation Gain: 745 feet
Type of Trail: Out and Back
From Bear Lake, hike to Lake Haiyaha and see incredible views of the Glacier Basin area. Look for views of Bear Lake, Nymph Lake and Bierstadt Lake. There are two junctions to look for -  at 1.1 miles turn left at the Dream Lake/Lake Haiyaha marker, at 1.7 miles continue straight at the Mills Lake/The Loch/Lake Haiyaha marker.
At around 50 yards from the lake the terrain gives way to rugged boulders covering the entire shore. Carefully navigate this area by following the twisted pines, said to be some of the oldest trees in the park. Explore this area with care – the rocks can be slippery.
Haiyaha is an indigenous word that means "rock" or "lake of many rocks", or "big rocks", depending on the translation.
Ranger Recommendation: Instead of doing an out-and-back hike, hikers also have the option of making this into a loop hike by going to Alberta Falls, or a longer hike by backtracking and taking the trail to The Loch or Mills Lake.
Note: Due to the extreme popularity of this hike, you might want to arrive early. The Bear Lake area is very busy, especially in summer and on fall weekends. Parking often fills by early morning. Roads are congested. The park's free shuttle bus is here to help! You can ride the shuttle to stunning destinations and popular trailheads, all while avoiding the hassle of dealing with traffic and searching for parking.
Storm Warning: Weather in Colorado can turn in an instant! Be prepared for changing weather conditions. Check the forecast before heading out. Lightning can strike anywhere in Rocky. Watch for building storm clouds and return to the trailhead immediately if you hear thunder. As a rule of thumb, try to be back at the trailhead by noon.
Entrance fees may apply, see Fees & Passes information.
Location
Bear Lake Trailhead
From May 27 to October 10, 2022, Timed Entry Permit Reservations are required to enter most areas of Rocky Mountain National Park between 9 a.m. and 3 p.m. To access the Bear Lake Road Corridor, Timed Entry Permits are in effect from 5 a.m. to 6 p.m. daily.

Timed Entry Permit Reservations can only be booked online. One Timed Entry Permit Reservation is $2.00 and non-refundable. 

Timed Entry Permits are vehicle permits. One Timed Entry Permit will cover one vehicle and all passengers in the vehicle. Timed Entry Permit Holders must enter the park during their reseved 2-hour reservation window. 

Learn more about the park's TImed Entry Permit Reservation program
Accessibility Information
This is not a paved trail. It is rugged with a total elevation of 980 feet.
Last updated: August 17, 2023