Thing to Do
Hike to Chasm Lake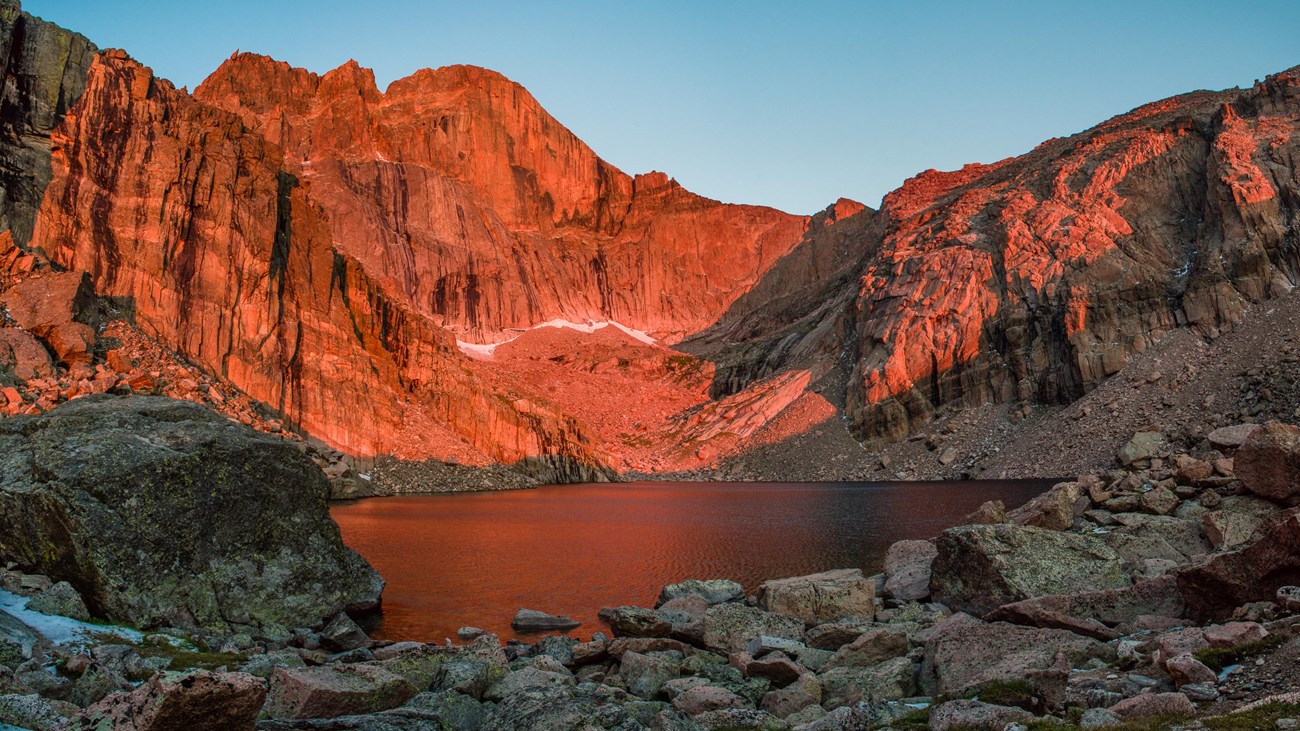 Distance: 4.2 miles one-way (6.8 m)
Elevation Gain: 2,390 feet (728 m)
Type of Trail: Out & Back
Chasm Lake offers spectacular views just below the famous Long's Peak, the highest peak in the park.

Start this trail at Longs Peak Trailhead at 9,400 feet and steadily climb through a subalpine forest up to the alpine tundra. Here, you'll cross a vast tundra meadow of rocks, fragile plants- keep an eye out for marmots and pikas! Since this trail is completely exposed for half of the hike, it is best to go in the morning before thunderstorms, and during the heart of summer to avoid snowfields that can linger in spring and autumn. Use extreme caution when crossing. 

At the Chasm Junction there is an outhouse available. Follow the trail along a wall that offers views into a deep gorge of Peacock Pool and Columbine Falls. After this, the trail turns to rock and you may need to use cairns to do easy rock climbing up the cirque to where the lake is located.
Altitude Warning: Altitude sickness affects many visitors every year. Symptoms include headache, nausea, fatigue, dizziness, vomiting, and even unconsciousness. Altitude can also aggravate pre-existing conditions like heart and lung disease. Take your time, drink water, eat, and rest. The only cure for altitude sickness is to go down to a lower altitude.
Weather Warning: Weather in the mountains can turn in an instant! Be prepared for changing weather conditions. Check the forecast before heading out. Lightning can strike anywhere in Rocky. Watch for building storm clouds and return to the trailhead immediately if you hear thunder. As a rule of thumb, try to be back at the trailhead by noon.
Entrance fees may apply, see Fees & Passes information.
Location
Longs Peak Trailhead
From May 27 to October 10, 2022, Timed Entry Permit Reservations are required to enter most areas of Rocky Mountain National Park between 9 a.m. and 3 p.m. To access the Bear Lake Road Corridor, Timed Entry Permits are in effect from 5 a.m. to 6 p.m. daily.

Timed Entry Permit Reservations are only available to be booked through https://www.recreation.gov/timed-entry/10086910. One Timed Entry Permit Reservation is $2.00 and non-refundable. 

Timed Entry Permits are vehicle permits. One Timed Entry Permit will cover one vehicle and all passengers in the vehicle. Timed Entry Permit Holders must enter the park during their reseved 2-hour reservation window. 

To learn more, visit the park's Timed Entry Permit Reservation webpage at https://www.nps.gov/romo/planyourvisit/timed-entry-permit-system.htm
Accessibility Information
This is not a paved trail. It is extremely rugged with an elevation gain of 2,456 feet.
Last updated: July 15, 2022