Thing to Do
Hike to Cascade Falls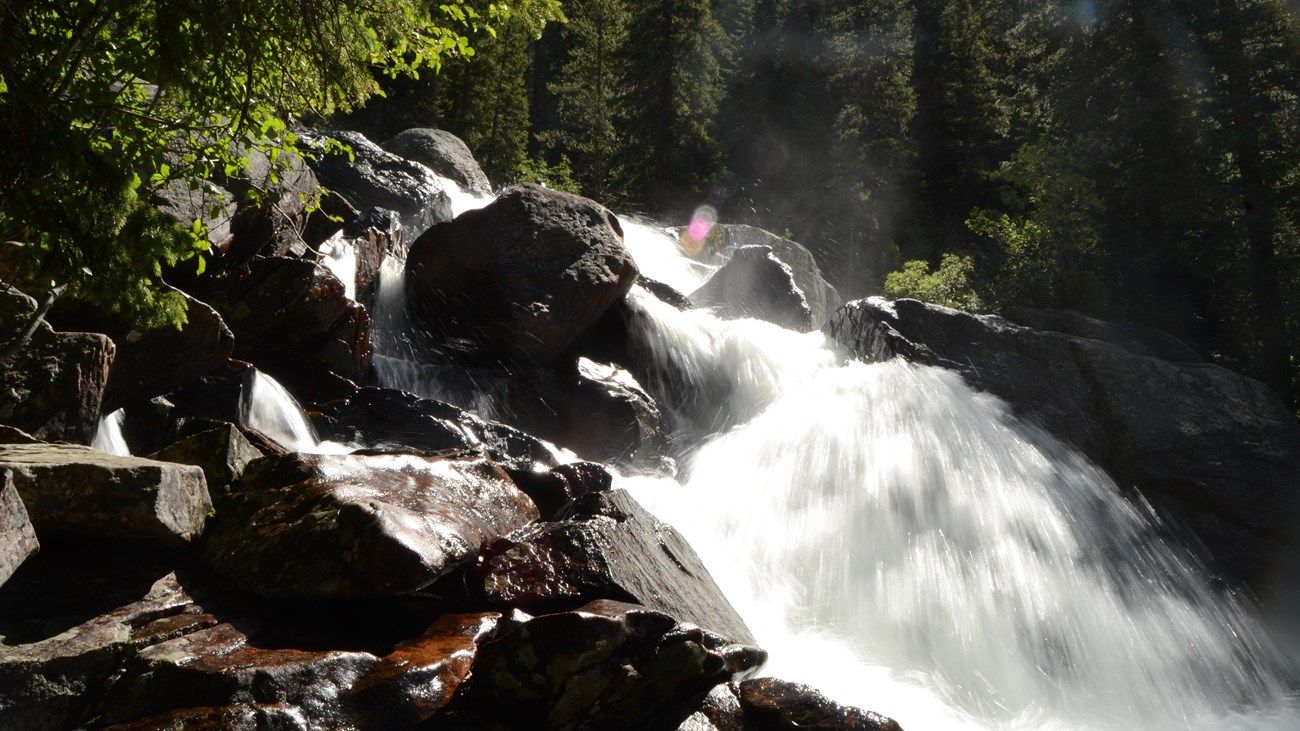 Distance: 3.4 miles one-way (5.5 m)
Elevation Gain: 300 feet (91 m)
Type of Trail: Out & Back
Cascade Falls is located on the North Inlet Trail. Enjoy the sights and sounds of the North Inlet stream water tumbling down 100 feet of pure granite.

This waterfall is what its name describes – it is a cascade rather than a straight-drop waterfall. The easy hike passes through an open meadow where marmots are often found and by a river that winds through a lodgepole pine forest. Fishing is good for small brook trout and an occasional brown trout. Check with a ranger for fishing regulations.
Note: Pets are prohibited on ALL park trails, tundra, and meadow areas. Leashed pets are only allowed in picnic areas, parking lots, campgrounds, and along roadsides.
Entrance fees may apply, see Fees & Passes information.
Location
North Inlet Trailhead
From May 27 to October 10, 2022, Timed Entry Permit Reservations are required to enter most areas of Rocky Mountain National Park between 9 a.m. and 3 p.m. To access the Bear Lake Road Corridor, Timed Entry Permits are in effect from 5 a.m. to 6 p.m. daily.

Timed Entry Permit Reservations are only available to be booked through https://www.recreation.gov/timed-entry/10086910. One Timed Entry Permit Reservation is $2.00 and non-refundable. 

Timed Entry Permits are vehicle permits. One Timed Entry Permit will cover one vehicle and all passengers in the vehicle. Timed Entry Permit Holders must enter the park during their reseved 2-hour reservation window. 

To learn more, visit the park's Timed Entry Permit Reservation webpage at https://www.nps.gov/romo/planyourvisit/timed-entry-permit-system.htm
Accessibility Information
This is not a paved trail. The trail is rugged with an elevation gain of 300 feet.
Last updated: July 15, 2022