Thing to Do
Bierstadt Lake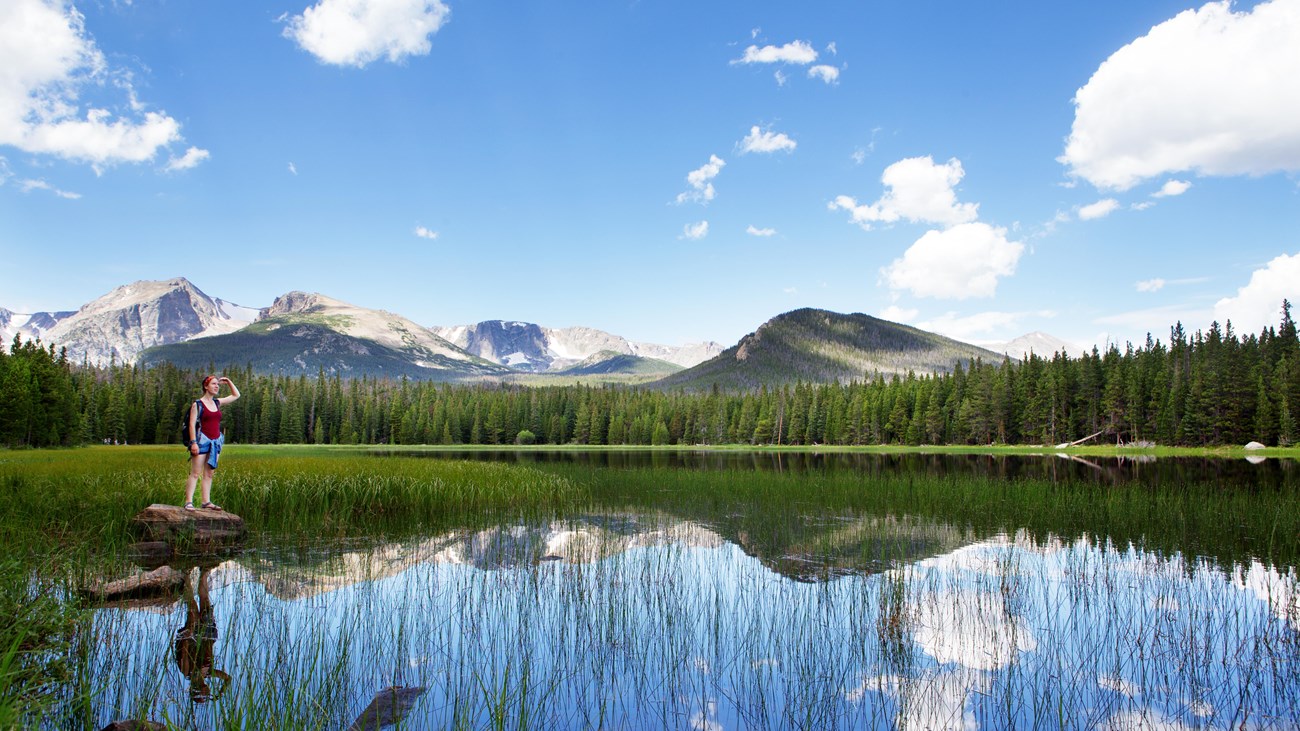 Distance: 2.8 miles round trip
Elevation Gain: 566 feet
Trail Type: Out and Back, Moderate
Enjoy scenic mountain views at Bierstadt Lake. This alpine lake is accessed from Bear Lake Road and Park & Ride. 
Named after Albert Bierstadt, an artist who admired the lake in the 1870s. It's a hidden gem in the Bear Lake Corridor of the park! This lake sits atop a forested moraine, a ridge composed of material left behind thousands of years ago by receding glaciers. It is a shallow lake that holds melting snow and rainwater – no streams flow in or out. Be on the lookout for lily pads, amphibians, waterfowl, and mosquitos!
It is a steep climb up from the trailhead via switchbacks, but the fantastic views of the Continental Divide are worth it. To the right of the the lake, you'll get a classic view of snow-capped mountains. On a calm day the peaks are reflected in the water.
Help keep wildlife wild. Never approach or feed wildlife. Animals that learn people are a source of food can become aggressive or stop hunting or foraging on their own. Keep your distance - it's the law! You could be hurt or issued a fine.
Pets are prohibited on all hiking trails in Rocky Mountain National Park. 
Entrance fees may apply, see Fees & Passes information.
From May 27 to October 10, 2022, Park Access + Bear Lake Road Timed Entry Permit Reservations are requied to access destinations along the Bear Lake Road corridor, from 5 a.m. to 6 p.m. daily.

Timed Entry Permit Reservations are only available to be booked through https://www.recreation.gov/timed-entry/10086910. One Timed Entry Permit Reservation is $2.00 and non-refundable.

A Timed Entry Permit will cover one vehicle and all passengers in the vehicle.
Accessibility Information
This is not a paved trail. This trail is rugged with a total elevation gain of 566 feet.
Last updated: July 13, 2022