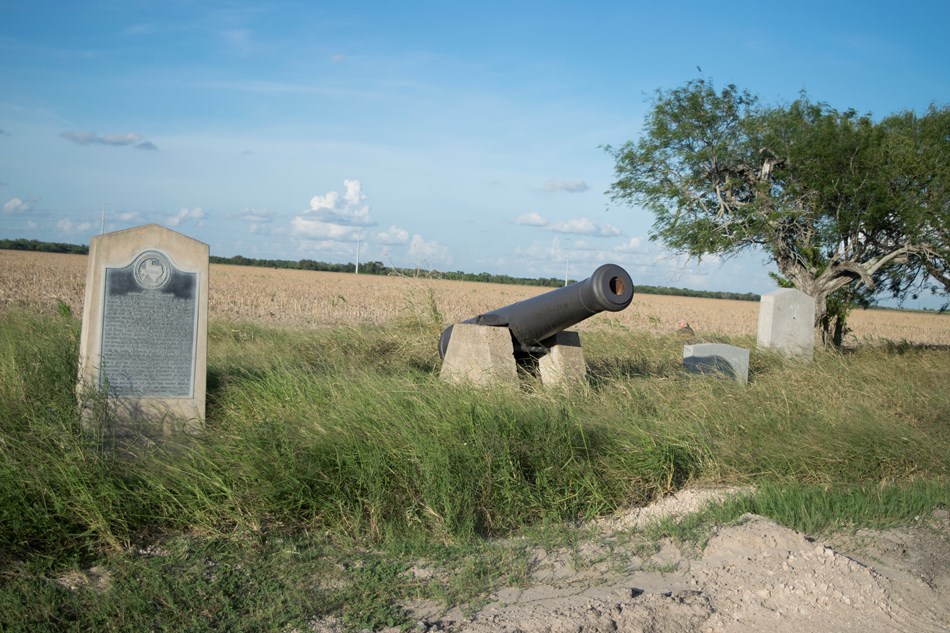 Visit the site of the first official combat between U.S. and Mexican forces. On April 24, 1846 Captain Seth Thornton and his 80 dragoons were ambushed by General Anastasio Torrejón and his 1,600 cavalry and infantry troops at Rancho de Carricitos. The encounter left 11 U.S. soldiers dead on the field and 46--including Captain Thornton--were taken prisoner. Mexican forces suffered only a few minor casualties. News of the skirmish reached Fort Texas later that day. General Taylor forwarded word to President Polk that hostilities had commenced.
In the time since the skirmish at Carricitos, the exact location of the ranch has been forgotten. Soldiers had measured the distance to the site along the winding path of the Rio Grande. The shifting course of the river has made these measurements unreliable.
The State of Texas commemorated the clash with a roadside monument, approximately 25 miles west of Brownsville, Texas. Palo Alto Battlefield National Historical Park has continued to conduct research that may, in time, pinpoint the exact location of the Rancho de Carricitos skirmish.