THING TO DO
Visit the Reading Room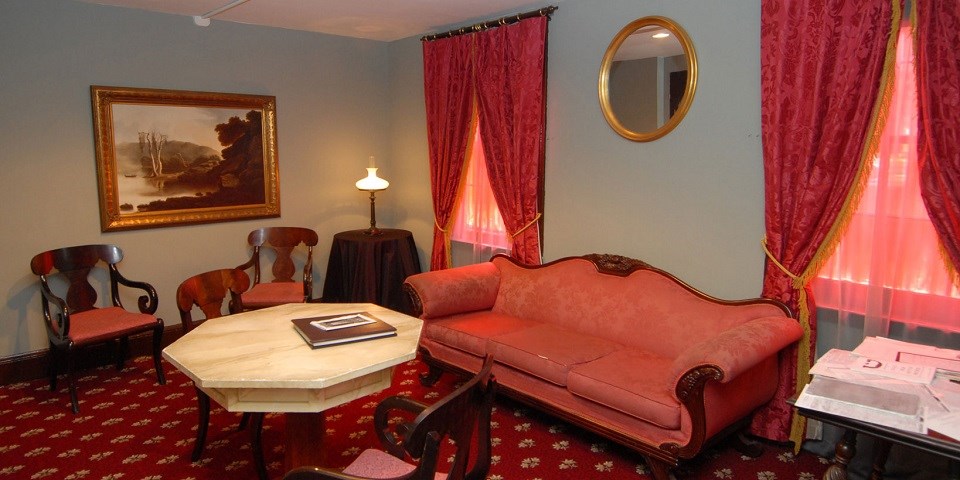 Relish the creepy atmosphere in a room taken straight from Poe's imagination.
Poe satirized the tastes of the newly-rich middle class in his 1840 essay called "The Philosophy of Furniture," which gives detailed instructions on how to tastefully decorate a room. The reading room is a recreation of Poe's description.

Take a moment to listen to some of Poe's most atmospheric works narrated by prominent actors, or put to music by the likes of the Alan Parsons Project and Lou Reed.
Pets are not allowed, unless designated assistive animals.
Entrance fees may apply, see Fees & Passes information.
Location
Edgar Allan Poe National Historic Site
The Edgar Allan Poe National Historic Site sits in an urban area served by Interstates 95 and 676. On- street parking is usually available near the site. The site is also easily accessible by public transportation. See the directions page for more information.
 
Teachers planning a
field trip
must submit a reservation request. Space fills up quickly in October and November.
Please remember that the site is open Friday through Sunday from 9am - 12pm and 1pm - 5pm. The site is closed from 12pm - 1pm.
Accessibility Information
The reading room and historic home are not accessible to those who use wheelchairs, nor are there any accessible restrooms. However, the exhibit area is accessible through a ramp.  To access the ramp, please call ahead (215-597-8780).

The film is captioned for the hearing impaired, and audio description is available for the sight impaired. Audio description is available for the exhibits.
Last updated: June 29, 2018