Thing to Do
Hike the Plug Hat Trail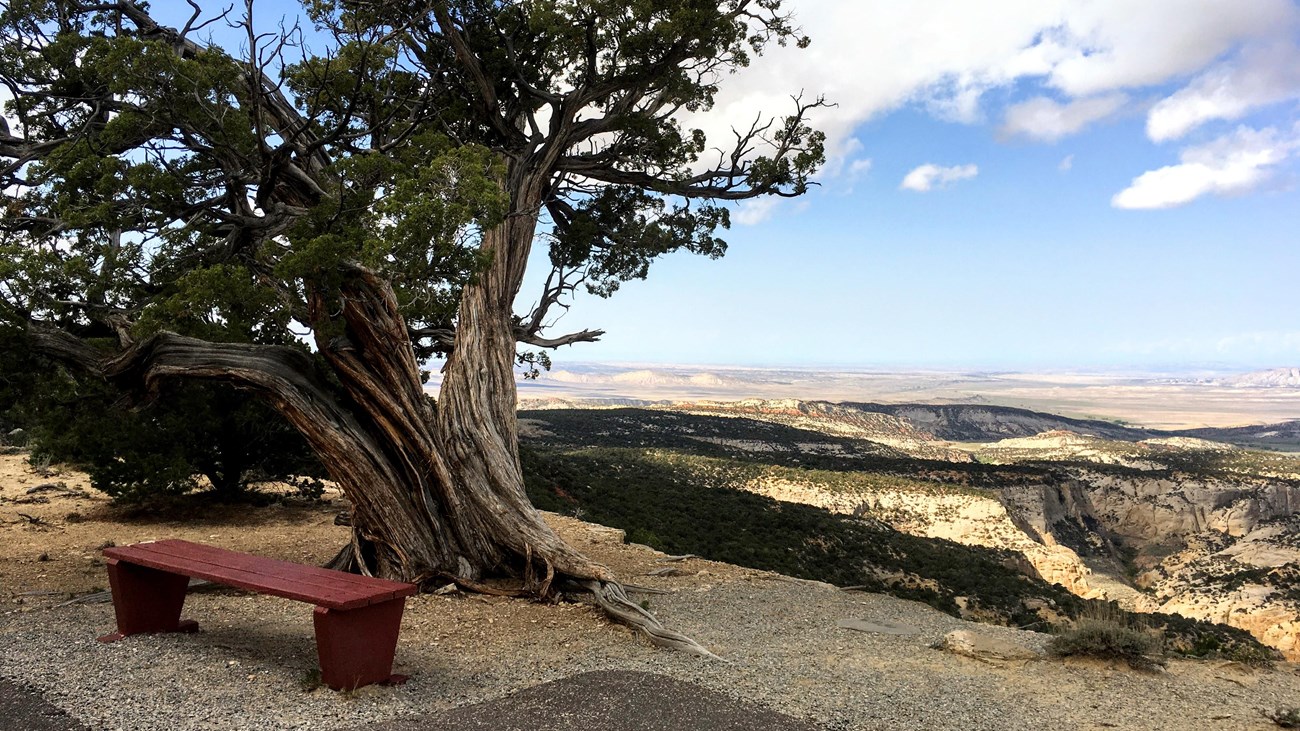 Distance:
0.25 miles (0.4 km) round trip
Elevation Change:
 None
Level of Difficulty: 
Easy, paved and flat with benches for resting.
Type of Trail: 
Loop
Trailhead:
 Plug Hat pull-out along Harper's Corner Road, about 5 miles (8 km) north of the Canyon Visitor Center.
Located on top of a butte, the Plug Hat Trail offers panoramic views of the surrounding landscape. The trail is paved and winds through a forest of pinyon pine and Utah juniper trees. Signs along the way provide information about the local community of plants and animals. Benches are available at scenic areas. Although the trail is wheelchair accessible, some assistance may be needed. A wheelchair accessible picnic area is located across the road from the trailhead. Leashed pets are allowed on this trail.
Trail maps of Dinosaur National Monument are available from the park 
bookstore
.
---
Rules and Regulations
Leashed pets are allowed on this trail. Leashes must be no longer than 6 feet (2 meters) in length. Handlers must clean up and pack out pet waste.
Carry out all trash.
Collecting artifacts, fossils, plants, antlers, rocks, or other objects is prohibited.
Do not feed or approach wildlife.
Biking on trails is not permitted in Dinosaur National Monument.

Your Safety
There is some shade on this trail.
Be prepared for desert hiking. Wear a hat and sunscreen. Take water. A minimum of 1 gallon (3.8 liters) of water per person is recommended in summer.
Temperatures can exceed 100°F (38°C) in summer. To avoid the heat, hike in the morning or evening. Carry a headlamp if hiking near nightfall.
Let someone know where you are going and when you are due back.
Wear comfortable, sturdy shoes, such as hiking boots or athletic shoes. Open-toed shoes or sandals are not recommended.
Watch for wildlife. This is bear and mountain lion country. Keep small children close.
All natural areas pose risks. Your safety depends on your own good judgment.
Activity
Front-Country Hiking
This trail is pet-friendly for leashed pets and emotional support animals. They must be kept on a leash no longer than 6 feet (2 meters) in length. To avoid dangerous interactions and prevent the spread of disease between species, don't allow your animals to interact with wildlife or investigate the nests, burrows, remains, or feces of wild animals. Handlers must clean up and pack out all pet waste.
Visitors must pay the park entrance fee or show a valid pass at the Entrance Station or Quarry Visitor Center. There is no separate or additional fee for this activity.
Location
Harpers Corner Road
The trailhead is located along the eastern side of Harper's Corner Road at the pullout across from the Plug Hat Butte Picnic Area. This area is about 5 miles (8 km) north of the Canyon Visitor Center, near Dinosaur, Colorado.
Accessibility Information
This trail is paved and accessible to wheelchairs, although some assistance may be required. The paved path is about 3 feet (1 m) wide. There are some gentle bumps and cracks in the pavement. The trail is relatively flat the entire way. Benches are located at scenic viewpoints.
Last updated: August 24, 2022