Thing to Do
Become a Bark Ranger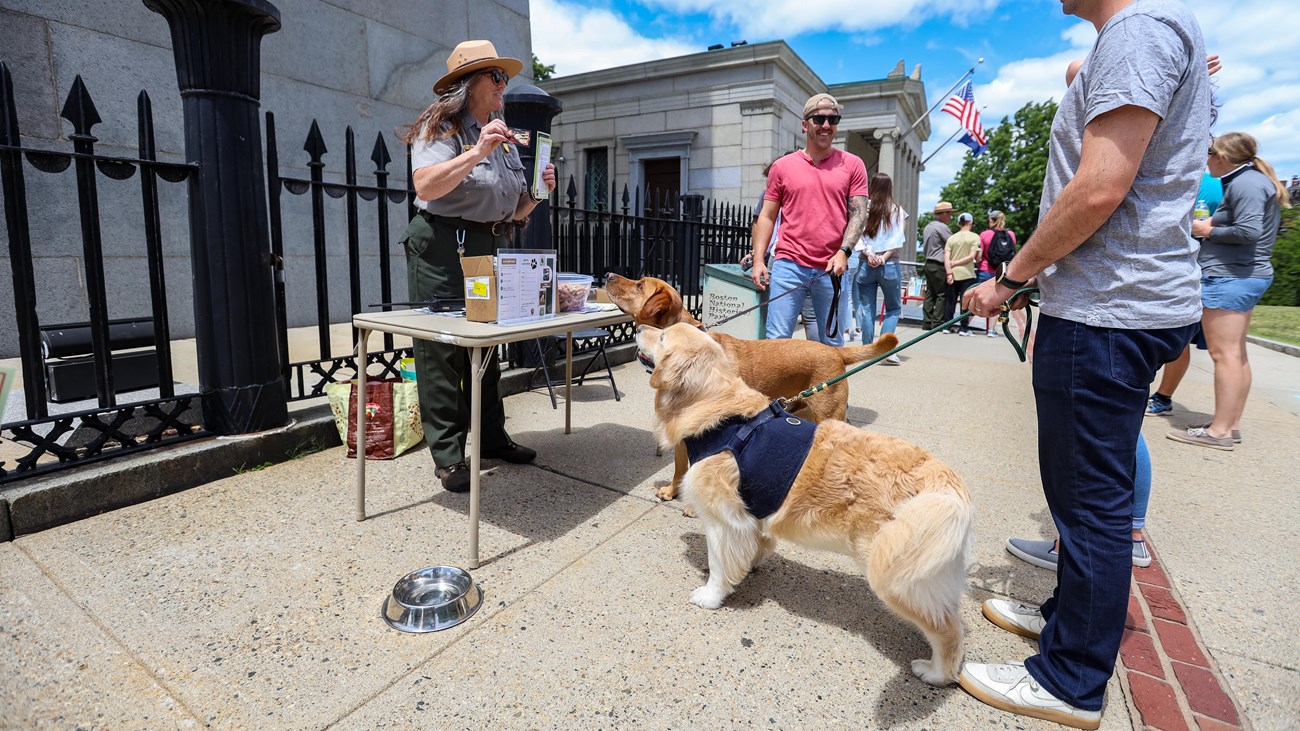 Bring your furry friend to the National Parks of Boston and take the B.A.R.K. Ranger pledge! Check our calendar for Bark Ranger events throughout the summer season.
What does it mean to become a Bark Ranger?
To become a Bark Ranger, you and your pet can take the pledge to take care of our parks by respecting other visitors and keeping our parks clean. To follow the B.A.R.K. Rules means to:
B-ag your poop, please!

Dispose of it in proper bins.

A-lways wear a leash.

Six feet or less in length.

R-espect wildlife.

Don't harass, chase, harm, nor bark at wildlife.

K-now where you can go.

Pets are welcomed in most outside areas. Pets are not allowed inside buildings: The Bunker Hill Monument, Lodge, and Museum; the Charlestown Navy Yard Visitor Center; nor aboard USS Cassin Young.
Why Follow the Rules?
HISTORY

Bunker Hill Monument commemorates the first major battle of the American Revolution on June 17, 1775. Organizers built the Monument on Breeds Hill between the years of 1827—1843.
The Charlestown Navy Yard, also known as the Boston Naval Shipyard and the Boston Navy Yard, opened in 1800 as one of the first navy yards of the US Navy. The Charlestown Navy Yard operated for nearly 175 years from the age of sail to the age of steel, becoming a National Historic Landmark in 1966. By preserving a portion of the Charlestown Navy Yard, the National Park Service memorializes the contributions of thousands of civilian workers and military personnel.

SAFETY

Unrestrained pets can be a danger and a nuisance to other dogs and people.
Holes dug by dogs create tripping hazards for both visitors and pets.
Dog waste poses a health risk to people and dogs using the Park.

COMMUNITY

All visitors want a clean and safe environment for their families and dogs.
Shows respect for your neighbors and your park.
Please lead by example by picking up your dog's waste and maintain control of your dog on leash at all times.
B.A.R.K. Ranger Pledge
As a National Parks of Boston Bark Ranger, I promise to:
Protect my Park
Sniff new things
Take my human on adventures in the park
Follow the B.A.R.K. Rules
Canine Constitution
Park Rules & Regulations
Pets are allowed at the Bunker Hill Monument. Please help us protect park visitors and park resources by following these rules, which can be found in the Superintendent's Compendium:
Dogs must be leashed. 36 CFR 2.15 (a)(2)
You must be in physical control of your dog at all times. 36 CFR 2.15 (a)(2)
You must pick up your dog's waste AND dispose waste in a receptacle. 36 CFR 2.31(a)(5)
Dogs are not allowed to make noise that is unreasonable considering location. 36 CFR 2.15(a)(4)
Dogs must not dig holes or urinate on memorials. 36 CFR 2.31(a)(3)
Dogs must not chase or harass other animals. 36 CFR 2.31(a)(3)
Learn what it means to be a B.A.R.K. Ranger and take the pledge!
Please note that pets are not allowed inside of the Charlestown Navy Yard Visitor Center, USS Cassin Young, Bunker Hill Museum, and the Bunker Hill Monument and Lodge.
Entrance fees may apply, see Fees & Passes information.
Accessibility Information
The Charlestown Navy Yard consists of mostly flat asphalt. Former train tracks are embedded within the asphalt, creating small ridges to cross. 
To get to the Bunker Hill Monument Grounds, take the ramp to the right of the Massachusetts Gate entrance. This entrance is located across the street from the Bunker Hill Museum.
Last updated: October 17, 2022