Thing to Do
Monument Canyon Loop Hike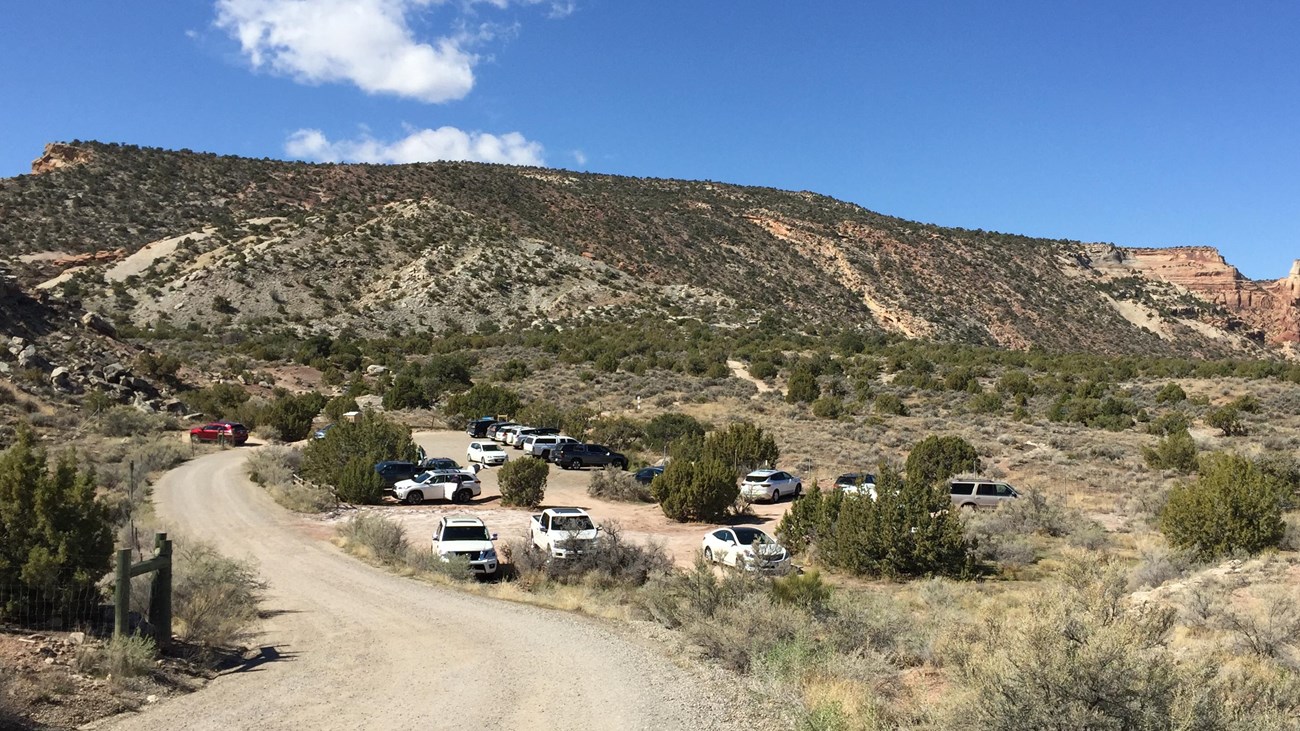 Monument-Wedding Canyons Loop
Location: From the west (Fruita) entrance of the Monument, turn right onto Highway 340 (going east); after 2.1 miles (3.4 km) turn right just beyond mile marker #5 onto a dirt road that appears to be a driveway; go 0.1 mile (0.2 km) to the trailhead. Maps can direct you to Lower Monument Canyon Trailhead.
Mileage: ~5 miles (8.05 km) loop, +3.5 miles (5.63 km) one way up Monument Canyon from the meeting point with Wedding Canyon undeveloped trail
Difficulty Level: Moderate to steep
Elevation: 4,700 to 6,140 feet (1433 to 1871 meters) from lower trailhead to upper trailhead
Average time: 4-6 hours
Usage: Hiking and horseback riding permitted along the
lower 5 miles. Hiking only above 5 miles on Monument Canyon Trail.
Description (from lower trailhead): Shortly after beginning the trail, choose to go clockwise or counterclockwise around this loop. Starting towards the left fork, you enter Monument Canyon first. If you choose the right fork, you'll be starting in Wedding Canyon on an undeveloped trail. At the far end of the loop, you'll be walking beneath Independence Monument. If you choose to go farther into the canyon along Monument Canyon Trail, you'll get to walk below many of the park's major rock sculptures, including Kissing Couple and the Coke Ovens. Check out a photo gallery of this hike.
The five-mile loop connecting Monument and Wedding Canyons takes most people about 4-6 hours depending on hiking speed and stops for taking pictures of the scenic canyons. Additional time should be calculated if choosing to hike farther into the canyon along Monument Canyon Trail.
Pets are not allowed on any trail in the Monument. Do not leave pets in a car - even with the windows down, it gets too hot. Service animals are welcome in any building and on any trail.
Entrance fees are paid at the entrance stations. There are no additional fees for hiking or backpacking.
In spring and summer, you will often find lots of wildflowers on these trails. Some people choose to backpack and stay overnight in the canyons for excellent views of the night sky.
Accessibility Information
This area is not considered accessible, due to uneven terrain, steepness, and lack of paved parking surfaces. This parking lot tends to fill up quickly on weekends and holidays.
Last updated: May 24, 2022