THING TO DO
Moderate Hike to the Crater Edge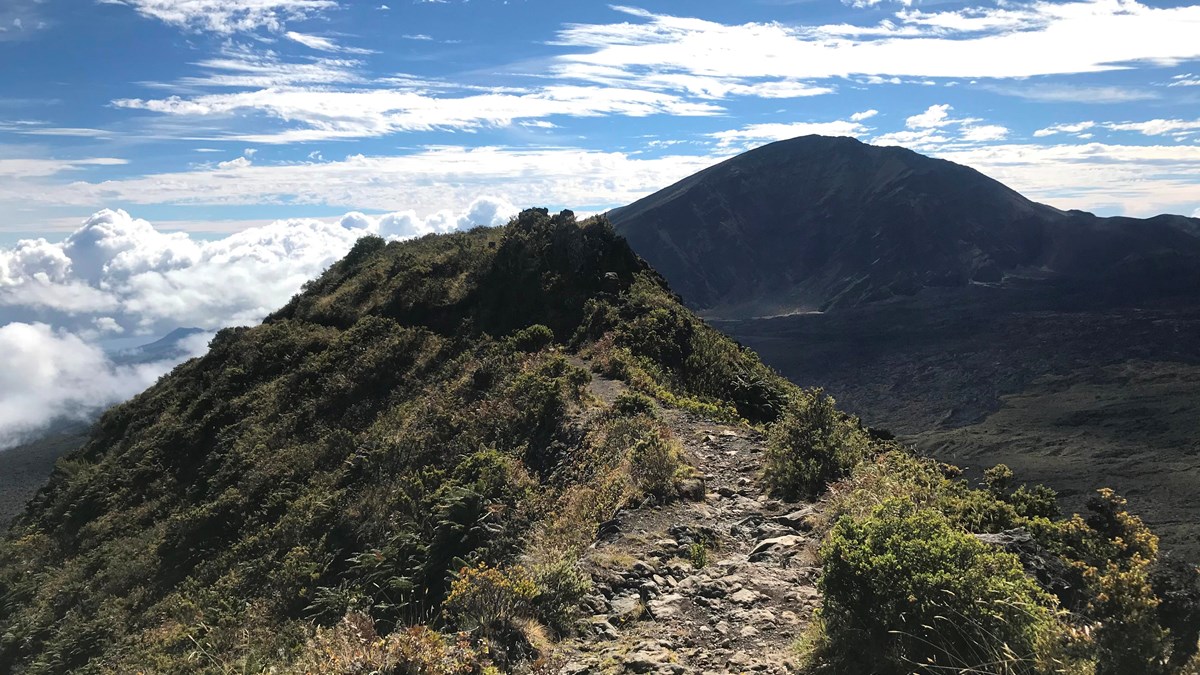 Hike to an overlook of both the Haleakalā crater and the Koʻolau Gap along the ridge of an erosional valley. Halemauʻu Trail makes its way through native shrubland to the edge of the crater and several specatular scenci viewpoints along the way. At 1.1 miles (1.8 km) the ridge drops away on both sides for an impressive overlook into a lush valley and the volcanic crater. Turn around here for a 2.2 mile (3.6 km) roundtrip hike. The rocky trail is not extremely steep up to this point, but hikers should be careful of loose or slick rocks. 
On your way out there, be on the lookout for the endemic forest birds that frequent this native shrubland. For birding enthusiastists, the
Bird Brochure
helps identify some of the most common birds you might see on this hike. 
While birds can come and go, you'll probably have excellent luck in finding some of the native plant species. Common shrubs like the ʻōhelo, pilo, and māmane line the first mile of this trail. For a complete guide, check out our
Plant Brochure
.
The trail continues beyond the overlook and quickly loses elevation over a series of switchbacks that bring hikers to the crater floor. If undertaking a longer hike beyond this first mile of the trail, be sure to have snacks, water, rain gear, and sun protection. The return hike from the crater floor is strenuous and gains 1400 feet (430 m) of elevation in a few miles. 
A roundtrip out to the lookout can be as short as an hour, but for younger children or folks who want to take their time, allow for two hours to complete the hike out to the overlook and back. 
Pets are not allowed on the trails or in the Wilderness Area. 
Entrance fees may apply, see Fees & Passes information.
Location
Halemau'u Trailhead
Begin your hike at the Halemau'u Trailhead. There are pit toilets here but no water, so be sure to fill up before arriving. The trail begins its moderate, rocky descent from the far end of the parking lot. The nēnē, Hawaiʻi's native goose, likes to spend time in the grassy areas of the trailhead. Give them a respectuful distance, and be careful when driving your vehicle in the parking lot.  
Temperatures generally start off cool in the morning and warm up in the afternoon all year. Winter is the rainy season in Hawaiʻi, and there may be an increased chance for fog or storms in the afternoon, no matter the season. 
Accessibility Information
Due to the rocky, sometimes steep nature of this trail, it is unfortunately not accessible to wheelchairs. This trail enters remote sections of the parkʻs wilderness, and help may not be readily avialable. 
Last updated: December 18, 2020