THING TO DO
Moderate Hike into Haleakalā's Crater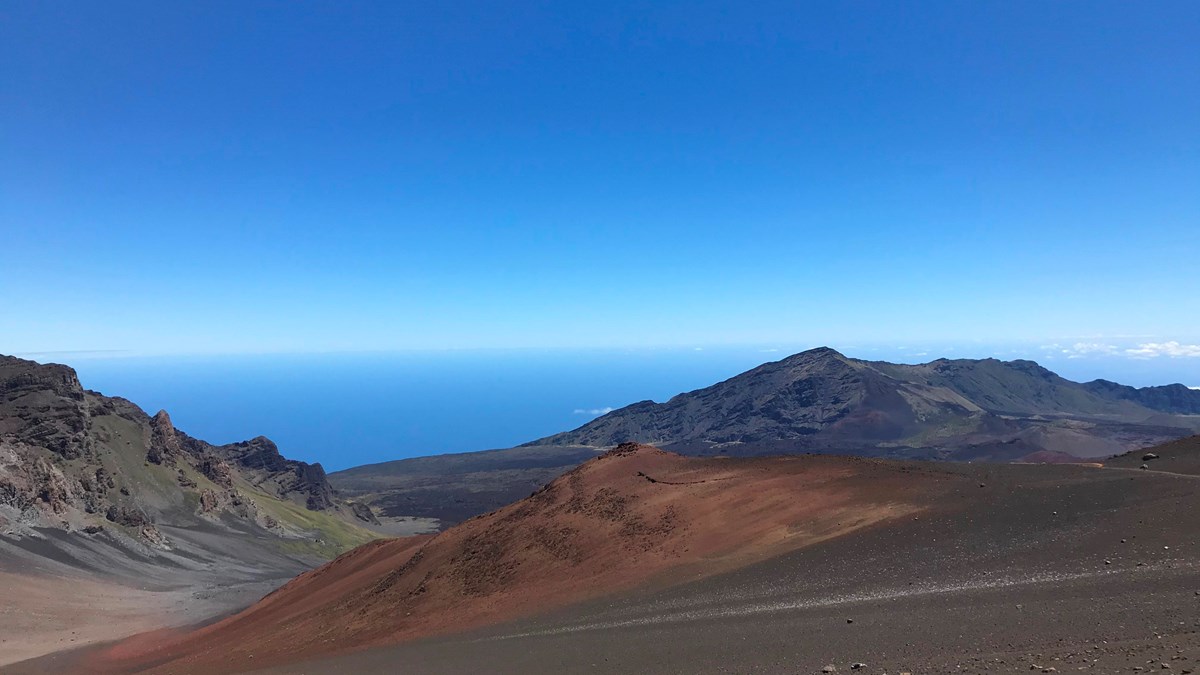 For an adventure into an otherwordly landscape, hike a short ways down the Keoneheʻeheʻe (Sliding Sands) Trail and experience the crater up close. Make your way down the sandy trail to a natural overlook that offers new perspectives on the puʻu (cinder cones) that dominate the crater floor. Each puʻu represents a different erruption site, the youngest of which occured only about 1,000 years ago. Geologically speaking, thatʻs recent! Discover what makes the Hawaiian volcanoes stand out in our
Geology Guide
.
Life is harsh in this windy, sunny environment. The ʻāhinahina, or Haleakalā silversword, is a plant unique to Haleakalāʻs summit area. Its special adaptations allow this species to live where few can. While they are equiped to handle intense sun and desert conditions, they are easily damaged when curious people get too close. Protecting this endangerd species from harm is an excellent reason why all visitors stay on the established park trails. Learn more about ʻāhinahina and other native plants in our
Plants Brochure
. 
For a moderate hike, follow the trail down 1 mile (1.6 km) to a natural overlook before the trail begins a series of switchbacks. Making it down to this point loses about 500 feet (152 m) in elevation, equivalent to a 50-story building. The steep, sandy nature of the trail can be strenous as such high altitude. Be prepared with sun protection and plenty of water for everyone in your group before hiking this trail. 
A roundtrip down and then back up the first mile generally takes around 1 hour. However, those wishing to take it easy or wanting to walk more slowly on the return hike should account for the steep elevation and high altitude and budget additional time. 

A good rule of thumb is to expect to take twice as much time to hike out of the crater as it did to hike into the crater. If you hiked down for 30 minutes, expect spending about 1 hour to hike back out. 
There are no pets permitted on trails or in the Wilderness Area. 
Entrance fees may apply, see Fees & Passes information.
Location
Keoneheʻheʻe Trailhead
This hike starts from the Keoneheʻeheʻe Trailhead, which is located at the Haleakalā Visitor Center parking lot. There are restrooms and a water fountain located by the visitor center. 
Temperatures generally start off cool in the morning and warm up in the afternoon all year. Winter is the rainy season in Hawaii, and there may be an increased chance for fog or storms in the afternoon, no matter the season. 
Accessibility Information
This trail is not accessible to wheelchairs. The first quarter-mile is rocky but flat. Beyond that point, the trail is steep and the loose cinder trail can be challenging. 
Last updated: March 20, 2021