THING TO DO
Hike to Big Bluff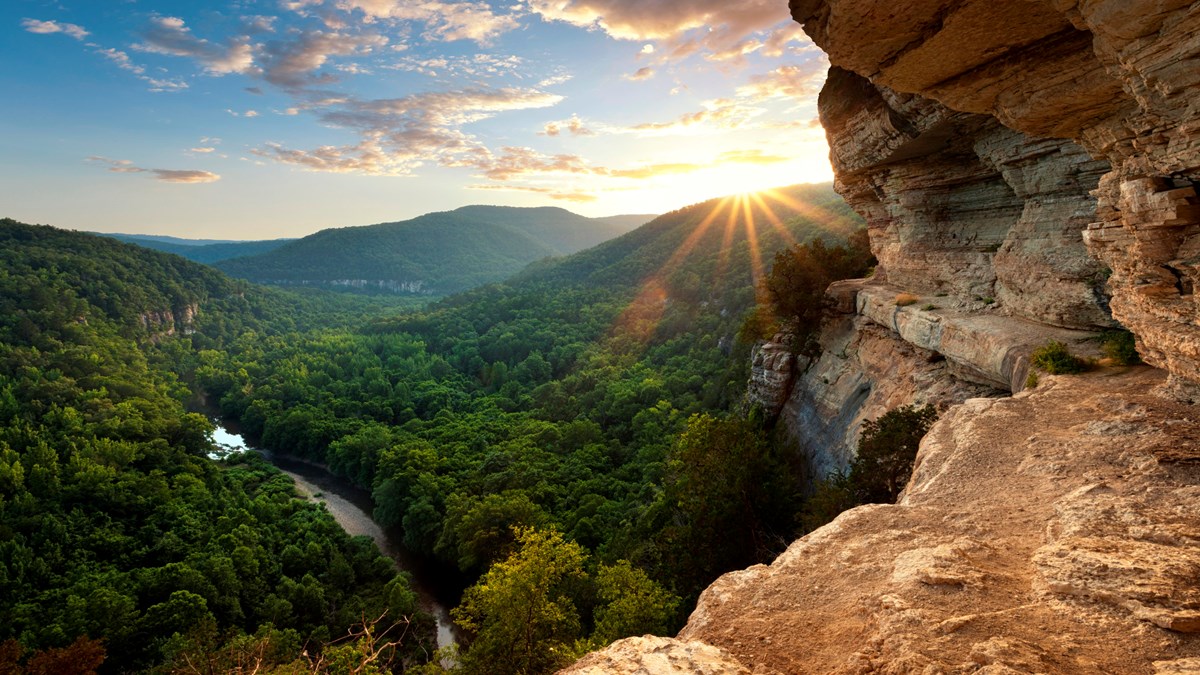 A rugged, strenuous hike through the Ponca Wilderness to one of Buffalo National River's most expansive vistas.

The Centerpoint Trail begins in the heart of the Ponca Wilderness, gradually winding down an old wagon road descending nearly 1,300 ft to the Buffalo River. During the descent, the trail offers outstanding panoramic views of the Buffalo River and the rugged Ozark Mountains that surround it. The Centerpoint Trail is considered to be a strenuous hike. The trail is steep in areas, especially on the hike out; visitors will need to plan to take the entire day to hike this trail due to the rough wilderness terrain. The trail intersects with many of the other trail systems in the Ponca Wilderness creating multiple spur trails for the more adventurous hiker. The spur trails connect the Centerpoint trail with the Chimney Rock Trail, Sneeds Creek Trail, Big Bluff Trail, Compton Loop Trail, and Hemmed-in Hollow Trail. The "Goat Trail" to Big Bluff is narrow and dangerous; visitors should proceed with extreme caution when hiking this section of trail. The Centerpoint Trail also offers a less strenuous hike to the popular Hemmed-in Hollow Falls. Visitors will still need to allow an entire day to complete the hike to Hemmed-in Hollow Falls via the Centerpoint Trail. Note: Backcountry camping is permitted along the Centerpoint Trail and within the Ponca Wilderness, but not on Big Bluff.
The hike from Centerpoint Trailhead to Big Bluff is approximately 6 miles round-trip. Average hiking time is 4 to 6 hours. From the parking lot to Big Bluff, the trail travels mostly downhill, so it's important to conserve energy, drinking water, and snacks for the uphill hike back to your car. If you start this hike in the afternoon, carry a light source just in case you're out after dark.
This hike is not recommended for children under 12 years old.
Pets are not permitted on trails in the Ponca Wilderness of Buffalo National River. Documented service animals welcome.
Entrance fees may apply, see Fees & Passes information.
Location
Centerpoint Trailhead
The Centerpoint Trailhead is located approximately 3 miles north of Ponca, AR, directly across Hwy. 43 from the Fire Tower Road intersection. The gravel parking area at Centerpoint Trailhead can accommodate 20-25 vehicles. This location does not have a restroom.
 
If you begin this hike in the afternoon, please carry a light source just in case you hike out after dark.
Accessibility Information
This trail features steep, rocky, and uneven terrain. Service animals permitted.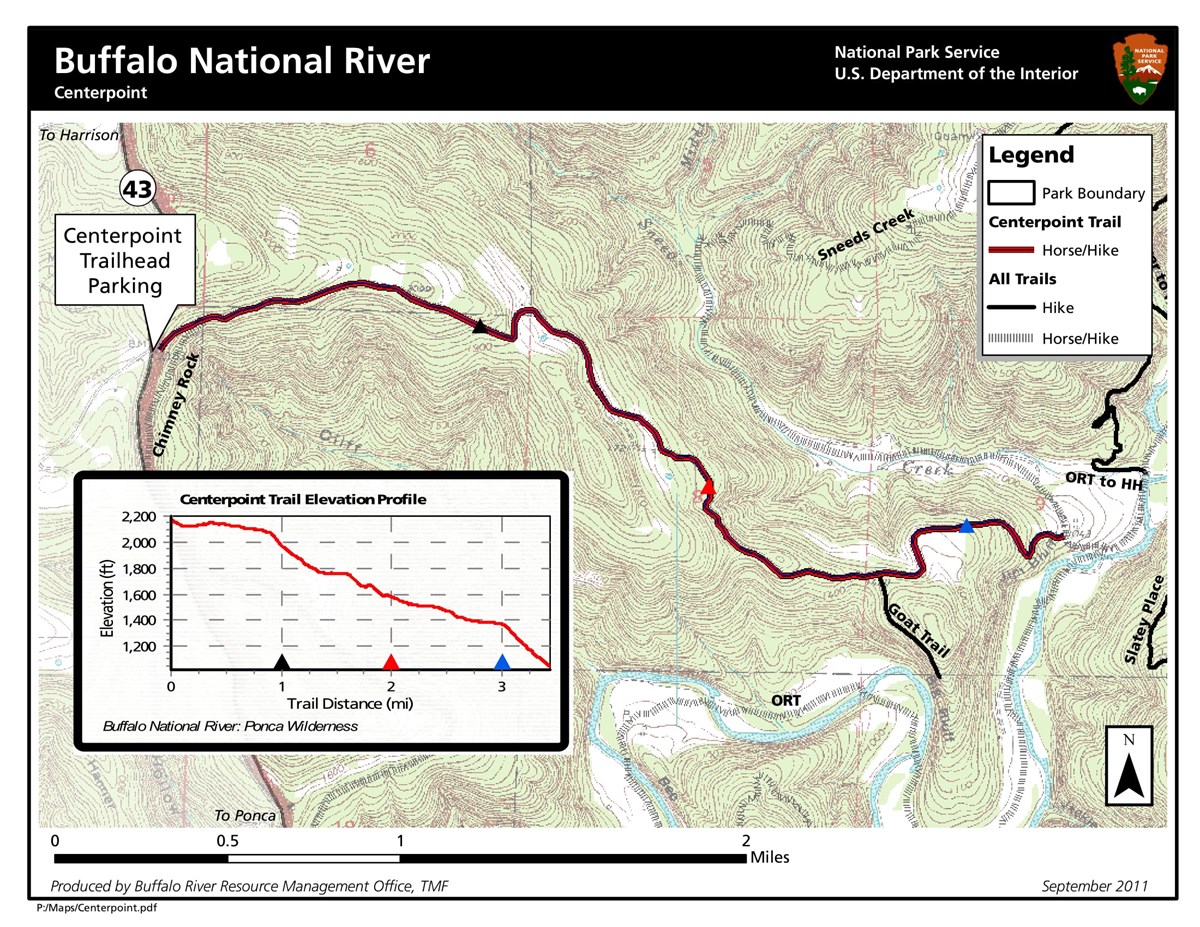 Last updated: November 8, 2020