Thing to Do
Hike the Blue Ridge Parkway Visitor Center Loop Trail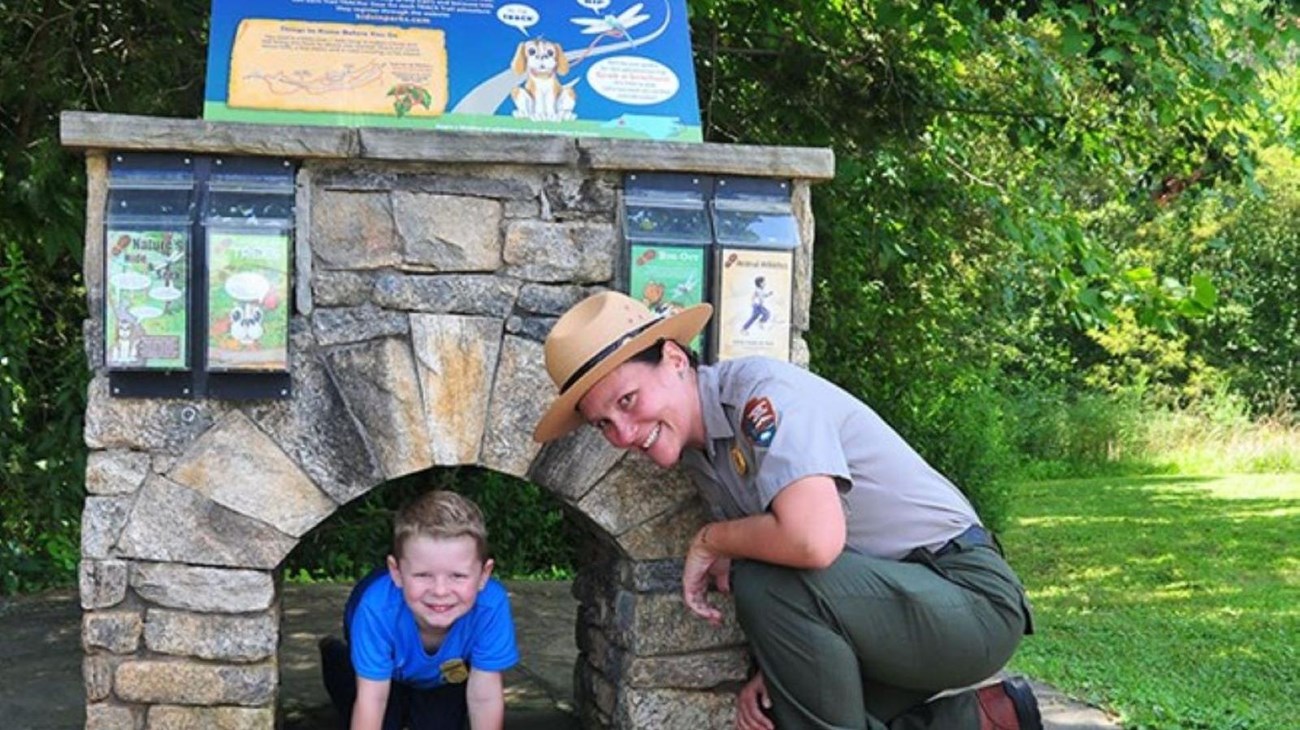 There is a hidden loop trail at the Blue Ridge Parkway Visitor Center in Asheville. It's one of only a few loop trails along the Blue Ridge Parkway. At 1.3 miles long, it is the perfect length for a family hike or a leg stretcher after a long drive

Get everyone out of the car and onto the trail at the Blue Ridge Parkway Visitor Center. It's a nice 1.3-mile ramble through a mixed forest with some unique features along the way. The Visitor Center Loop Trail begins in the back corner of the Blue Ridge Parkway Visitor Center's parking lot, next to a small stone replica of one of the Parkway's tunnels. It is a designated Kids in Parks TRACK Trail. Access the trail using the steps and then follow the trail to the left. Orange dots or blazes on the trees mark the trail. Follow the orange blazes and they will return you to the starting point.

It's hard not to notice the large oak trees at the start of the trail. This may mean that there was a once a home site here. These trees may have surrounded a house or lined a driveway. During the hike, the trail will lead you through a tunnel. You'll be crossing underneath the Blue Ridge Parkway! Down the trail, the Mountains-to-Sea Trail will split off towards the Folk Art Center (it is a one way 2.5-mile hike to the Folk Art Center). Further on you'll walk along a long ridge and then cross the Parkway to return back to the parking area. Use extreme caution as you cross the Parkway road surface. Cars sometimes travel faster than they should and there is an on-ramp intersection near the trail crossing that can cause congestion. Once across the Parkway, there's a little moist ravine reminiscent of a tiny fern gulley. Climb up and you are almost done. All in all, this is a family-friendly nature trail.

The Blue Ridge Parkway Visitor Center Loop Trail is a fairly short, easy walk that is great for people of almost any hiking skills, including families with small children. It has very little change in elevation and is mostly level throughout. It is a good hike after travelling all day.
Good for all ages who are physically able to walk on uneven terrain for over one mile.
Entrance fees may apply, see Fees & Passes information.
Location
Blue Ridge Parkway Visitor Center, Milepost 384
Accessibility Information
The trail has a natural dirt surface that is rocky in places with some rock steps. Overall, there is little elevation change, but there are some inclines with grades of over 20%. The trail is narrow in places, less than 2 feet wide.
Last updated: January 27, 2021