THING TO DO
Hike the Lost Valley Trail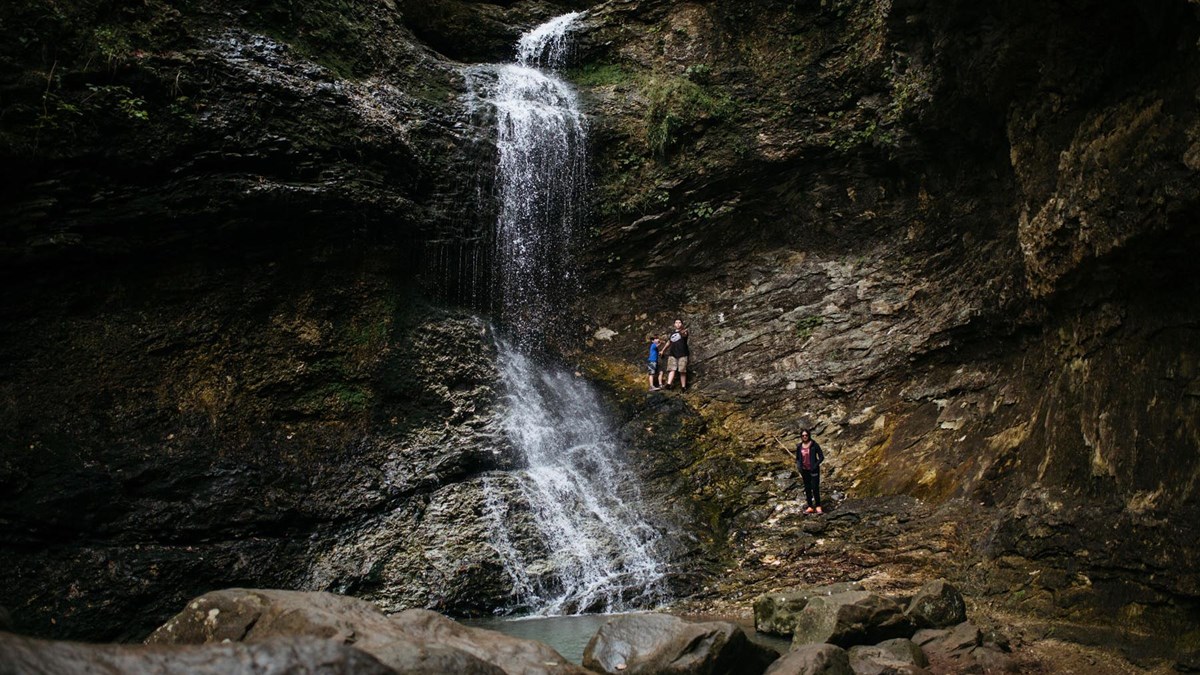 Lost Valley Trail is located near the Boxley Valley Historic District on Hwy. 43 and is the most popular hike at Buffalo National River. Lost Valley Trail is an easy to moderate hike with occasional benches on the first portion of trail for resting and watching wildlife. Lost Valley Trail leaves the parking area and gently winds up the box canyon, passing beneath groves of American beech trees. The trail leads you to an emerald-blue pool of water with an 8-ft waterfall flowing out of a small opening in the bluff, known as the Natural Bridge. The trail continues up stone steps, winding along the Clark Creek drainage giving way to a massive 200-ft bluff shelter, known as Cob Cave. The gem of the hike is Eden Falls. The picturesque Eden Falls cascades 53 feet over towering cliffs offering visitors a firsthand view of what the Ozark Mountains have to offer. Visitors can either loop back around to the main trail or continue on a spur trail to the peak of Eden Falls. The trail leading to Eden Falls is rugged and steep; visitors should use extreme caution when taking this route. The trail winds up the bluff line to a 200-ft cave, and then gives way to a 25-ft waterfall inside. A flashlight and some agility will be needed to view the waterfall in the cave. The trail ends here at the mouth of the cave.
This trail takes an average of 2 hours to complete.
This trail is kid-friendly.
Pets are not allowed on the Lost Valley Trail. Documented service animals are permitted.
Entrance fees may apply, see Fees & Passes information.
Location
Lost Valley Trailhead
Lost Valley Trail is located near the Boxley Valley Historic District on Hwy. 43, approximately 1.5 miles south of Ponca, AR.

Take Hwy. 43 south out of Harrison and travel approximately 28 miles. The turn off to the trailhead is on the right side of Hwy. 43, approximately 2 miles south of Ponca. Follow the signs and the dirt road will dead end at the trailhead.
The Lost Valley area is open for day use only.
Accessibility Information
The first half mile of this trail is wide, smooth, and level except for a creek crossing right at the beginning. Service animals permitted.
Last updated: November 8, 2020