Thing to Do
Hike Montville Nature Trail or Mosca Pass Trail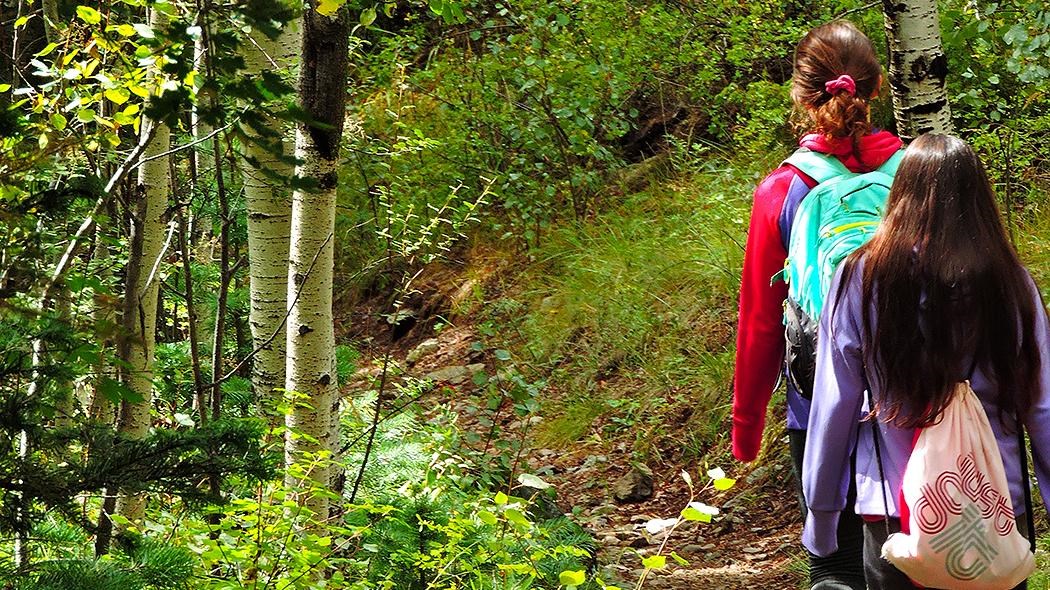 Just above the dunefield are montane woodlands of pinon and ponderosa pine, subalpine aspen and conifer forests, alpine lakes and rugged mountains over 13,000 feet (4,000 m) in elevation. The easiest hiking access to forest in the national park is on the Montville Nature Trail and Mosca Pass Trail.

Watch a short video showing Mosca Pass Trail in the fall season on the Great Sand Dunes YouTube Channel.
Montville Nature Trail
This is the easiest, most popular forest hike in the park. In summer, keep this hike as an option for afternoon as an escape from the heat of the dunes. Walk along a shady forested trail named for a late 1800s settlement, comprising 20 houses in its heydey. Rest near the trail's highpoint, where you'll find views of Mt. Herard, the dunes and the valley. A booklet available at the trailhead provides numbered stops to learn about this historic community and the mountain pass above it.
Round Trip Hike: 0.5 mile (1 km)
Elevation Gain: 200 feet (60 m)
Average Time: 30 minutes
Mosca Pass Trail
This trail continues past Montville Nature Trail, following a small creek to the summit of a low pass in the Sangre de Cristo mountains. Though views are limited, it has shady aspen and evergreen forests. Indigenous tribes and early settlers used this route for travel into the valley.
Round Trip Hike: 7 miles (11 km)
Elevation Gain: 1400 feet (427 m)
Average Time: 3.5 hours
The average time for Montville Trail is 30 minutes. Mosca Pass requires an average of 3.5 hours round trip, but since there are virtually no views at the top, visitors can feel free to turn around at any point along the trail.
Activity
Front-Country Hiking
Along with connecting to the diverse human history of this passageway in the mountains, enjoy wildflowers in summer, colorful trees in fall, and diverse birds and mammals year round.
Montville Trail is a hike for all ages, including families with younger children and seniors. Mosca Pass Trail is moderately strenuous, especially for those not acclimated to Rocky Mountain elevations.  
Pets are permitted on leash on Montville Trail and Mosca Pass Trail. Please be sure to clean up after your pet.
Other than the main entrance fee to the park, there are no fees to hike Great Sand Dunes trails.
Montville Trail is generally accessible year round, but there may be small snowdrifts in winter months. Mosca Pass Trail is generally not accessible for hiking in winter and early spring due to deep snow; snowshoes or backcountry skis may be needed on the upper parts of the trail from November through April.

 
These forested trails are good to hike any time of day, and are also available at night to listen for owls.
Accessibility Information
Montville Trail and Mosca Pass Trail are not wheelchair-accessible. There are rocks and uneven areas on the trail.
Last updated: February 25, 2021