Thing to Do
Hike the Holly Trail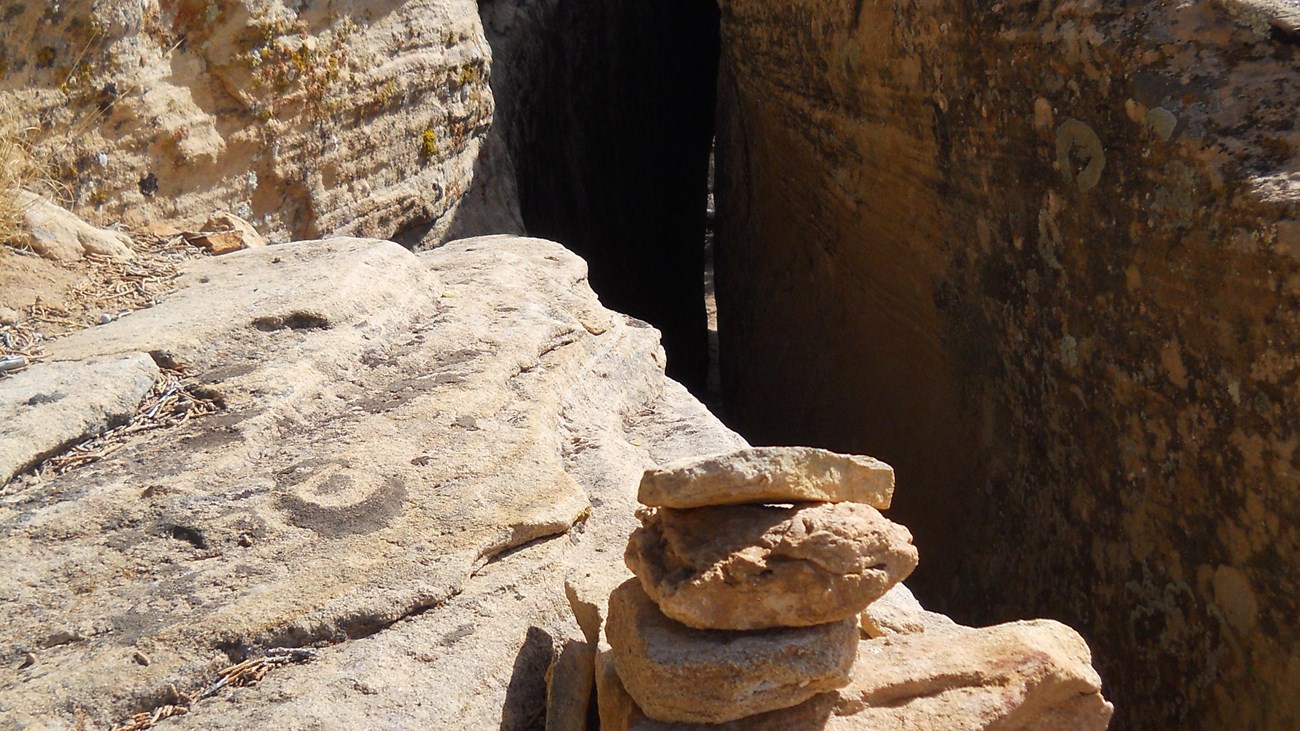 The Holly Trail is Hovenweep's longest and most rugged hike. Start at the campground follow the trail 3.5 miles along a canyon wash to the Holly Group. After exploring Holly's standing structures and lasting petroglyphs, return along the same route for a total distance of 7 miles. The trail leads into and out of the canyon by way of slot canyon (one on each end) and winds across the wash. 
We recommend the Holly trail for those wanting a longer hike, canyon hiking, or a different point of view. After all, the trail must be very similar to those taken by people who lived at Square Tower Group visiting their neighbors at Holly. There aren't any standing structures until you reach the Holly Group, but about two miles in are rubble piles from an older, fallen structure. 
The Holly Group is also home to the Holly Sun Panel, a petroglyph panel that archeologists believe marks the summer solstice. Visible any time of year, the panel is seen from an overlook at the far end of the Holly Group. 
The Holly Group is also accessible from a dirt road off Road 10. 
Visiting Respectfully 
These structures may seem long-abandoned, but they are ancestral homes for the modern Pueblo peoples, many of whom believe their ancestors inhabit them still. Hovenweep National Monument was established to protect these places. Help us protect these dwellings by remaining on trail, not touching or entering any structure, and leaving any artifact in place. Thank you for doing your part and visiting respectfully!
Allow a minimum of four hours for this hike, more in the summer. 
All ages, but children and young adults should be with parents / guardians. 
Yes – pets must be on leash (6 feet or shorter) and under control at all times 
Entrance fees may apply, see Fees & Passes information.
Location
Hovenweep Campground to Holly Site
Hovenweep's campground is located ¼ mile past the visitor center on the main park road. The Holly Trailhead is located on the backside of the campground loop at a gravel parking area. You may also pick up this trail at the Holly site. 
Season
Spring, Summer, Fall
We do not recommend hiking this trail in the winter; the trail is often icy and slippery and wayfinding markers become hidden. 
Park trails are closed from sunset to sunrise (times change throughout the year). 
Accessibility Information
The Holly trail is 7 miles, roundtrip, over rough and uneven terrain. The trail starts with a descent through a slot canyon to the canyon floor. From there, the trail is relatively level, but crosses washes several times. The trail leads up through a second slot canyon to reach the Holly site. Total elevation change is 646 feet. Trail terrain is exposed sandstone, loose rock and gravel, sand, and packed dirt. 
Last updated: December 20, 2020