Thing to Do
Paddling Grinder's Ferry to Gilbert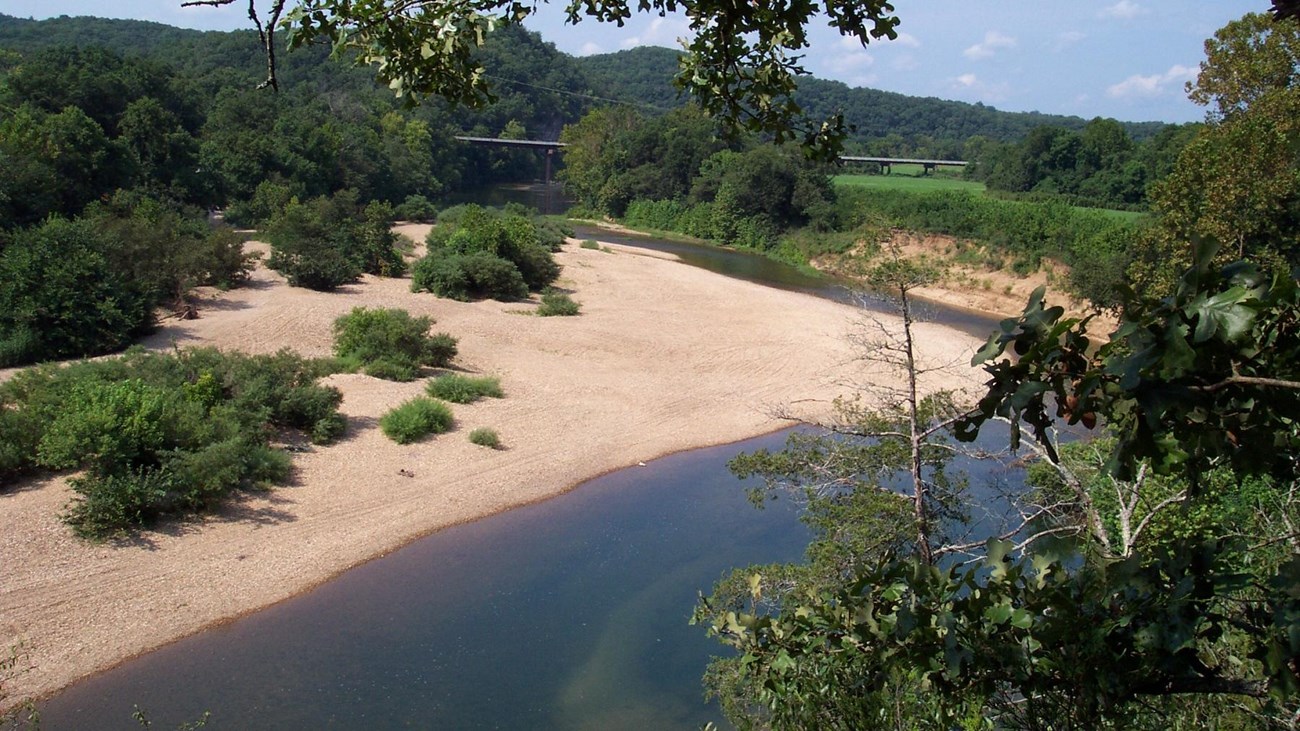 A large sand and gravel bar on river left about ½ mile downstream is across from the Shine Eye Bluff. Another mile puts you at Long Bottom with a long bluff on the left. This stretch of river has a shuttle trip of approximately 15 minutes (4 miles). The Gilbert Access is on river left.
Durations are based on a moderate or average 2 miles per hour river flow. The length of a float trip will vary greatly with changing river levels. Additionally, float times largely depend on if you paddle or not and stop to swim, fish, or explore. Please check with park staff or concessioner for a current estimate on river trip durations.
You are welcome to float and enjoy the river with your dog. Dogs make great boat buddies, but there are some things to take into consideration before you get on the water.
Ticks, chiggers, and snakes live in the park. Keep the interaction between these park inhabitants and your pet to a minimum by keeping your dog out of any tall vegetation.
Know your dog and their abilities, temperment, and level of stamina. A hot summer day on the river can be draining on people and pets. Know your limits.
A life jacket for your dog is a great idea in case you capsize (do not tie your dog to your boat). Even though dogs can swim a life jacket can make it much easier to retrieve your dog in the event of an accident. If you become separated from your dog on the river call the park's 24-hour dispatch at 1-888-692-1162 to make a report.
Respect wildlife and other visitors. Remember that when you get out on a gravel bar or access point your dog needs to be leashed in order to protect them, other visitors, and wildlife.
Please pick up after your pet. This limits the exposure and spread of potential diseases and keeps our river corridor clean.
Entrance fees may apply, see Fees & Passes information.
Location
Grinder's Ferry river access
Grinder's Ferry is a large gravel bar at the Highway 65 bridge crossing the Buffalo River. Driving is permitted on the gravel bar at your own risk. The river floods this gravel bar regularly so it can be soft. Camping is permitted on the gravel bar and it can be quite crowded, particularly on holiday weekends.
The Buffalo River flows freely for 151 miles. Paddling is open year-round, depending on water levels.The river level varies from month to month, year to year, and section of the river depending upon rainfall. The western end of the Buffalo usually has enough water in the spring. More water makes this section attractive for visitors seeking a higher level of challenge with whitewater kayaking. The middle and eastern sections of the river are usually calmer and less challenging.In dry years, the floating season is short and can end before summer ends.
Paddling in daylight is recommended in order to avoid any river hazards. Overnight camping is permitted along the river.
Accessibility Information
River accesses are gravel. No ADA accessible ramps at access locations.
Last updated: November 8, 2020