Thing to Do
Grandview Main Overlook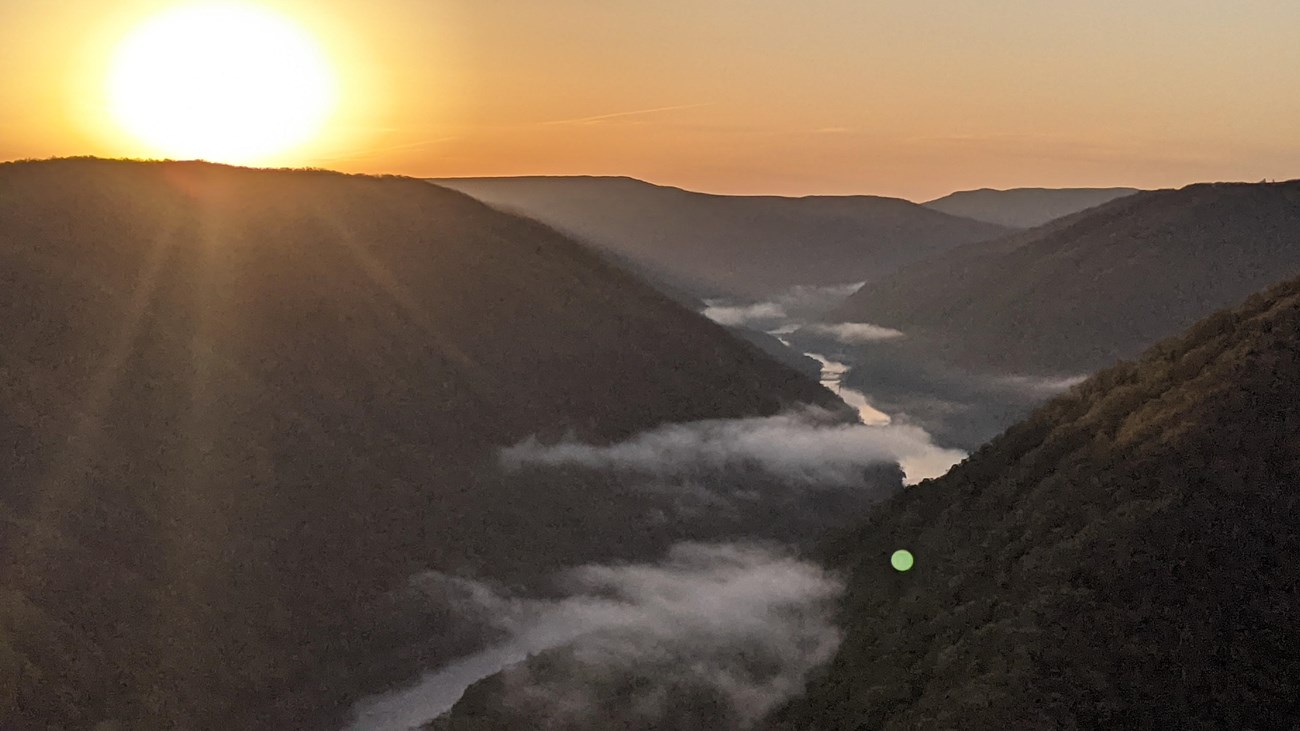 The Grandview Main Overlook is a breathtaking view down into the Gorge. Every season has it's own unique blend of colors with the surrounding vegetation as the perfect backdrop. The Overlook is about 1400 feet above the New River and during the late spring and summer, it is likely for visitors to catch a glimpse of white water rafters far below.

Bird lovers are drawn to this location because the openness that is available down through the tree line offers a unique look at the birds below and the amazing rock outcroppings.

Another big draw for the Main Overlook is the sunrise from this location. 

This location is open year round. The Grandview Visitor Center is only opened seasonally.
Breathtaking view of the New River Gorge from the Main Overlook. The New River is about 1400 feet below this observation deck. 
Activity
Wildlife Watching
All abilities and all ages can enjoy this view. The view from the Grandview Overlook spans about 1400 feet down to the New River and is a favorite spot for all visitors to the New River Gorge National Park and Preserve. 

An amazing bloom takes place about the third week of May every year and that is when the Catawba Rhododendrons are in bloom. Grandview is a spectacular location to see this floral phenomenon. Many photographers come just to see this extra special event sponsored by nature. 
Pets are welcome in the New River Gorge National Park and Preserve. Pet owners are reminded to keep them on a 6 foot leash, or shorter, and to always pick up after their pet. 
Entrance fees may apply, see Fees & Passes information.
The Grandview Main Overlook is a favorite destination for many. Photographers love the sunrise photo opportunities. Wildlife enthusiasts love to birdwatch. Many stargazers are also drawn to this location. The view is delightful year round. 
Photos from the Grandview Main Overlook are often the most favored photos from visitors from their visit to the New River Gorge National Park and Preserve. 
Accessibility Information
A cement and stone walkway mark the path from the parking area to the Grandview Main Overlook.

At the overlook there is an all accessible deck area to encourage viewing from all abilities. 
Tags
Last updated: November 23, 2021