Thing to Do
Go Snowshoeing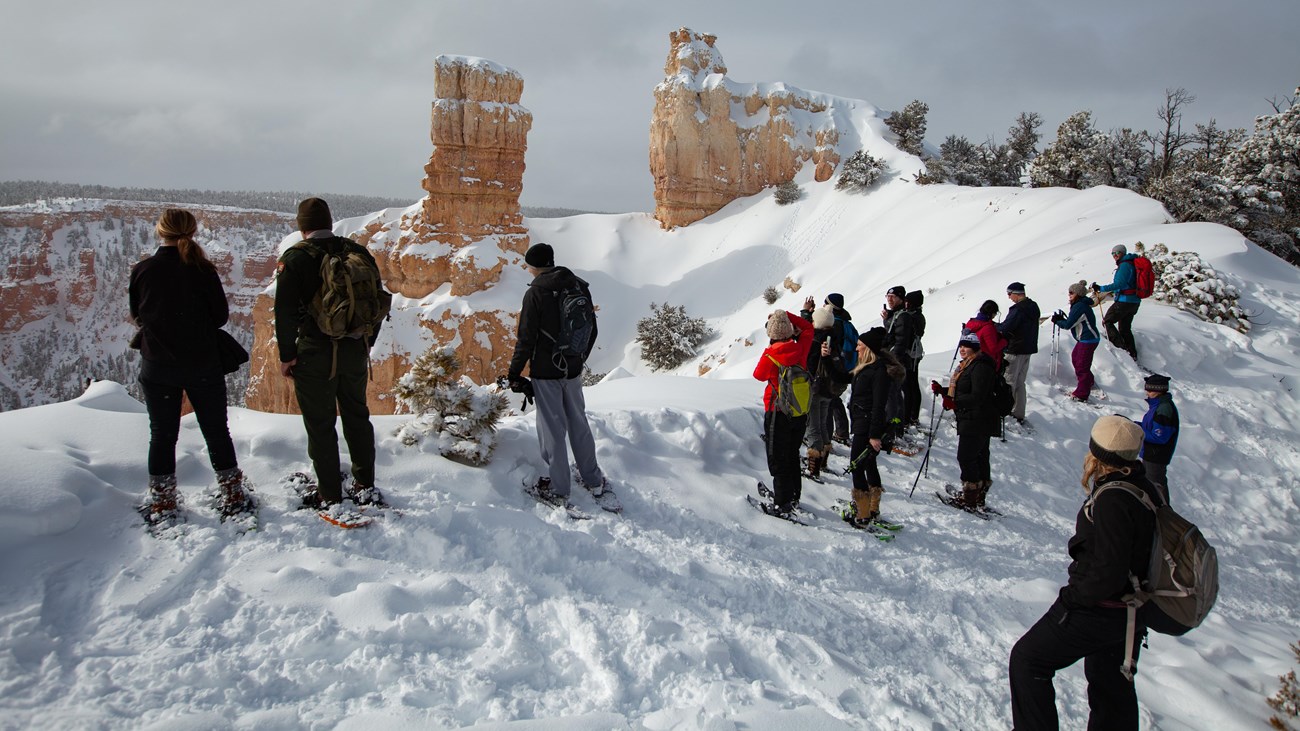 When the park has at least 12 inches of snow, snowshoeing is an excellent way to explore it. Snowshoeing is allowed throughout the park on all trails. But be aware that though snowshoes make it possible to travel through deep powdery snow, snowshoeing is still a highly strenuous activity.
Most snowshoers enjoy walks along the Rim Trail, Bristlecone Loop, Fairyland Road, and Paria Road.

Don't have your own snowshoes? Join a Ranger Program! Ranger-led snowshoe hikes are held when the park has at least 12-14" of snow and are designed for all levels of experience, from beginner to expert. Snowshoes and poles are available for free for those who sign up for these programs, which are provided when snow depth and staffing permit.
Ranger-led Snowshoe Hike Basics
| | |
| --- | --- |
| Time | Usually 2 hours |
| Duration | Approximately 1 mile (1.6 km) |
| Attendance Fee | Free |
| Minimum Age | 8 years old + |
| Required Equipment | Winter clothing, water, and waterproof boots (Snowshoes, poles provided). Tennis shoes will not be permitted. |

How to Sign Up
When programs are offered, registration is required as group size is limited and hikes are subject to cancellation. When snow depth and weather permit, sign-up will be offered at the Visitor Center the day of the program beginning at 8 a.m. and continuing until full. No advance sign-up or reservations are available.
Snowshoe and Cross-country Ski Rentals
Snowshoes and crosscountry skis are available for rental outside the park at Ruby's Inn in Bryce Canyon City.
Full Moon Snoeshoe Hikes
One of the rarest ranger programs is a full moon snowshoe hike. Both the full moon date and the weather have to cooperate to create the necessary conditions. Review the Required Equipment for a snowshoe hike, then check out the full moon hike calendar.
While there is no age limit to go snowshoeing in the park yourself, ranger-led snowshoe hikes are for ages 8 and older.
Park admission provides access to this activity. Snowshoe rentals outside the park rates may vary, but snowshoes on ranger-led snowshoe hikes are provided for free.
Sign up for ranger-led snowshoe hikes the day of the hike beginning at 8 a.m. at the Visitor Center. Sign-up closes at noon for 1 p.m. hikes.
Accessibility Information
This is not an inherently accessible activity, but any and all possible accomodations will be made.
Tags
Last updated: January 29, 2021