Thing to Do
Explore the Night Sky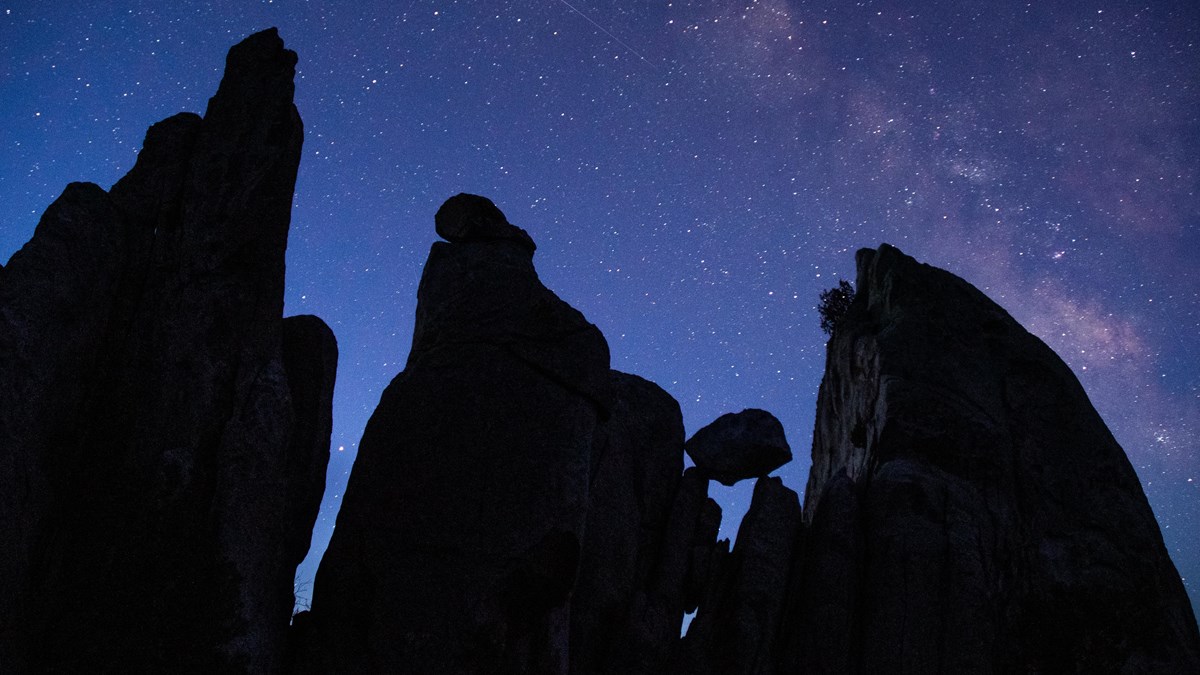 A day in the park doesn't have to end when the sun goes down! A whole new world comes alive at night and is waiting to be explored. The dark sky over City of Rocks is an excellent place to experience the beauty of the night.

Since there is no electricity in City of Rocks National Reserve and very little outdoor lighting in the surrounding areas, the night sky seen here is much the same as it was for the earliest inhabitants and visitors.
Exploring After Dark: 
Bring a friend or family member along on your adventure.
Be prepared to bundle up for drastically lower night temperatures.
Let your eyes adjust to the darkness, it takes about 15-30 minutes.
Be sure to have a red flashlight or headlamp. Using only red light helps you navigate without compromising night vision.
Sit back and relax. It's a good idea to bring a chair or blanket and don't forget the snacks!
Stargazing is best in a dark area without many clouds when there is little to no moonlight.
Stellar Stargazing and Other Night Activities:
Look Up!
Watch the stars and planets travel across the night sky.
Look for shooting stars, satellites, and other astronomical features like star clusters.
Observe the silvery cloud of the Milky Way galaxy stretching across the night sky.
Identify the big dipper and other distinctive constellations. See if you can find your astrological sign. 
Consult an astronomy calendar for notable celestial events including moon phases, meteor showers, eclipses, and more.
Seeing in the Dark
Print a star chart for the night you plan to be out, or utilize a night sky mobile app to help you explore the sky. 
Remember, if you use a phone, make sure the screen is in red/night mode to help preserve your night vision. 
Look through binoculars or a telescope to get a more detailed view of the moon and stars.
Bring a camera and shoot some stars. A photograph can capture light that isn't visible with just our eyes. If you're new to astrophotography it helps to do a little research beforehand.
Use Your Senses
In the bright light of a full moon when stars are less visible, try going for a night hike. Let your eyes adjust to the moonlight and keep your lights turned off. 
Keep an eye out for bats and other animals coming out at dusk.
Listen for animal sounds not typically heard during the day, like crickets chirping, coyotes howling, or owls hooting.
For the ultimate immersive experience of nighttime sights, sounds, and smells, ditch the tent and opt to sleep outside under the star-filled sky!
Help Keep Our Skies Dark
In order to help preserve our exceptional starry skies and nocturnal habitat, City of Rocks doesn't use any artificial lighting in the Reserve. Our administrative buildings and overnight facilities are equipped with dark sky friendly light fixtures. To reduce light pollution these fixtures follow 5 principals for responsible outdoor lighting that you can also implement at home.
Light only what you need. Light is useful for finding your way or performing specific tasks. Only light areas when and where you need it.
Shield lights and direct them down. Avoid pointing lights up toward the sky. Direct them down, use shields to reduce glare, and shine light only where it is needed.
Use the lowest light level necessary. Light levels are measured in lumens, check your light source and use the lowest lumens needed for your objective. 
Install motion detectors and timers. Outdoor lighting should be controlled using switches, timers, and/or motion sensors so that they are only on when needed. 
Use warm colored lights.Light temperature is rated using the Kelvin scale. Low ratings (below 3000) are considered warm and generally emit less harmful blue light.
These 5 principals also apply when camping in order to maintain the precious natural darkness for everyone to enjoy. Be mindful and limit the light you use camping, especially excessively bright light that points up toward the sky or affects other people around you. All unnecessary lighting should be extinguished no later than 10 pm to promote Dark Hours. 
A day in the park doesn't have to end when the sun goes down! A whole new world comes alive at night and is waiting to be explored. The dark sky over City of Rocks is an excellent place to experience the beauty of the night.
Entrance fees may apply, see Fees & Passes information.
Accessibility Information
Night sky viewing can be done from the comfort of your own vehicle or miles out into the backcountry. This activity can be adapted to suit a wide range of differing abilites.
Visit our keyboard shortcuts docs for details
Duration:

36.703 seconds
In the first clip, glittering stars rotate across the dark sky, orange light flickers on a granite formation in the foreground. The light fades to a dark silhouette of the formation with the stars continuing to rotate overhead, bright streaks from meteors flash by. In the second clip, a landscape with granite formations protruding along the ridge, lighted by moonlight gradually fading to a dark silhouette as the stars and bright silvery streak of the Milky Way rotate across the sky and meteors flash by.
Last updated: August 17, 2022