Thing to Do
Experience Death Valley at Night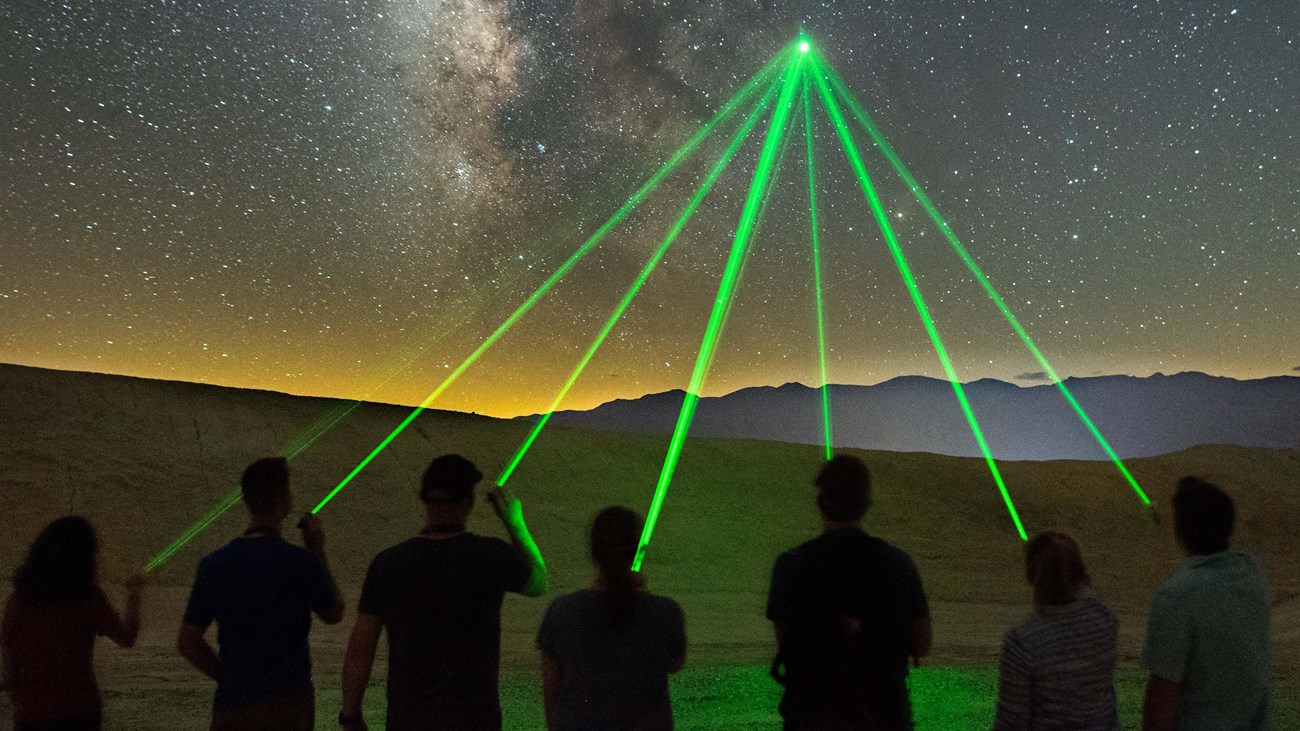 Did you know that Death Valley National Park has no closing time and that it is just as spectacular at night as it is during the day? Instead of leaving right after sunset, consider experiencing the park at night:
Star Gazing
Far from cities and carefully managed to protect darkness, Death Valley National Park is an excellent place to view the night sky. Nights in Death Valley are so dark that the park is classified at the highest (Gold Tier) level by the International Dark-Sky Association; many celestial objects which can be viewed from Death Valley are not visible elsewhere in the world! While most places in the park away from lodging/campgrounds and major roads will provide good night-sky viewing opportunities, here are a few top ranger suggestions for star gazing locations:
Mesquite Flat Sand Dunes

Harmony Borax Works

Ubehebe Crater

Badwater Basin
Hints for seeing the most stars:
Stay out long enough (about 30 minutes) for your eyes to fully adjust

Use a red light filter on your flashlight to protect your night vision

Visit during a new moon (time when the moon is not visible)

Bring binoculars

Choose a location without nearby obstructions like mountains 
Ranger Programs
Interested in learning more about the night sky? Join a Ranger for an introduction to the cosmos at a famous Death Valley location. Programs are offered during the winter; check at a visitor center for the schedule.
Full Moon Night Hiking
While we don't recommend a hike at night in an area with obstacles such as rocks, a casual stroll at a place like Mesquite Flat Sand Dunes or Badwater Basin can be quite rewarding. Visit during a full moon for the best natural lighting. Make sure to pause to view the stars and to listen for wildlife. Always bring a flashlight and water and remember that nighttime temperatures can still be over 100 F (38 C) during the summer. 
Night Photography
Dark nights mean ample opportunity to photograph the stars. While there is no one "best" location, astrophotographers often choose places such as Zabriskie Point, Mesquite Flat Sand Dunes or Harmony Borax Works to capture their night images. Please note that while you may park along major roadways while photographing, camping along paved roads is prohibited. 
Dark Sky Festival
Each spring, Death Valley National Park holds an annual event where visitors are invited to come and learn more about space and other worlds. The event lasts multiple days and includes special ranger programs, hands-on activities, and guest speakers from organizations such as NASA, JPL, Goddard, and SETI. Check the park website or ask a ranger at Furnace Creek Visitor Center for upcoming event dates.
Pets Allowed
Yes with Restrictions
Pets are not allowed in many locations in the park, including on trails. Pets can go where vehicles can go, so a night hike up a dirt road is a great way to experience the park after dark with a pet. 
Fee is included in regular park entry fee.
Accessibility Information
Trail and program locations vary widley from ADA accessible to rough and rocky. Check with a ranger about the accessibility of the location you plan on visiting. 
Last updated: May 25, 2021