THING TO DO
Experience an Urban Oasis at Greenbelt Park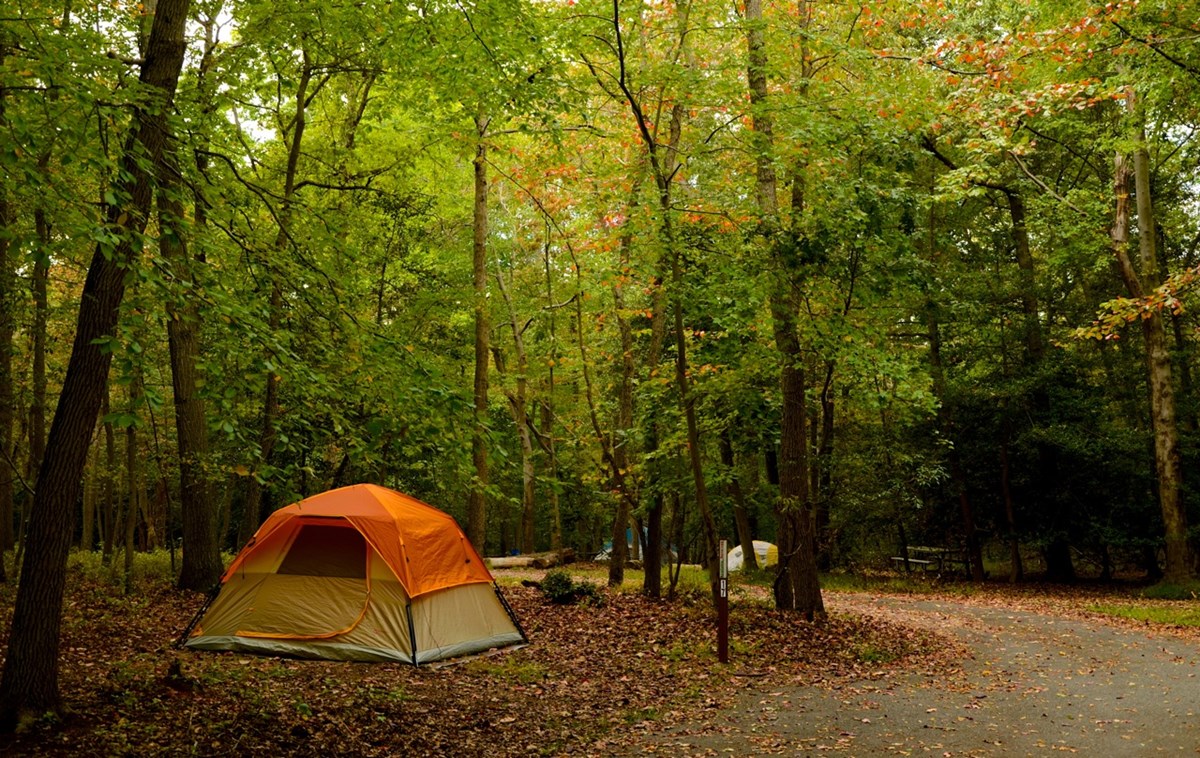 Just twelve miles from
Washington, D.C.
, Greenbelt Park is located in suburban Greenbelt, Maryland. The park features a 174 site campground with specific site reservations, nine miles of trails, and three picnic areas. The
campground
is open all year round.
Come enjoy the four different trails ranging from 1 mile to 5 miles.
Maps
of the trails are available online, at Park Headquarters and at the Greenbelt Ranger Station.
Trails
Perimeter trail 5.3 miles
Trail begins at the entrance of the park. There are different access points throughout the park.

Azalea Trail- 1.2 miles
Parking available in the Sweetgum Picnic area
Bathroom facilities and picnic area also available in the Sweetgum Picnic area.

Dogwood trail- 1.5 miles
Parking lot available along Park Central Road.
Blueberry trail- 0.8 miles
Limited parking available at the Ranger Station.
Pets must be leashed at all times. Please clean up after your dog in respect to others.
The campground fee is $20 per night. The Greenbelt Park campground will accept cash or checks only for walk-ins sites. Reservations can be made year round on Recreation.gov.
Location
6565 Greenbelt Road  Greenbelt, MD 20770
Park brochures (including a map) are available at the park ranger station and online on our home page- www.nps.gov/gree
Driving Directions
Take a left at the park entrance on Greenbelt Road Route 193.
Take a left on Rt 201 Kenilworth Avenue. (0.2 miles)
Take a right on Campus Drive (a left would take you to Good Luck Road) (1.7 miles)
The Metro station is about 7/10 of a mile at the intersection of Campus Drive and River Road.
There is an open space Metro parking facility on River Road. Take a left on River Road off Campus Drive and parking will be located on the right hand side. You can use a credit card to pay for parking when exiting the Metro parking lot. Parking is $5.10. There is free parking at Metro on weekends and federal holidays.
Metro
Walking directions from the College Park Metro to the Greenbelt Park campground
Walk eastward on Campus Drive. You will pass Cpl Frank Scott Drive and the Herbert Wells Ice Rink along Campus Drive.
Cross Route 201- Kenilworth Avenue (0.9 miles)

1st option: There is a trail (fire road) on the northern part of Good Luck Road that leads up through the park into the D loop area of the campground. (1.6 miles)

2nd option: Continue uphill on Good Luck Road. The park entrance is on the left and is across from Parkdale High School. (1.4 miles)
Walk down the asphalt path. You will approach a chain link fence. Take a left on the road. The ranger station will be in sight and the campground is just beyond the ranger station. (2 miles).
The Greenbelt Park campground will accept cash or checks only for walk-ins sites. Reservations can be made year round on Recreation.gov.
The park is open from dawn to dusk each day of the year. The Sweetgum unreserved Picnic Area gate is open by 8:00 a.m. and closes at dusk. The Greenbelt Ranger Station near the campground is open seven days a week from 8:00 a.m. to 3:45 p.m.
The campground is open every day and a campground host and U.S. Park Police are available. The campground is accessible 24/7 since there are no gates that close that would prohibit campers from entering the campground.
Accessibility Information
The campground has designated accessible campsites: Sites 69, 70 in the B Loop. These campsites are equipped with accessible grills, restrooms and picnic areas. For information about services and facilities call 301-344-3948.
Last updated: July 24, 2018