Thing to Do
Listen For Bugling Elk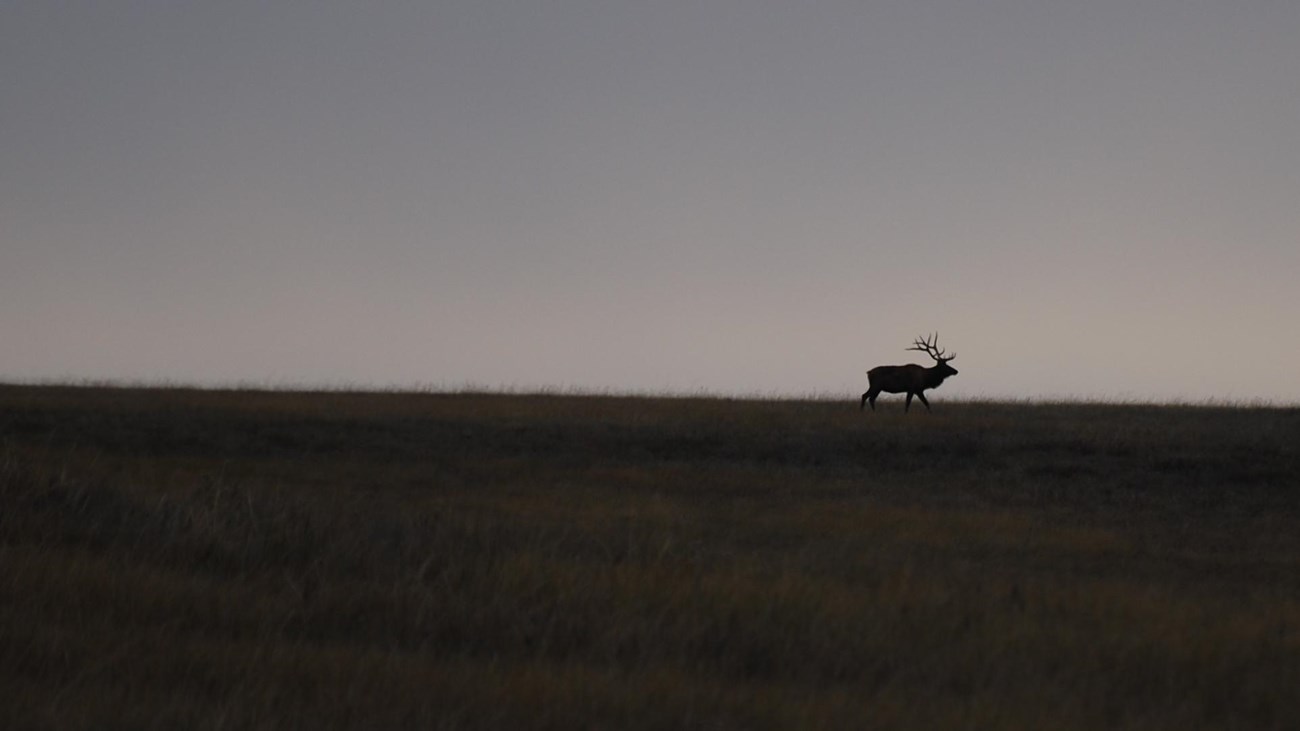 With the arrival of fall comes the elk rut. During this time, male elk (called bulls) compete for females (called cows) by fighting with their antlers and making a loud wailing bugle. This bugle heralds fall in the western United States and can be heard from dusk until dawn in the park each year.

Hear what an elk bugle sounds like by listening to the audio clip below.
Activity
Wildlife Watching
Pets Allowed
Yes with Restrictions
Leashed pets are allowed in the Elk Mountain Campground, in parking areas, on established roads, the Elk Mountain Campground Trail, and Prairie Vista Trail. Pets are not allowed on other trails or in the backcountry.

Please do not bring dogs or other pets to the ranger led elk bugling program.
Entrance fees may apply, see Fees & Passes information.
Elk typically bugle from early September through October. They may be heard as early as the end of August and as late as early November.
Accessibility Information
The Elk Mountain Campground has a wheelchair accessible amphitheater and accessible parking.

Highway 385 and 87 both have several paved pullouts with accessible parking and wheelchair accessible sidewalks.
Bull Elk Bugling

Bull elk bugle and respond to each other while cow elk graze nearby.

Credit / Author:

Acoustic Atlas / Jennifer Jerrett

Date created:

10/14/2020
When to Listen
From early September through October, bull elk can be heard bugling at twilight. This sound is made to advertise their fitness to cow elk and to show off to other bulls. Elk are most active before sunrise and after sunset but will bugle throughout the night as well. Peak activity occurs in early October and begins to decline at the end of the month. The rut can begin as early as late August and can continue into early November.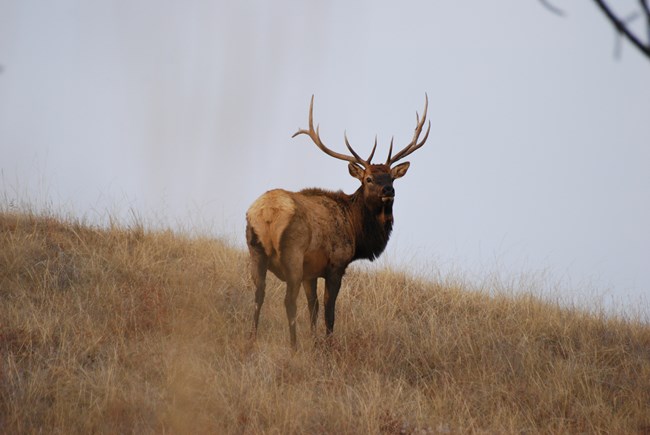 Where to Listen
If you are camping at the aptly named Elk Mountain Campground during this time, you may hear elk bugle from the comfort of your campsite. Elk rarely come into the campground, but many times they are heard bugling in the forested hillsides to the south and west of the campground and in the prairie dog town to the north after dark. If you want to get away from the sounds of the campground, the campground amphitheater provides an accessible, more secluded listening location. You may also listen for them from the Elk Mountain Campground Trail, but make sure to bring a flashlight. Non-campers are welcome to listen from the trail or amphitheater as well.

Part of Wind Cave's elk herd also resides near Boland Ridge on the east side of the park. Parking at the Boland Ridge trailhead may allow you to listen to the eastern herd. If you decide to hike part of the trail, be aware that bison are likely to be encountered in the first 1/2 mile.

For those with limited time, elk may be heard from some of the pullouts along Highway 385 or Highway 87. The pullouts at Wind Cave Canyon, Cold Brook Canyon, where the southern end of the visitor center road meets Highway 385, and the pullout north of the Beaver Creek bridge are all good places to listen.
How to Listen
Once you have picked out a listening spot, turn your vehicle off if you are in a car and sit as quietly as possible. Try not to rustle clothing. It might be some time before you hear any elk. Elk are shy and tend to stay away from roads until after dark. They are usually heard in the distance rather than close by. Listen for them in intervals of 10-20 minutes between short breaks.

As with other wildlife, elk may change their behavior based on the weather and time of year. They may not always be found in the same place and generally prefer cooler weather.
Listen for Elk Safely
Dress warmly and bring extra layers. In the fall, evening temperatures regularly drop below 40°F (4°C).
If you decide to hike close to or after sunset, be sure to bring a flashlight.
Wildlife may be present on park roads at any time of day or night. Please obey speed limits and plan ahead for delays due to wildlife when traveling through the park.
Do not approach any wild animal. Visitors must stay at least 25 yards (23 meters) from all wildlife, although it is strongly recommended to stay farther away from bison. Bison may appear tame but are unpredictable and dangerous and may charge without warning. Elk are more aggressive during the rut in September and October. Although sightings are very rare, mountain lions have been sighted near the campground and are more active at dusk and dawn.
Remember that all park resources -- rocks, antlers, bones, plants, animals, and artifacts -- are to remain as you find them. All visitors are entitled to the same sense of discovery you experience when traveling the park trails, and collecting these items is illegal.
Spotlighting is not permitted in the park. Although you may encounter wildlife while driving through the park at night, shining headlights or other artificial light on wildlife disturbs animals and causes them to change their behavior.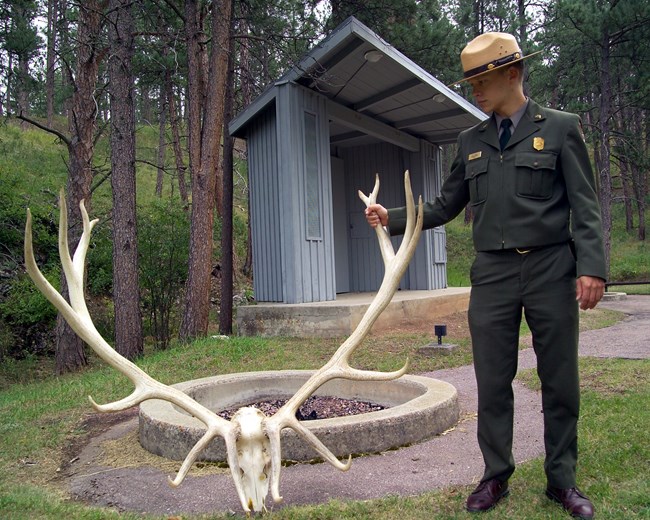 Elk Bugling Program
On select evenings in September and October, ranger led elk bugling programs may be offered. Visitors will meet the ranger at the visitor center for a short presentation on elk biology and the history of elk in the park. After the presentation, visitors will caravan in their own vehicles and follow the ranger to a trailhead or pullout where the group will sit and listen for bugling elk for approximately one hour. Although we cannot guarantee that you will hear elk, you may hear other animals like coyotes, owls, or other nocturnal wildlife.

Listening requires sitting perfectly still for long periods of time as elk are normally heard in the distance and not close by. This is an activity recommended for families with older children. Please do not bring pets to the program.

If you plan on attending the full program, please dress warmly and bring a flashlight, water, and something to sit on.

Please contact the visitor center for more information on ranger led programs: (605) 745-4600
Last updated: September 5, 2023