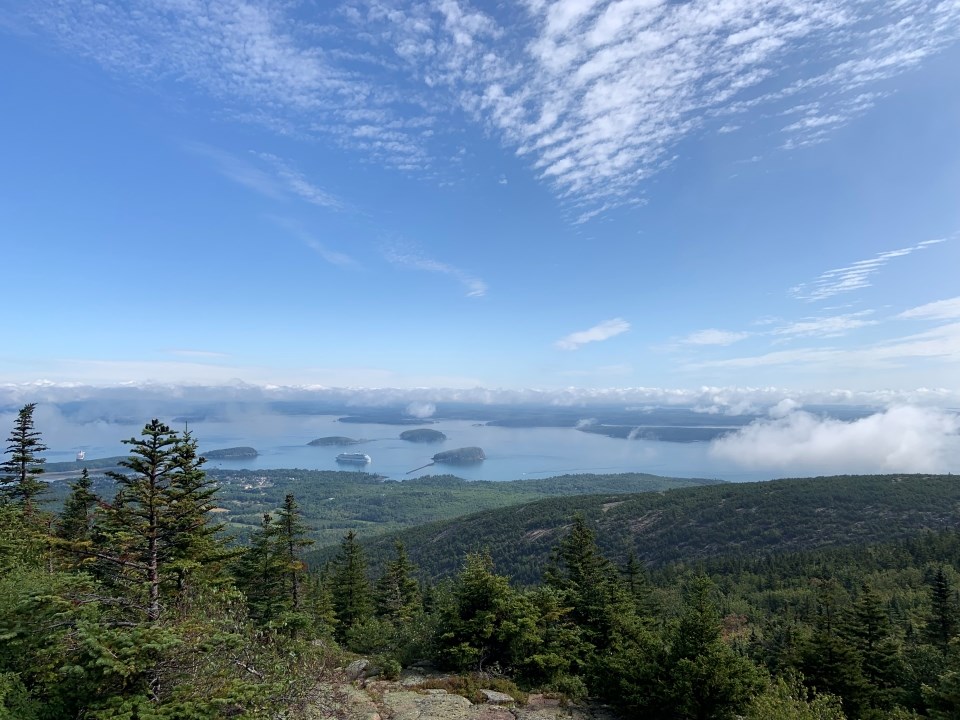 On Cadillac Mountain, Acadia National Park in the fall, it is not a coincidence that birds of prey are flying overhead. They do have a purpose, a mission, to head south and find more food. This happens every fall, and part of the fun and excitement of watching these birds soar, swoop, dive, hover, and kite over Cadillac Mountain is to identify and count each one as they pass. Official counters, rangers, and volunteers also have a mission of identifying, counting, and recording the raptors , or birds of prey, at the Cadillac Mountain Hawk Watch in Acadia National. Hawk Watch heralds a collaborative partnership between Acadia National Park and Schoodic Institute, as well as Hawk Migration Association of North America (HMANA) and Friends of Acadia. It takes a village to accomplish our goals, but with the help of our partners, rangers, volunteers, and visitors like you, we've tallied over 71,000 birds of prey over Cadillac Mountain in the past 25 years, contributing to the science, research, and conversation of these fascinating birds.

Luckily, the adventure continues. The Hawk Watch site is indeed at the top of Cadillac Mountain, but is a little off the beaten path, 200 yards down the North Ridge Trail. Unfortunately, the site is not universally accessible, and sturdy walking shoes for unlevel surfaces and rock is suggested. The weather is often different and changes abruptly at the top of the mountain, so please dress appropriately. Official counters, volunteers of Schoodic Institute and Acadia National Park, are at the site 7 days a week, 9-2, weather permitting to count, identify, and record the birds, as well as answer questions and inform visitors. Rangers are present throughout the season to help count and interpret the many dimensions of raptors, migration, and conservation. Check the park calendar to find out when.

The best days to visit are a crisp, clear day with northerly winds, when the wind is at the birds back, pushing them towards the south. The counters need help spotting all the birds, and even identifying them. Visitors are encouraged to help the rangers and researchers, not only creating a citizen science opportunity benefitting raptors locally and globally but also creating an amazing sense of awe and inspiration to visitors. Think of that sensation when you feel you can almost reach out and touch the bird it is so close, but just too fast. This is the true brilliance of Hawk Watch on Cadillac Mountain.

If you are intrigued and curious about Acadia's Hawk Watch, you can visit the site on Cadillac Mountain, read weekly updates in the Riding the Winds articles, or you can also investigate our daily progress on hawkcount.org, as well as find hawk watch sites near you if inspired to explore more the realm of raptor migration. We look forward to see you on the mountain, virtually or actually!