Thing to Do
Bike Wind Cave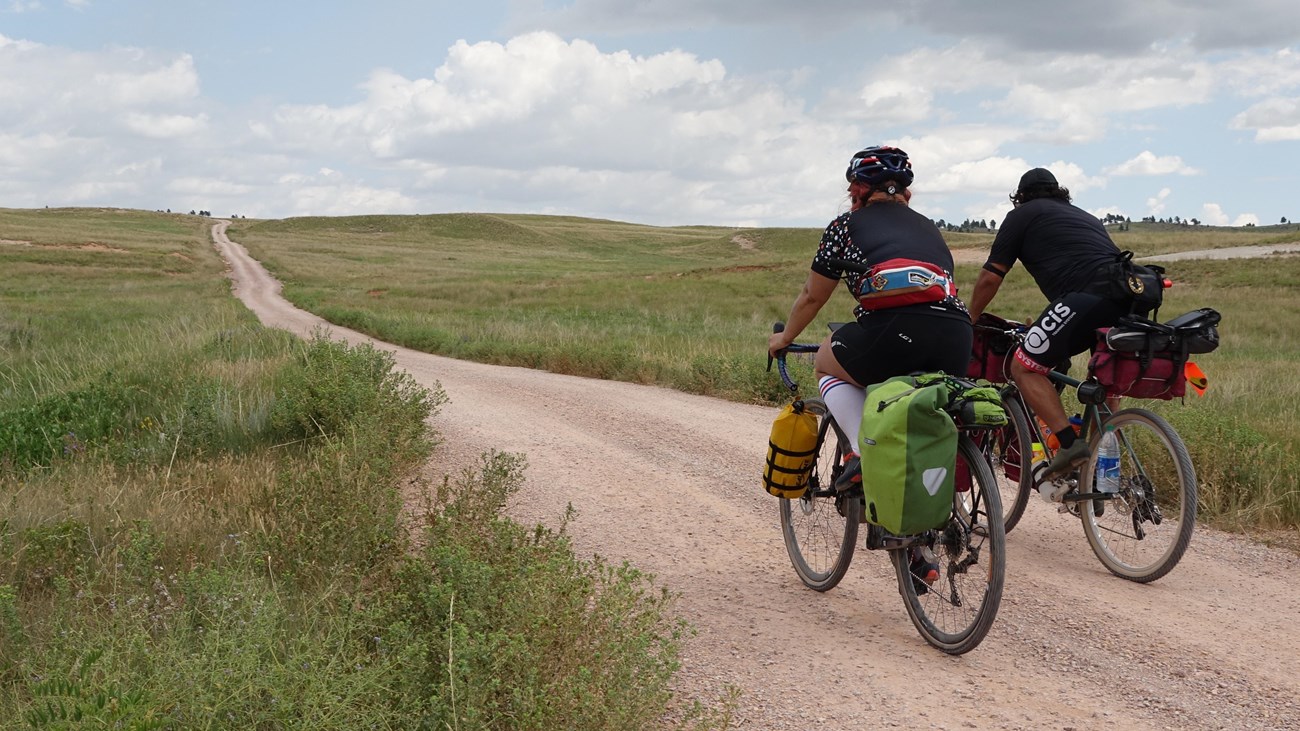 Bicycling in Wind Cave National Park offers visitors a great opportunity to actively experience and enjoy the abundant resources of the park. There are several different ecosystems with a variety of plants and animals to see within the park.
Entrance fees may apply, see Fees & Passes information.
Season
Spring, Summer, Fall
Periods of heavy snowfall may temporarily close park roads in the winter. Winter maintenance is not performed on gravel backcountry roads NPS 5 and 6.
Accessibility Information
Highway 385 is a paved highway with a wide shoulder and several paved pullouts with parking.

Highway 87 is a paved highway with no shoulder and several paved pullouts with parking. Due to its winding nature, cyclists are recommended to bike this road in the shoulder season or early in the day when less traffic is present.

NPS 5 and 6 are gravel roads with an occasionally steep grade, and rugged loose terrain that may become washed out after a storm. Winter maintenence is not performed on backcountry roads.
Regulations
E-bikes are welcome in Wind Cave National Park.
Bikes and e-bikes are only permitted on established roads. There are no bike friendly trails in the park.
Do not approach any wild animal. Visitors must stay at least 25 yards (23 meters) from all wildlife, although it is strongly recommended to stay farther away from bison. Bison may appear tame but are unpredictable and dangerous and may charge without warning. They are more aggressive during the calving and mating season from May through August.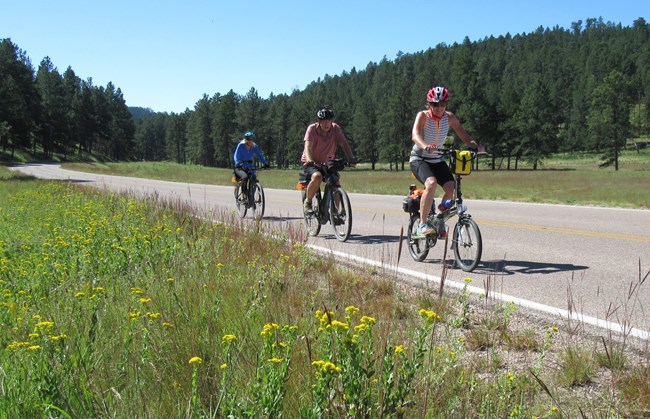 Paved Roads
Running from the south entrance of the park to the west entrance, US Highway 385 has wide shoulders ideal for cycling. This highway crosses open prairie and combines grasslands with expansive views of the Black Hills. Bison, prairie dogs, and other animals are often seen from this road. Exiting the west entrance will take you uphill toward the city of Custer and nearest access to the
George S. Mickelson Trail
, while exiting the south entrance will take you to the closest town, Hot Springs.
SD Highway 87 is winding and narrow with little room for cyclists. This scenic highway meanders through a forested ravine between Wind Cave and Custer State Park. Consider biking in the morning hours or shoulder seasons when car traffic is lighter.
Families with children are also welcome to ride bikes in the
Elk Mountain Campground
. Please make sure children are supervised at all times.
Backcountry Roads

Cyclists may also travel on the backcountry roads of Wind Cave on NPS 5 and 6. These gravel roads provide visitors with a great opportunity to experience the less traveled areas of the park. NPS 5 begins at the north entrance of the park from Highway 87 and extends all the way across the eastern side of the park, ending at 7-11 Road (Custer County Road 101). NPS 6 connects NPS 5 to the Wildlife Loop in Custer State Park.

These roads are typically well maintained in the summer, but can be washed out by heavy rains.

Last updated: November 6, 2020