Distance Learning
Listening to the Ice
Grade Level:

Middle School: Sixth Grade through Eighth Grade

Subject:

Science

State Standards:

National Standards: 5-8.1, 5-8.4, 5-8.6
Next Generation Science Standards: 5-ESS3-1
MS. Weather and Climate: MS-ESS3-5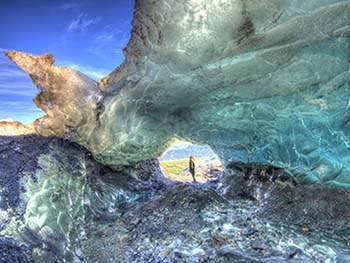 What are global warming and climate change? How are they caused, and how they are impacting our planet? A National Park Ranger will use Kenai Fjords National Park as a looking glass through which to observe our planet's health. The ranger will engage students with questioning, video content and other techniques in order to broaden their local and global understanding of climate change and leave them with a hopeful attitude about the future of our natural environment.
Kenai Fjords education staff can visit your classroom for free using H.323 video conference technology (Polycom, Cisco/Tandberg, LifeSize, etc). 
Program Length:
This program is 45-60 minutes long.
Program resources:
How to register:
Registration opens October 1st. Spaces are limited and registration is handled on a first-come, first-served basis. Registration can easily be done through the Center for Interactive Learning and Collaboration (CILC). Contact our education staff with any questions.
Our free, interactive presentations are available from November through March. 
Note: Please be aware that Alaska is in the Alaska Time Zone and follows daylight savings time changes. Programs cannot start any earlier than 7 a.m. in the Alaska Time Zone, which means programs for schools in Eastern Time cannot start before 11 a.m., Central Time 10 a.m., Mountain Time 9 a.m., and Pacific Time 8 a.m. Please consider this when listing your available times on the registration form.
Last updated: November 29, 2016