Lesson Plan
Adaptations - Redwood Forests
(2nd Grade: Lesson 1 of 2)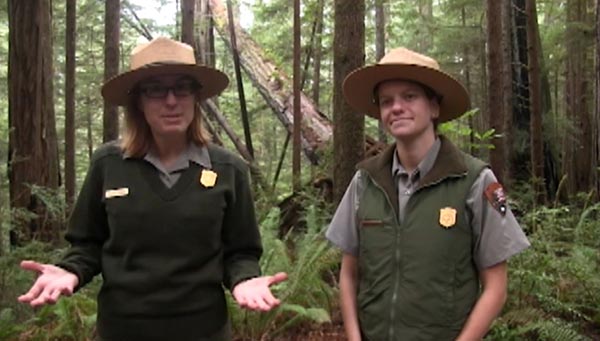 Grade Level:

Lower Elementary: Pre-Kindergarten through Second Grade

Subject:

Literacy and Language Arts,Science

Lesson Duration:

60 Minutes

Common Core Standards:

2.W.7

Thinking Skills:

Understanding: Understand the main idea of material heard, viewed, or read. Interpret or summarize the ideas in own words. Applying: Apply an abstract idea in a concrete situation to solve a problem or relate it to a prior experience. Analyzing: Break down a concept or idea into parts and show the relationships among the parts.
Objective
Students will create their own forest creature and understand what adaptations are.
Background
Howland Hill Outdoor School (HHOS) has created these lessons in our new Distance Learning Video Series for Redwood National and State Parks. HHOS developed these programs to carry on the Every Kid in a Park initiative that was implemented for the Centennial Year of the National Park Service. These education programs give students who can't visit Redwood in person the opportunity to learn about this amazing resource from anywhere in the world with an internet connection, giving every kid the opportunity to visit Redwood National and State Parks!
Preparation
The distance learning program at Redwood is something students and their teacher can do any time. Since this is not a live distance learning program, there is no need to schedule a time with a ranger. Our program has ranger led videos for students to watch, followed by activities that students do right in their classroom.

Click to view the video you need during this lesson
Materials
Work with the students to create their own make-believe animal. Based on what students learned about how animals adapt to their surroundings, have them draw a creature using the guidelines on the worksheet.
Download Draw Your Own Creature Worksheet
Download Draw Your Own Creature - Teachers Example
This worksheet tests student knowledge about the LAWS plants need to follow in order to survive in their environment. This fun and interactive activity is a great way to review the LAWS lesson
Download LAWS Worksheet - Teachers Example
Lesson Hook/Preview
.
Procedure
.
Vocabulary
Adaptations
Contact Information
Last updated: May 3, 2018